Articles
If you're looking to quit your life for a few months, you'd be hard-pressed to find a more enjoyable spot for relocation.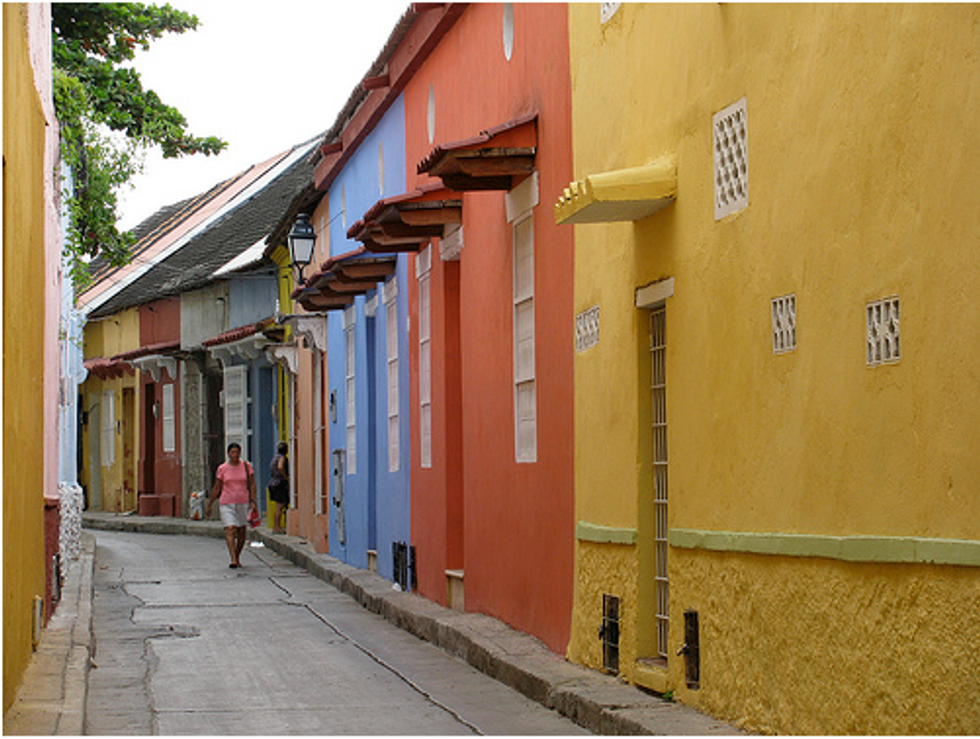 Colombia, to many Americans, is a land of narcotraffickers, kidnappers, and cocaine. Those things are certainly there if you go looking for them, but Colombia is safer that many tourists assume, and there are myriad options for any visitor, from hard-working Bogota to golden Barichara to salsa-infused Cali. But our favorite is the romantic, cobblestoned town of Cartagena de Indias.
---
Cartagena is smaller than popular destinations like Buenos Aires, but its rich Spanish-Caribbean cuisine, bustling markets, and all-night music venues make it a must-do on the Latin American travel list. For starters, it's a stunner—the Old City is a UNESCO heritage site, and the streets are narrow, winding and flanked with candy-colored buildings dripping with bougainvillea. The wider city is juxtaposition of the old and the new, with a kind of colonial-meets-Miami aesthetic. New Cartagena is glass and steel; old Cartagena is Love in the Time of Cholera.
Like Buenos Aires, there isn't a lot to do other than enjoy yourself—"seeing Cartagena" mostly entails wandering, eating, and drinking. That isn't to say that there aren't things to see. Manga's cemetery de Santa Cruz has been sadly neglected, but there are plenty of famous-name gravestones and elaborate mausoleums. If you want to release your inner 85-year-old, Cartagena's antique shopping is some of the best in South America—it gives San Telmo a run for its money. Castillo de San Felipe de Barajas, a Spanish fortress, is worth a climb. And Mercado Bazurto is a crazy, dirty, hectic labyrinth—it's not a sanitized tourist destination, but it's a fabulous market for the brave buyer.
The best way to enjoy Cartagena, though, is to put pleasure first. Meander. Buy unusual fruit from a street vendor. Get freshly caught fish on a paper plate from a dingy stand for a few dollars, or have a perfect slice of coconut pie at a white-tablecloth restaurant. Drink rum at a cafe in the Old City as the nighttime lighting makes the whole town glow gold, or mosey into any bar in Getsemani for an all-night live music dance party. If you're looking to quit your life for a few months, you'd be hard-pressed to find a more enjoyable spot for relocation.
And if weeks of eating and drinking are too much, get out of the city for a few hours or a few days. Playa Blanca, a white-sand beach almost too pretty to be real, is an hour-long boat ride away. Or, in a few hours, you can get to the hippie-ish beach town Taganga for scuba diving, the sprawling Parque Tayrona for hiking, the Ciudad Perdida, or beaches that look like they're out of Jurassic Park. Flag down a bus on the side of the road and you can get yourself back to Cartagena for a few dollars.
For all their beauty, the areas outside the city are quite poor, and there are a slew of social problems—the income inequality in Cartagena is much more stark than in the rest of Colombia. The "discovery" of Cartagena by the North American tourist industry may also create some environmental problems, as increasing numbers of cruise ships now stop there. So help take care of this gorgeous city by traveling responsibly. And don't miss the coconut pie.
Photo courtesy of Flickr user JillNic83.