Articles
City Year Tackles the High School Dropout Crisis
City Year corps members based in Los Angeles write about their experiences I walk through the metal gates leading to Union...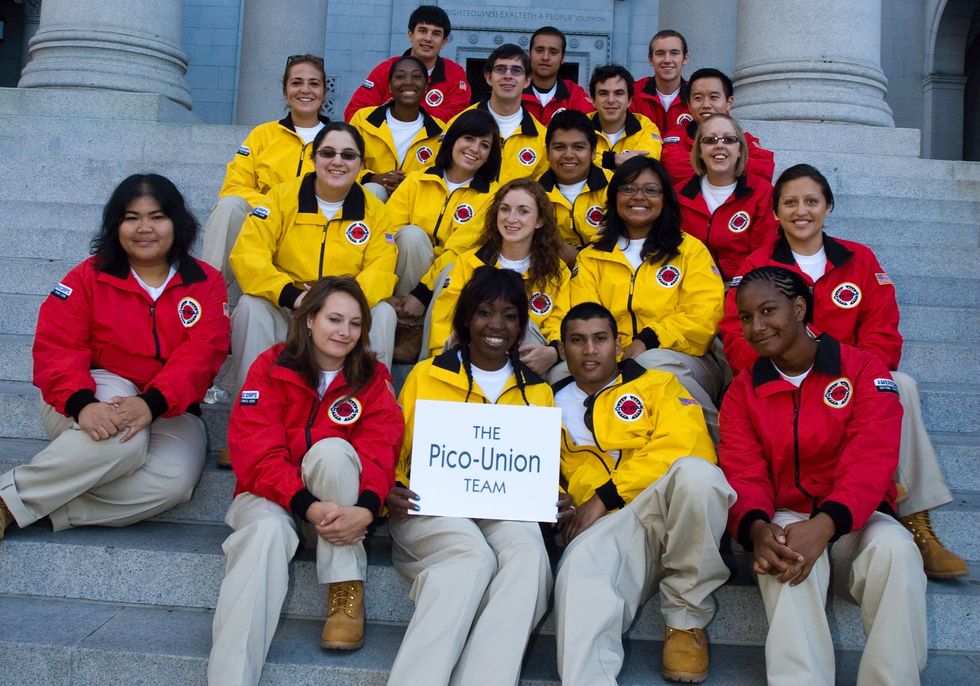 ---
City Year corps members based in Los Angeles write about their experiences
I walk through
the metal gates leading to Union Avenue Elementary School. There are only a few children sitting in line, waiting for everyone else to arrive.
The sun is still rising over the California mountains, but I am bright. I have already seen yellow today. There was yellow on the sidewalks, yellow on the subways. Yellow passing me by as it rushes to catch the bus.
"So what is City Year, anyway?" a man on the bus asks me. "I always see all of you in your yellow jackets all over the city."
Ah, the yellow jacket. Were it not for this baggy bomber, bold letters stretched against the back, would anyone even be aware that City Year existed? "Well let me tell you," I said, breaking into my standard reply.
To a casual onlooker, this bright, crinkly jacket may seem similar to the sort of apparel that sports fans commonly wear. But this isn't just any jacket. It is a symbol of our idealism and the service we provide to children as tutors, mentors, and role models, addressing the national high school dropout crisis.
Nationally, City Year corps members wear red. But in California, we wear yellow in the neighborhoods we serve, where the color red is sometimes associated with gangs. We hope to someday reclaim red, but until then, we embrace yellow.
To be honest, the jacket is my favorite piece of City Year clothing, and it's a good thing it attracts the attention it does.
I recall a woman on the subway, whose 16-year-old son was eager to join, asking us: "What is City Year? Do you only work in Los Angeles? How old do you have to be to join." We refer her to the City Heroes program, specifically for teenagers to keep them on track, and offer to send her more information.
Back at school, more children begin to arrive, and I walk up to our room to gather my things for the day. As I mingle with my fifth graders, I appreciate the jacket once more-at 5'0," my students are already catching up to me in height, and with spring approaching, I prepare for them to soon surpass me.
When the yellow jacket is on, they think twice about wrestling each other to the ground. And if I'm not wearing it, I am suddenly undercover, hearing words they are forbidden to say. They know they've been caught. And while I didn't sign up for City Year to be a disciplinarian, I did sign up to be a role model. "Come on, guys, let's play something else," I say casually, and so we do.
When our children see me and my eight teammates walk in with our jackets and boots on, we can tell by their faces that we're wanted there. They want high fives and encouragement, to know that we are there for them. It feels amazing. Sometimes the days are difficult, and we get into bad moods. They don't see that, they only see the yellow jacket and know we will be back tomorrow.
Occasionally, my students call me by the name of a corps member they knew last year. Instead of being upset, it makes me feel better about what's to come next year, when I move on and another corps member takes my place. For my students, the yellow jacket symbolizes continuity, a chain of role models committed to being there for them.
As long as they see the yellow, they know I'm there with them. We all are.
Kristin Harrison serves as a City Year after-school coordinator in Los Angeles.