Articles
Climate Art From Outer Space: Satellite Photos from 350 eARTh Start Rolling In
The world's first planet-wide art exhibit viewed from outer space is underway. Climate change is the theme. Check out the art from 300 miles high.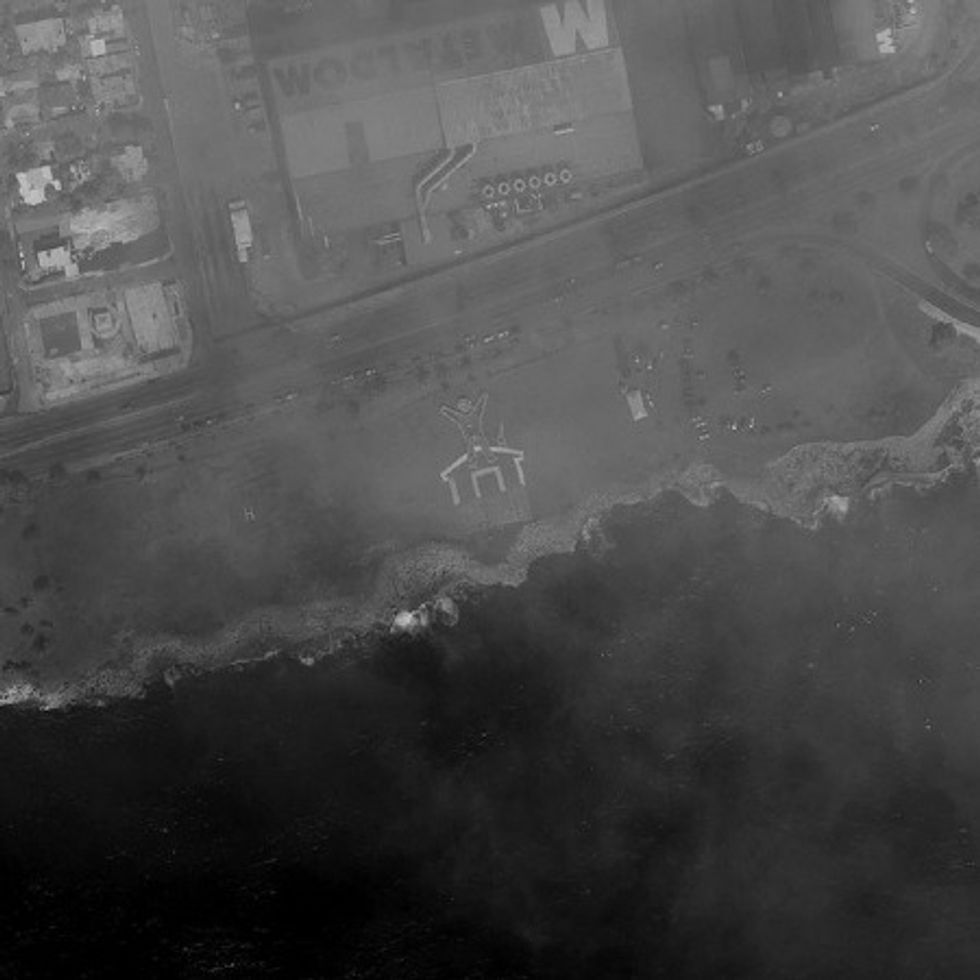 Images, many of them satellite photos from outer space, have started rolling in from 350.org's weeklong 350 EARTH climate art exhibit, which we first told you about on Thursday.
---
Above you see the piece from Santo Domingo, Dominican Republic this past weekend. The people are arranged to form the image of a person standing on the roof of their house as the waves threaten to submerge it. It's a little hazy or cloudy, but the view from 300 miles up is unmistakable.
As explained on the 350 EARTH blog:
The art piece was conceived of by the incredible Vanessa Dalmau and organized by her and her friends at 350 Dominicana, a group helping lead the youth climate movement across the Caribbean.

Vanessa has been telling us for the past few days about what an amazing experience it was to pull together this public art event. She's done a number of different climate events, Vanessa told us, but has always had trouble getting the government or the media interested in her work. Organizing 350 EARTH, however, seemed to catch everyone's attention: she's already done a bunch of TV and Radio interviews and officials kindly allowed her to hold the art event at the normally off-limits Santo Domingo Heliport in the city's malecón.

\n
There are other images—from Los Angeles, Santa Fe, New Mexico, and Catalunya, Spain—already posted on 350 EARTH site, though not all of the satellite versions are yet available. And we'll be putting together a slide show after some more flagship events next weekend, like the one on the Brighton coastline organized by Radiohead's Thom Yorke. That should be a thrill.
Satellite Image: DigitalGlobe.