Articles
Together at last: modern architecture, ice-cream sandwiches, and wordplay. Natasha Case and Freya Estreller founded their...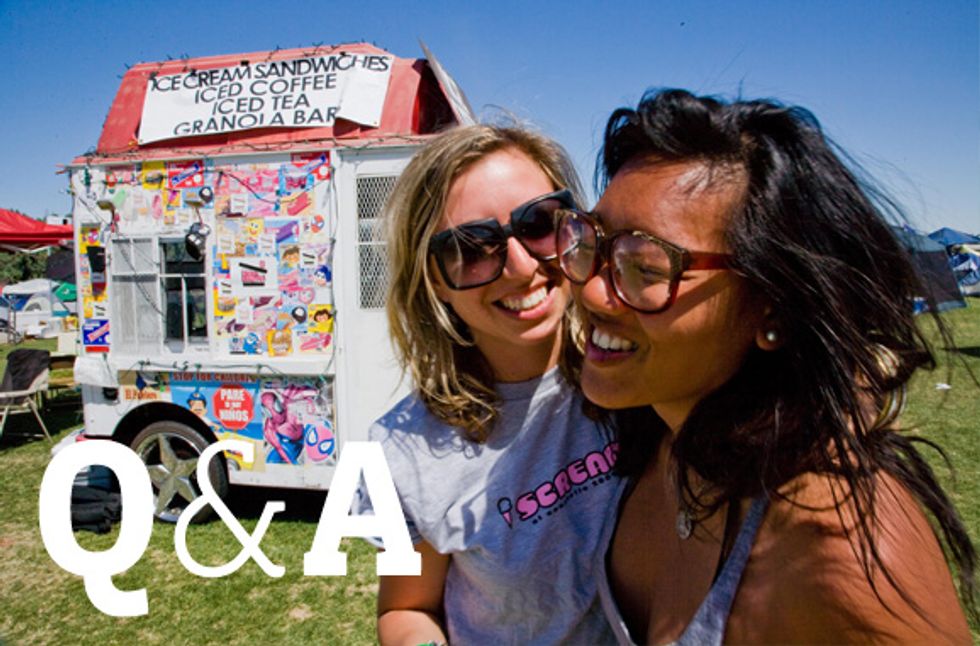 Together at last: modern architecture, ice-cream sandwiches, and wordplay.
Natasha Case and Freya Estreller founded their venture Farchitecture on the principle that eating could be improved by design-and, by extension, on the principle that food plus architecture equals wordplay. The first project developed under the Farchitecture umbrella is
Coolhaus ice-cream sandwiches
. Served in edible wrapping paper, the all natural desserts are named after some of architecture's best and brightest-Frank Behry, Mintimalism, Oatmeal Cinnamoneo, Mies Vanilla Rohe, and IM Peinut Butter-and will soon be found across the streets of Los Angeles in Coolhaus's renovated truck. It should be a relief for the city's summer heat, as well as an inspiration for dessert eaters everywhere.
GOOD:
You guys were a huge hit out in the desert at the Coachella Valley Music and Arts Festival. That must have been a great way to start a business.
NATASHA CASE:
The launch was awesome. We connected with the crowd I think. We even had a groupie come back with us to L.A. and vend with us. But that was the right crowd, the right age, the right demographic.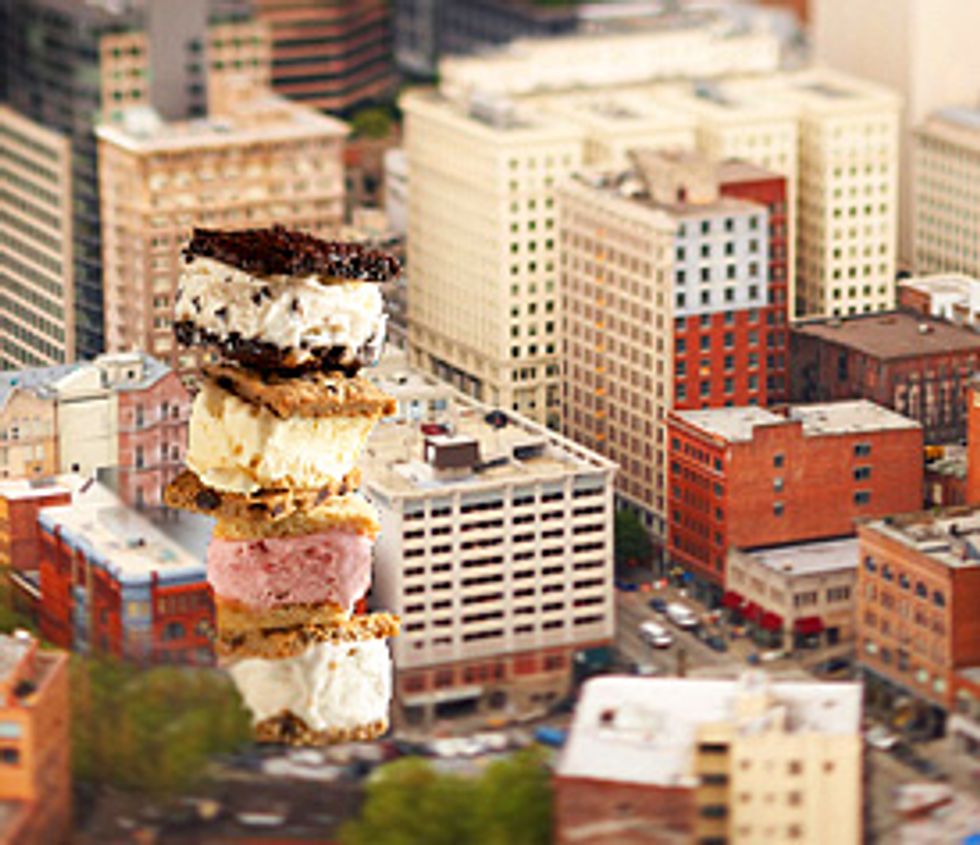 ---
G:
And the right temperature outside?
NC:
Yeah. And we created this whole hangout area and people really liked it. It was a great way to launch-it's such a great multimedia event.
G:
What about before the launch? How did the idea of combining ice-cream sandwiches and architecture come about?
NC:
The bigger legs of the company happened at UCLA, where I did an independent research project about food and architecture, and the relationship between the two-how they can be used to enhance one another, particularly how design can be used to enhance the experience of eating. I looked at things ranging from taco trucks to high concept dinners and multimedia video stuff.
G:
How did you end up with ice-cream sandwiches, specifically?
NC:
I'd always had the impulse to make ice-cream sandwiches, and I've now found out that my grandfather and grandmother sold ice-cream sandwiches for their first jobs, so maybe it's genetic. But, anyway, I was at Disney, at Imagineering, at a craft fair, where people were bringing and selling all these sort of food artifacts, and I made sandwiches. I used these edible wrappers and had a blueprint of what would become the Coolhaus menu. [Those of us serving them] looked like cartoon versions of architects-we were wearing all black and funky little glasses-and it went extremely well. I must have sold 100 in three hours. I met Freya [Estreller, partner at Coolhaus] around that time. Soon, we bought the truck and started catering events. We've actually just repainted the truck. We've also done architectural renovations on it. The back unfolds into a table. The window unfolds into a bar. It will be ready for an event this weekend.
G:
The idea of a taco truck that sells ice-cream sandwiches is kind of silly and wonderful. Usually things with academic roots don't register as being this fun, do they?
NC:
Yeah, I think that I have to be doing things I love. I tried to use my education to be doing things that are fun. Bringing eating into anything will always make it fun.
G:
The names of the sandwiches are pretty fun too: Frank Behry, Mintimalism.
NC:
I've always been very into punning. Everyone who knows me knows that. Part of the concept is introducing these architectural names into the mainstream. I'm not asking for the sandwiches to be that didactic, but bringing in architectural icons makes it fun and silly. I'll think of a flavor before the name, and then it's easy to spend hours thinking of the best architectural pun for the name of the sandwich.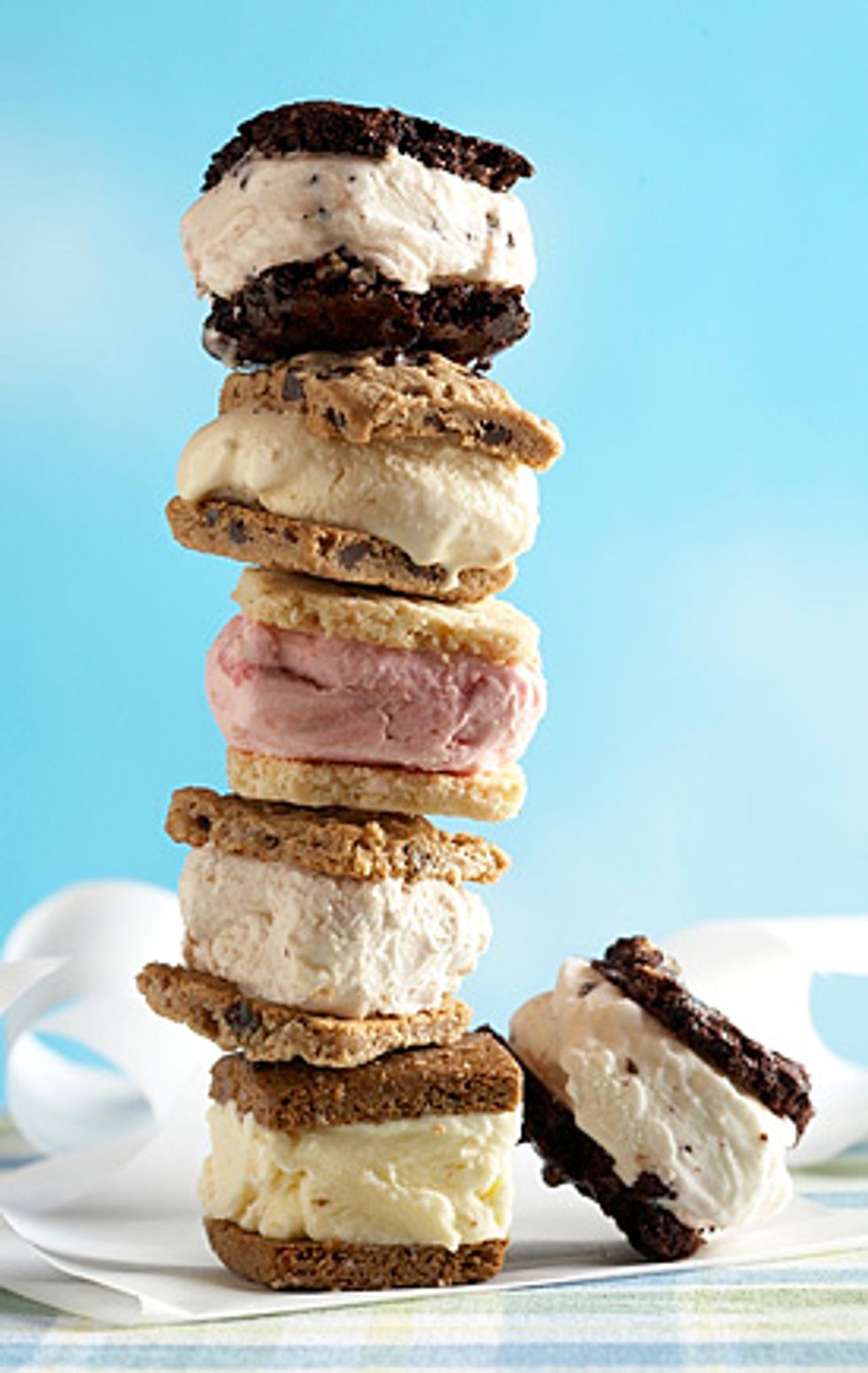 G:
It's a wonderful art, punning. Can you talk about what you're doing this summer?
NC:
We've booked the truck at quite a few events already-we're talking to Google, MySpace, a lot of corporate offices and studios and private events. After the truck is renovated, we're also going to be updating
[the truck's location] on Twitter whenever we're not booked
. We'll be going to lunchtime crowds and after school crowds and after bar crowds. Kogi [Los Angeles's famous Korean Taco Truck] has really set the template for that. But we also have a lot of things where we just deliver the sandwiches. And we're working on getting them into restaurants.
G:
And you're trying an educational venture, yes?
NC:
If I could choose the future path for this, it would be to put an S in front of Coolhaus, and make it Scoolhaus.
G:
Wait, that would make it a double-pun. What would Scoolhaus be?
NC:
Well, I've done a lot of teaching, and I'd like to teach classes with kids showing them how to make the ice cream, how to invent their own flavors, and help them understand where products come from with either LAUSD or private classes. If kids grow up understanding where their food comes from, they're going to eat with more awareness and more appreciation, and not wanting the more immediate snacks in packages-more like slow food. It sends a message, bringing awareness to young kids about what it means to eat. If you learn that when you're young, that's the time to do it.
G:
It's interesting, as people don't usually associate a dessert with healthy eating.
NC:
Being an aware eater isn't about always being on a diet; you have to indulge sometimes. But if there are pure ingredients and it's handmade, then it's healthy in a different way. And the dessert makes it fun, and gets kids interested in these things.
Top photo, by Atisha Paulson: Natasha Case (left) and Freya Estreller (right) enjoy a successful launch at the Coachella Valley Music and Art Festival in front of their pre-renovated truck. Photos of the ice-cream sandwiches by Brian Leatart.