Articles
Design an Everyday Solution to an Extraordinary Problem: Winner Announced
We recently challenged the GOOD community to come up with an everyday solution to an extraordinary...
We recentlychallenged the GOOD community to come up with an everyday solution to an extraordinary problem—something simple, brilliant, and easy to implement that could have a big impact. After assessing the wonderful submissions, and debating the criteria ourselves, we've decided on a winner.

UPDATE: After this post first went up, we remembered that we actually have three $500 Nau gift cards to give. So good news: Jill Allyn Peterson, Jeff Halsey, and Crystal Dreisbach will each get one.

the WINNER

Congratulations to Jill Allyn Peterson! Her design for a reflective bike chain cover takes the prize: a $500 gift card from Nau.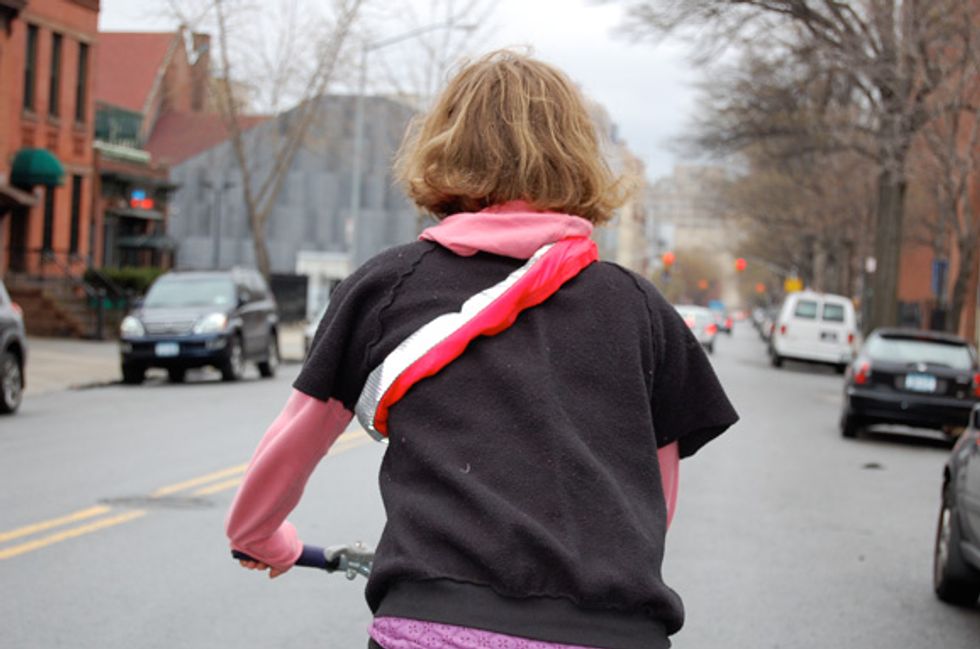 ---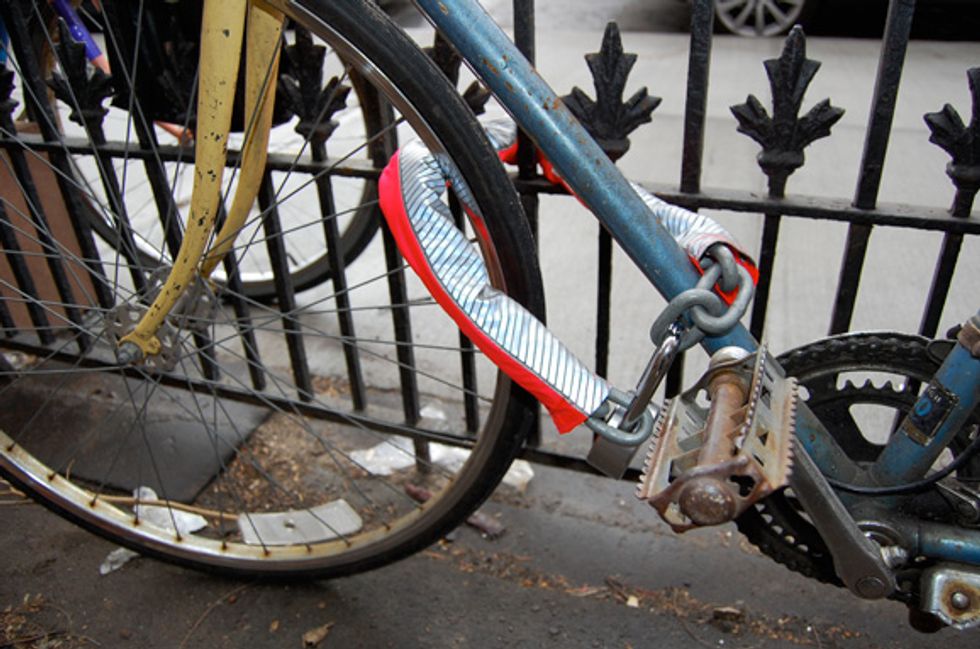 Jill writes:

My simple, DIY solution to an everyday problem has to do with biking. One of the main issues that prevents people from biking on a daily basis in cities is the sense of danger you often get as a bicyclist among cars. The best solution to this problem would be a network of protected bike highways throughout and between cities, covered in smooth surfaces. Until that happens, bicyclists need ways to be better seen by motorists. This reflective, neon, waterproof bike chain cover is a step bikers can take to assert their place visually. Since many riders, especially in New York City, wear their bike chain across their shoulder or around their waist as they ride, I thought, "why not cover that in something bright and reflective?"

Made from zero-porosity rip-stop nylon, heat-transferred reflective striping, velcro, and batting, the bike chain cover serves a few purposes all at once: protecting clothing from a dirty chain, providing some padding to the chain making it more comfortable to wear, protecting the chain from exposure and rust, and protecting the safety of the rider by providing an extra reflectivity for motorists to notice.

Now imagine all bikers wearing some kind of reflective neon strip! It could become a sign of pride for the biking community, while providing an extra element of protection in the form of a convenient accessory. A small step toward making bicycling safer, which makes it easier to adopt as a form of transportation on a daily basis.






We love that Jill's bike chain cover makes urban cycling safer and more comfortable, but were especially impressed by how simple the concept is and how easy it is to put into action. You don't need any high-tech equipment or government buy-in to execute this idea.

the RUNNERS-UP

There were a few other ideas that we really loved and we wanted to mention them, too.Here they are.

From Jeff Halsey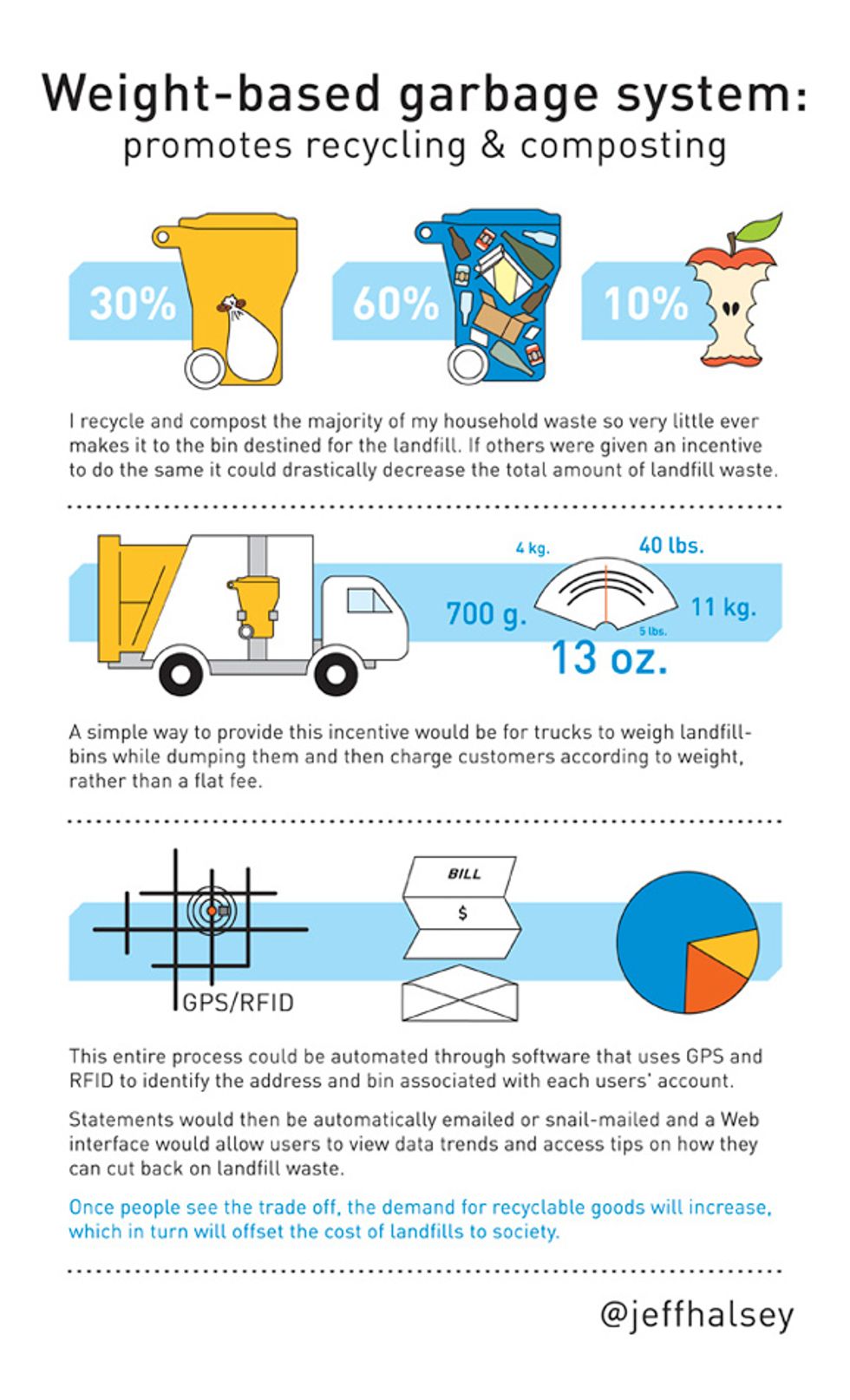 From Crystal Dreisbach

Problem: A large amount of waste is generated from food packaging, especially take-out and to-go containers from dining establishments. Indeed, evidence plainly points out that Styrofoam is hard to recycle and most of it ends floating in the ocean, so why do so many restaurants continue to use it? While I love the idea of bringing my own reusable food storage containers to a restaurant for leftovers (and occasionally I see a die-hard environmentalist do this and I admire it), it is simply not something I ever remember to do, nor would I expect most average folks to do it.

Solution: Somehow I do manage to bring back reusable glass milk bottles to the grocery store. Why? Because of the refund! The money is the motivation.

Following this logic, here's what can be done: Participating restaurants carry a modest supply of durable, reusable food storage containers, such as glass Snapware containers. (I love these. They are so sturdy, and those little locks are so satisfying to snap down!) When the customer needs a to-go container, the restaurant simply supplies him or her with one of the durable, reusable food storage containers.

Restaurants that take part in this scheme can promote themselves as "waste-free restaurants" (need great logo and promotional campaign for this) and let customers know up-front that they provide only durable, reusable food storage containers. They charge customers a "deposit" of a dollar or two to cover the cost of the containers. The customer can then bring the container back to any participating restaurant for a refund of his deposit, which equates to a couple dollars off his meal.








THANKS

Thanks to everyone who participated and thanks to Nau for furnishing the fantastic prizes. More GOOD Projects are going down pretty much all the time here.