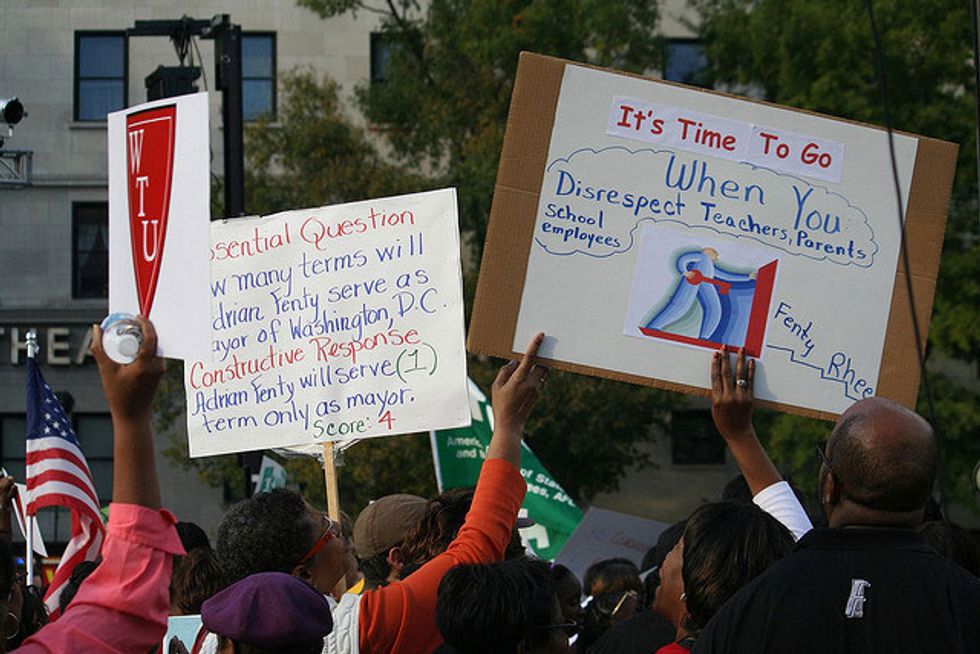 Just days ago, it seemed like
teachers' unions
were going to be
toppled from their powerful perches
. President Obama and Education Secretary Arne Duncan had enacted a series of policies that were seen as hostile to the unions. In cities, such as Washington, D.C. and New York, chancellors and mayors actively antagonized them. And the movie that could become the
An Inconvenient Truth
for education more or less
features unions as the enemy of school reform.
This Tuesday, however, the unions may have shown that they haven't lost their clout just yet. According to Ben Smith over at Politico, the teachers' union played a role in the defeat of Washington, D.C., Mayor Adrain Fenty (and, by proxy, his Schools Chancellor Michelle Rhee). Smith says that the American Federation of Teachers doled out $1 million to usher the aggressive reformers out of office.
---
[M]ost of the money went to unlimited and unregulated communication with union members, intense outreach to the union's more than 2,000 members in the district and to the between 30,000 and 40,000 AFL-CIO members in Washington, D.C. Each group received three mailings and several live calls; the union also did its own polling on the race.

\n
In reaction to Smith's piece, TIME columnist Joe Klein had this to say:
I have been covering this issue for 30 years and it never changes: the teachers unions are a force for ignorance and stagnation. ... It's good that the teachers union fights for minimum salary and benefits. They should be all about building floors, minimum standards--but the unions are mostly about building ceilings (opposed to merit pay) and walls (against longer school days and years, against accountability). They should be ashamed of themselves for this latest, disgraceful ploy.

\n
Outside of Washington, if you listen closely, you'll hear the whispering of teachers' union leaders to Democratic officeholders, warning them that they could share Fenty's fate if they get too far out of line. Or, as New York City schools chancellor Joel Klein put it to me: "The vote on Fenty will be opportunistically misused by the opponents of real school reform."

\n
Still, even if the union isn't loudly claiming victory over Tuesday's election, it certainly isn't displeased with its outcome.