Articles
Don't Wait to Find Out How Green Your Smartphone Is
AT&T's new rating system will help consumers find more sustainable phones, but smartphone builders need to play along.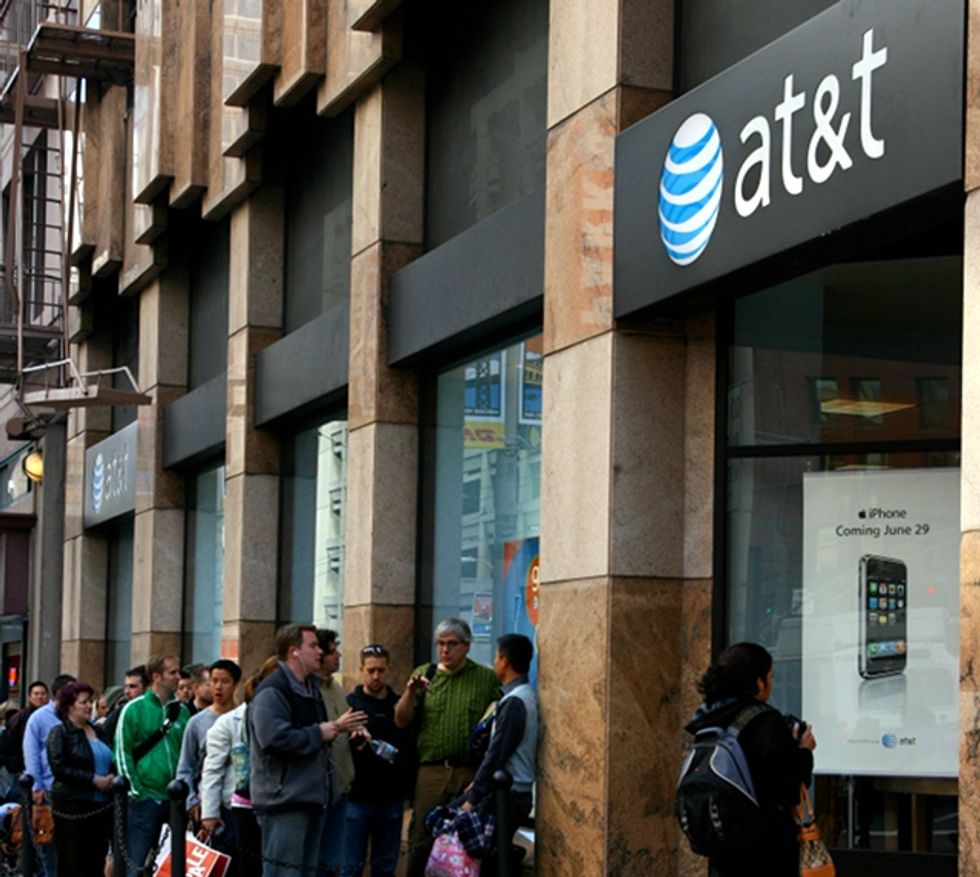 Smartphones are becoming ubiquitous in our progressively wired world—roughly one-third of American adults own them, according to the Pew Research Center—but there's no way for consumers to judge the environmental impact of their phones, an especially large concern given how often people upgrade and turn millions of "returned phones" into trash.
---
While phone carriers compete for bragging rights on everything from the fastest network connection to the camera's megapixel count, there's a gaping hole in production transparency. Meanwhile, a Deloitte study on consumer trends shows that 54 percent of shoppers consider sustainability a key decision-making factor. That trend is putting mobile phones among the ranks of the eco-labeled for the first time. AT&T has developed an eco-rating system for cellular phones with Business for Social Responsibility, a global business network and consultancy focused on sustainability.
"We feel that our labeling system will have a significant impact for consumers," says Roman Smith, director of public affairs at AT&T. "We know that increasingly consumers are becoming more mindful of a product's impact on the environment, and we wanted to do something that directly addresses that growing trend."
This new system is paving the way for industry-wide sustainability efforts. Vijay Kanal, BSR's director of information and communications technology practice, hopes that the eco-rating system will trigger a "competitive race to make these products more environmentally friendly and move the whole industry forward."
While the mobile labeling strategy may appear to be a case of greenwashing, this is not AT&T's first run-in with sustainability; the company was included in the Dow Jones Sustainability Index two years in a row. In the last year, AT&T developed sustainability criteria for handsets, worked to educate consumers about cell phone recycling and the overall lifecycle of cell phones, hosted a contest to create sustainability-focused apps for mobile phones, and launched the Samsung Evergreen, a quick-messaging device composed of 70 percent post-consumer waste recycled plastic, which earned the platinum certification from UL Environment.
The labeling method is based on 15 criteria related to the manufacturing process, including use of environmentally friendly materials, responsible recycling and disposing practices once people return the gadgets at the end of their contracts, and the restriction of harmful substances like lead, cadmium, and mercury.

Device manufacturers will submit assessments for each device they produce, and though the label iconography is still under development, ratings are expected to be added to in-store phones during the third quarter of 2012. More information will be accessible to consumers on the web.


AT&T and BSR have been in talks with most major cell phone manufacturers, who they say have been very supportive. While Kanal does not expect every producer to pump out green devices overnight, he hopes AT&T's decision to be transparent will impact the companies that make its phones—including Apple, the manufacturer of the iPhone, which has faced public criticism for social responsibility issues.
AT&T has factored in a transition period for the manufacturers; some may score well while others will not even merit a label—but the company projects that with the information available for consumers, more individuals will pursue environmentally friendly devices, pushing producers to invest in sustainability.
"Some of the criteria we have established are very ambitious, deliberately, so there are targets in the future that these can meet," Kanal says. "There's no point of saying that everything is fantastic. We set a goal post far enough away—creating opportunity for these companies to compete with one another to get better—because by doing that, everybody wins."
While AT&T's desire to include all phone manufacturers is an ambitious endeavor, the wireless carrier is hardly the first company in the field to encourage sustainability. Last year, Verizon Wireless developed a "Sustainability Scorecard" to publizice its environmental impact. Verizon also introduced its first carbon-free smartphone, the Motorola Citrus, in November 2010. Also last year, Sprint trademarked its "Sprint Device Eco-logo," which follows a set of six criteria including "reduction of environmentally friendly materials," "Energy Management," and "Eco-friendly applications." The company launched its first eco-friendly device in 2009, and currently offers four devices from Samsung and LG that meet Sprint's Eco-Criteria.
While transparency like this is laudable, it will only achieve its goals if consumers take it seriously when making purchases. If companies like AT&T perceive changes in behavior, these ratings could be just the beginning. "The criteria will get tightened and we'll add social aspects to these ratings—not just environment, but working conditions in factory, wages," Kanal says.
Photo via (cc) Flickr user Jen SFO-BCN