Articles
Earthquake and Tsunami in Japan: How to Help [Updated]
Here's what you can do, right now, to help with disaster response and relief efforts in Japan.
Updated, Wednesday March 16, 2011, 7:20am ET: Like most compassionate citizens around the world, we all woke up this morning, saw the news of the disaster in Japan, were devastated, and then wondered: how can we help?
Here's a roundup of ways that you can help those in need—with money or other donations, with time and energy, with volunteer hours, coding skills, or anything else that one could contribute.
---
We'll keep updating this throughout the day and for as long as relief efforts are ongoing. Please let us know (contact info at bottom of post) of any projects or platforms that the GOOD community can use to help those in need. After the initial disaster relief, and the initial spike in donations, there will still be a lot of work to be done. (As there still is in Haiti, Chile, Pakistan, China, and countless other places around the world that have been struck by natural or unnatural disasters in recent years.)
Online tools:
Google's Person Finder: Google launched a Japanese-language version of their Person Finder tool to help victims and families locate one another. The Person Finder lets you enter an inquiry about a missing person or provide information for interested parties.

As of 10:50 am ET, there were about 7,200 records entered. (See Alex's more in-depth coverage of People Finder and the Ushahidi platform here.)
Ushahidi: The open source mapping project, Ushahidi, released a Japanese version of their crisis mapping tool. Users can text locations to a central user-generated map. If you know of someone who is trapped, or where to find aid, a pop-up hospital, or a dangerous building or area that should be avoided, text or tweet or enter the location into the
Disaster response teams can use the map to save lives.
How to report:
\n
By sending a tweet with the hashtag/s tohokueq or miyagi or sendai or tsunami or j_j_helpme or jisin or eqjp or hinan or anpi or jishin\n

\n
Anyone know the number to text?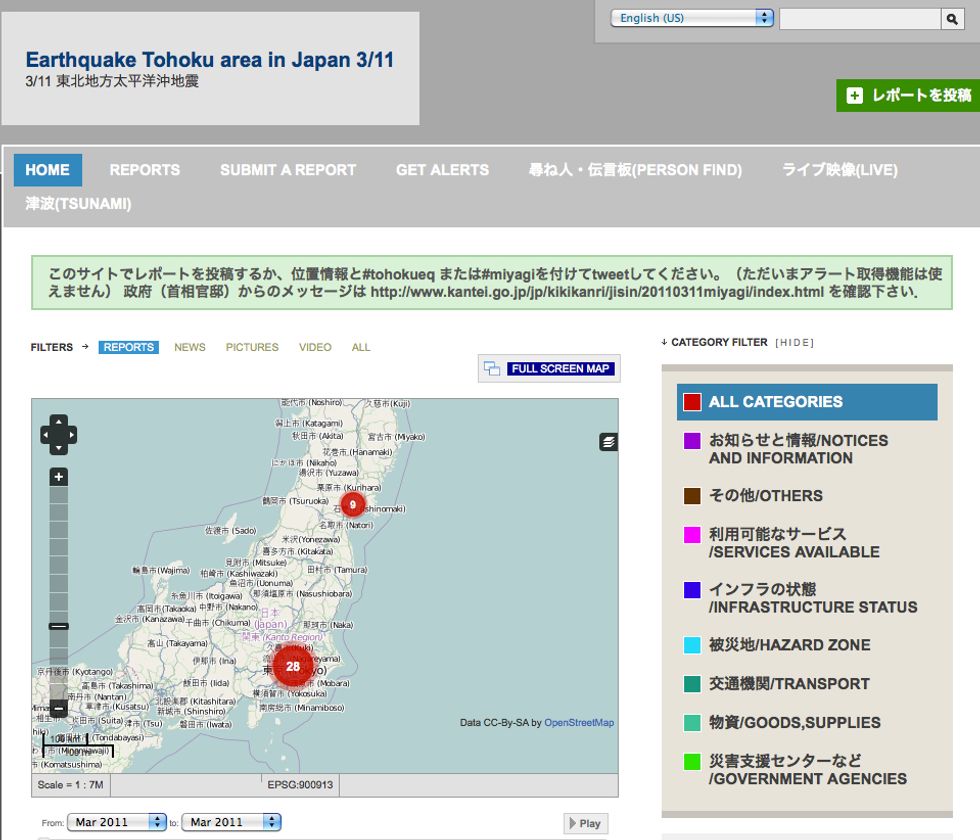 Americans in Japan:
U.S. citizens who are currently in Japan and need help, or anyone concerned about Americans there, should email the State Department at
JapanEmergencyUSC@state.gov
or call 1-888-407-4747 or 202-647-5225.
Tsunami warnings: NOAA's National Weather Service has maps and tsunami watch updates on their Pacific Tsunami Warning Center site.
Money and other donations:
Global Giving: Global Giving, who we at GOOD trust and respect absolutely, has a Japan Earthquake and Tsunami Relief Fund set up.
Mercy Corps: Mercy Corps is another organization that we at GOOD know well and trust completely. You can give through their site, or text MERCY to 25383 to support Mercy Corps' Japan earthquake relief efforts with a $10 donation. Folks can also set up an online fundraising page for Japan to get their friends involved.
JustGiving: This JustGiving campaign is raising money for ShelterBox.
JustGiving's Charity of the Year winners, ShelterBox, are responding to the 8.9 magnitude earthquake which devastated Japan on March 11 2011...The disaster relief charity immediately mobilised, with an initial ShelterBox Response Team heading to the affected region within hours of the catastrophe striking.

Thousands of ShelterBoxes are expected to be needed to provide shelter, warmth and dignity to the families made homeless by the crisis. ShelterBox are appealing for donations to ensure that whenever disaster strikes, they are ready to help those most in need.

\n
ShelterBox: To give direct to ShelterBox, go here.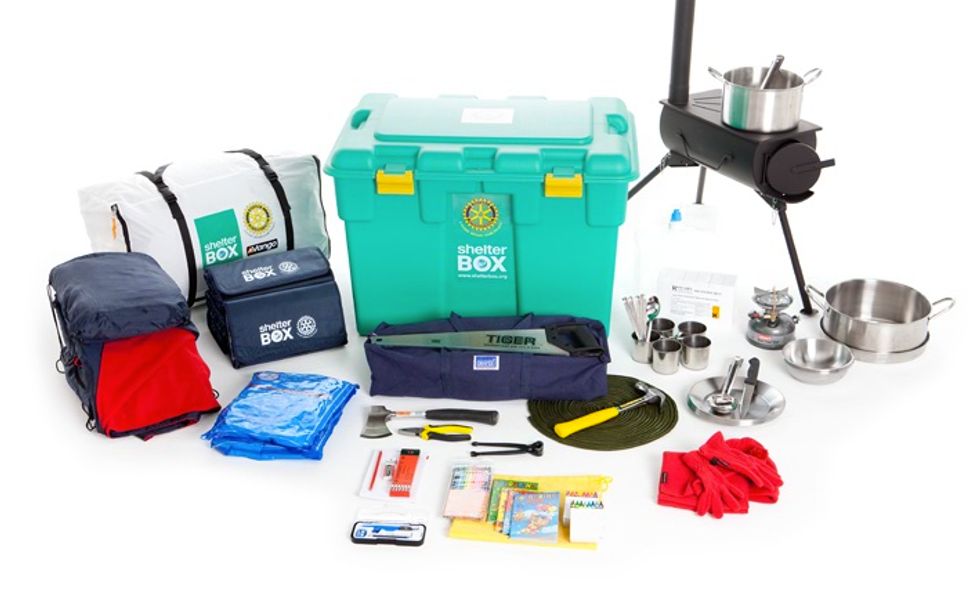 JustGiving Japan: Direct giving to a Japan-based JustGiving campaign. I've run it through Google Translate here. We can't vouch for the organization, but it was recommended by a commenter, PocketSaki.
International Medical Corps: International Medical Corps President, Nancy, Aossey, wrote, "We are putting together relief teams, as well as supplies, and are in contact with partners in Japan and other affected countries to assess needs and coordinate our activities."is putting together relief teams." Here's a link to donate. Update from Crystal Wells of IMC:
Our team is on the ground in Japan, where we are coordinating with local authorities and partners on what the needs are, providing technical expertise, and assisting with logistics.

People can also support our relief efforts by texting MED to 80888 to donate $10.



\n
Red Cross: If you want to give to the Red Cross, here is their page on the disaster in Japan. Or text redcross to 90999 to make a $10 donation.
Salvation Army: The Salvation Army, who have had a presence in Japan since 1895, are sending a team to Sendai tonight and will be carting in basic necessities as soon as possible. You can text "JAPAN" or "QUAKE" to 80888 to make a $10 donation to the Army's relief efforts.
W+K Studio: Buy a screenprinted poster designed by Max Erdenberger at Wieden + Kennedy:
To raise relief funds for the the devastating 8.9 earthquake and subsequent massive tsunami that struck Japan March 11, 2011. All proceeds go to Japan. w+k Tokyo has set up this person finding aggregator http://buji.me.

40"x26" 1-color screenprint on Neenah Environment Ultra Bright White 80# Cover.



\n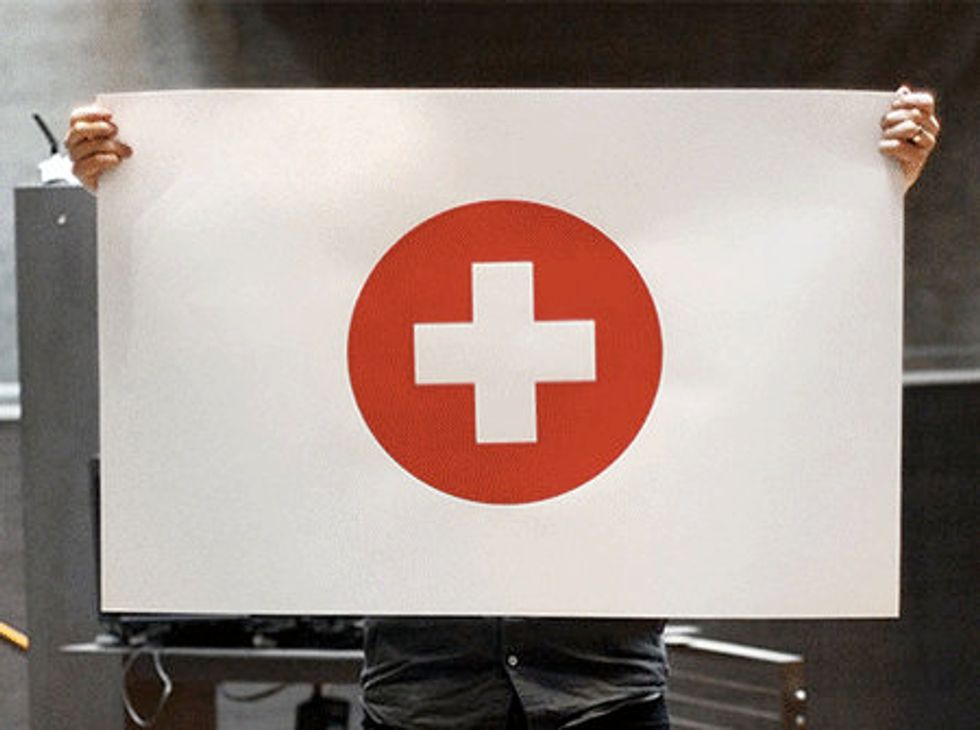 (Thanks,
Alissa
.)
Search Dog Foundation: US Search and Rescue Dogs deployed to Japan. You can donate to the search dog foundation.
Japan Society: Japan Society has created a disaster relief fund to aid victims of the massive earthquake in northeastern Japan on March 11, 2011. Over the years, Japan Society has partnered with several Japanese and American non-profits working on the frontlines of disaster relief and recovery. 100% of your generous tax-deductible contributions will go to organization(s) that directly help victims recover from the devastating effects of the earthquake and tsunamis that struck Japan.
Hide and Seek Clothing-Relief T: "When you pre-order this shirt, all profit will go to the following organizations: Save the Children: Emergency Response, Japan Earthquake & Tsunami Relief Fund: A GlobalGiving Project, Hands on Tokyo, American Red Cross. (You can also make direct donations at the links above.)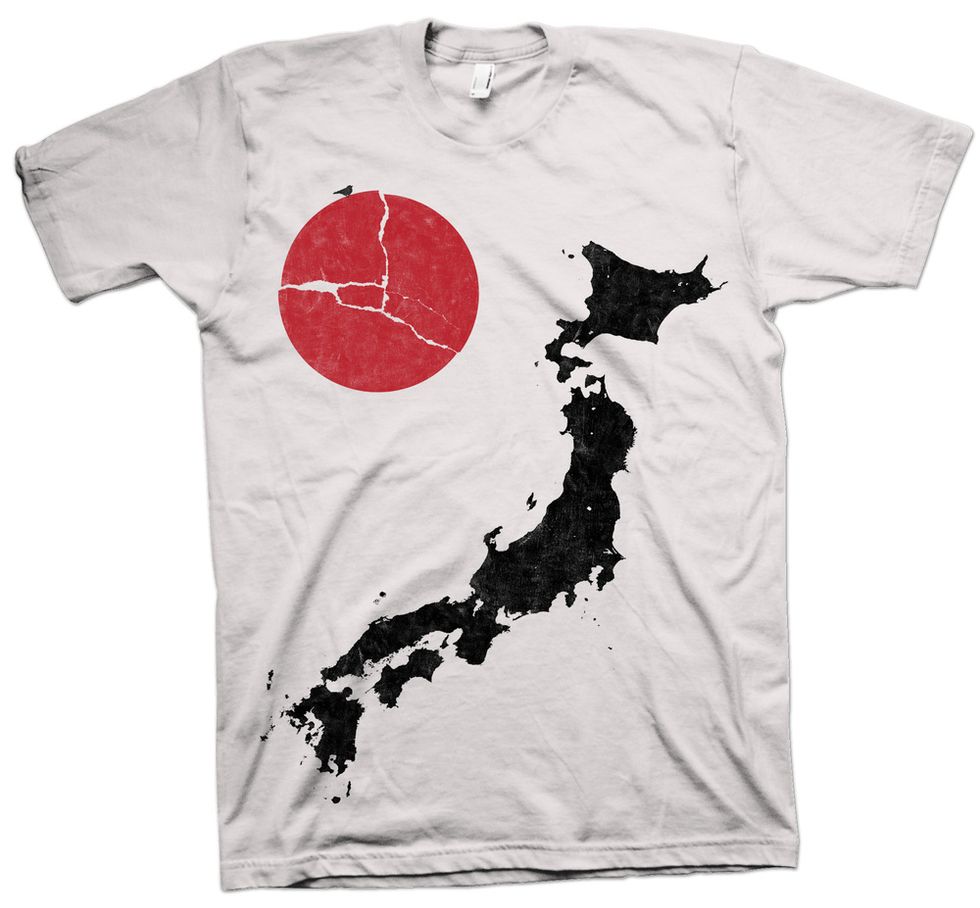 SwipeGood and World Vision: SwipeGood and World Vision have teamed up, offering an easy way to support the victims from Japan's earth quake: You can enroll your credit or debit card with SwipeGood and select the World Vision Disaster Aid Fund as your charity of choice. SwipeGood rounds up every purchase you make to the next dollar, donating the difference to the World Vision Disaster Aid Fund. In this way, you support the people of Japan with every purchase you make.
Convoy of Hope & Cauzoom: Convoy of Hope is an organization that specializes in getting useful, practical help to disaster areas, with the goal of restoring dignity and hope to families and individuals who are facing their greatest challenges in life. Convoy of Hope prepares hygiene kits at their warehouse, at a cost of roughly $5 each. This project will fund the assembly of 200 kits to be shipped to families in Japan at the earliest possible opportunity. Each hygiene kit includes the following:
\n
1 full-size bottle of shampoo
1 toothbrush
1 full-size toothpaste
1 bar of antibacterial soap
1 hand towel
1 comb
\n
To donate money for hygiene kits, go here.
Once again, we'll be updating this continuously. Send links or info about how anyone can help out to jervey at goodinc dot com.