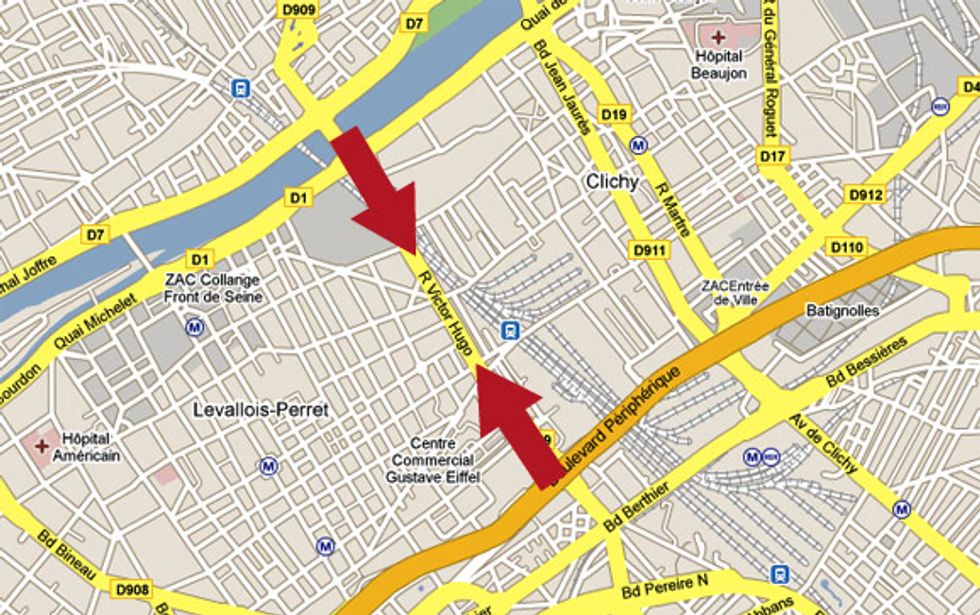 ---
Everything about this story is awesome, especially the AFP headline,
French towns on one-way street to head-on collision
.The Parisian suburb of Levallois-Perret, which is conservative, and the neighboring town of Clichy-la-Garenne, which is socialist, both experience a lot of traffic courtesy of commuters heading back and forth from Paris. (You'll note that the combination of heavy automotive traffic and incompatible ideologies sets the stage for a marvelous war of wills.)Apparently, the mayor of Levallois-Perret thought that route D909 (aka Rue Victor Hugo) brought his town too much traffic, so he figured he'd turn it into a one-way street, sending all the traffic into Clichy. This perturbed the Clichy mayor. So, he declared his town's stretch of D909 a one-way street in the opposite direction, sending all the traffic directly into Levallois-Perret.Of course, this created a bit of snafu where the two towns meet. The ensuing chaos incurred the deployment of municipal and national police, the ultimate closure of the road, the redirection of massive amounts of traffic onto insufficient suburban streets, and some bitter, public vitriol uttered by reps from both sides of the battle-all of this happening within a few miles of Paris, arguably the global apogee of well-designed public transportation.Maybe they should take a cue from their neighbors in the Netherlands and
remove the street signs altogether
.