Articles
She's using her enthusiasm for her program to get other minorities to study nanoscience.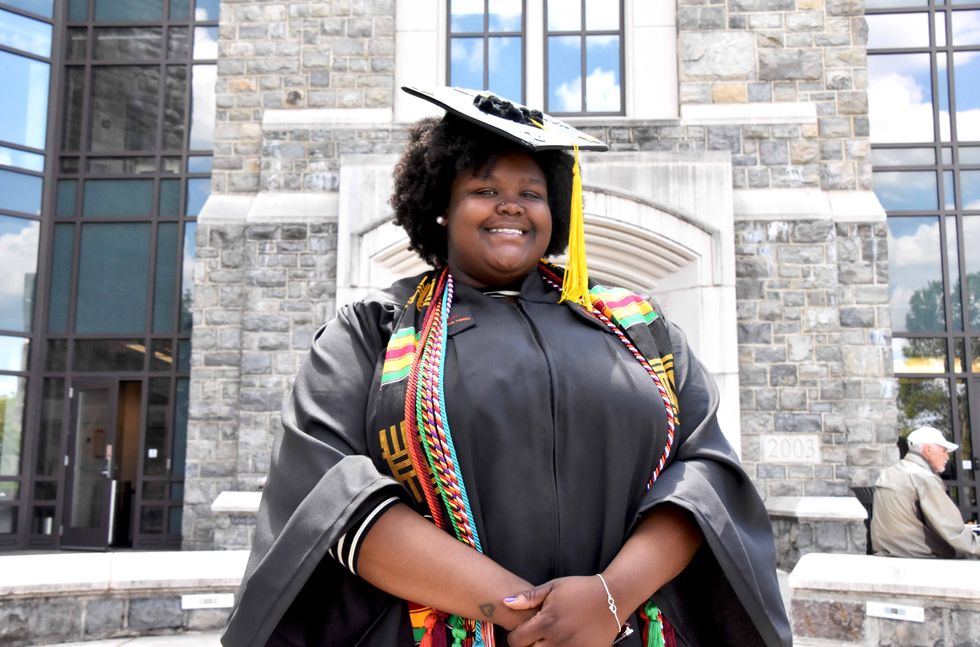 Photo by Steven Mackay, courtesy of Virginia Tech.
On May 9, Ginai Seabron made history at her university.
---
The 22-year-old from Richmond became the very first black person to ever graduate with a degree in nanoscience at Virginia Tech. She is also the only black nanoscientist in the state of Virginia, according to an NBC News affiliate report.
When the school informed her about this incredible news, the new graduate could not believe it.
"We talked to the department head and he looked it up and confirmed it," Seabron told NBC12.
According to Virginia Tech News, the university only has 20 graduating seniors in the nanoscience major, one of whom was Seabron. Nanoscience is defined as the study of materials, phenomena, properties, and applications at the smallest length scale at which can control matter.
In short, it's the study of really small stuff.
Seabron posted the news about her groundbreaking achievement on Twitter and her tweet went viral.
"OFFICIALLY DONE!," Seabron tweeted. "These past 4 years have been longgg and HARD but I/WE made it. You are looking at the FIRST African American Woman NANOSCIENTIST from Virginia Tech!"
Seabron's news even got the attention of another pioneering black woman. ABC producer and writer Shonda Rhimes retweeted an article about Seabron, simply tweeting: "Yes," to which, Seabron responded with: "WHAT! #BlessedBeyondDisbelief"
On graduation day, Seabron told Virginia Tech News that she was surprised that her tweet had gone viral, saying that she didn't expect that to happen at all. "It's overwhelming, but I love it," she said.
She also said that graduating in her field definitely had its share of obstacles. "It is not easy at all being the only African-American in the room," Seabron said. "It's intimidating."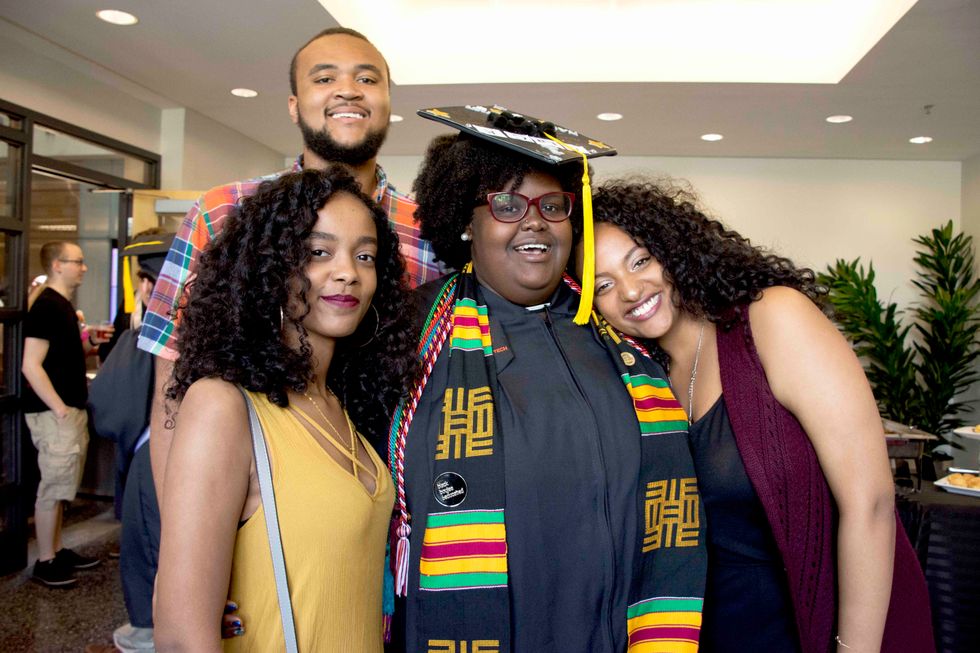 Photo by Steven Mackay, courtesy of Virginia Tech.
Seabron is using her enthusiasm for her program to get other minorities to study nanoscience and has already helped other black students transfer into the program.
And her incredible track record isn't just her academics and degree: While her focus was on nanoscience, the former student managed to juggle a huge load of activities throughout her time at Virginia Tech. She served as president of the Black Organizations Council, was a member of the Enlightened Gospel Choir (which garnered her a leadership award), a resident advisor, a teaching assistant, and a volunteer mentor for young kids.
One of her biggest supporters that helped her along the way was, of course, her mother, Sherita.
Sherita told NBC12 that she encouraged her daughter by praying with her and telling her that she could never give up. "That wasn't an option for her," Sherita said.
Seabron said it's her mother's that guidance that helped her graduate and is sharing that advice with other students who may feel discouraged about higher education.
"Continue to push," Seabron said to Virginia Tech News. "Rely on your family and your friends. Reach out to your professors. Go to office hours. Create your own office hours if you have to. Be social. Step out of your comfort zone. Get to know the people in your class — they could become your study buddies. You'll think you're the only person struggling, but as it turns out, everybody's struggling."