Articles
For Ford, Zipcar Opens The Door To Youth
Ford and Zipcar are wooing students, but will they fall in love with Ford's cars, or car-sharing?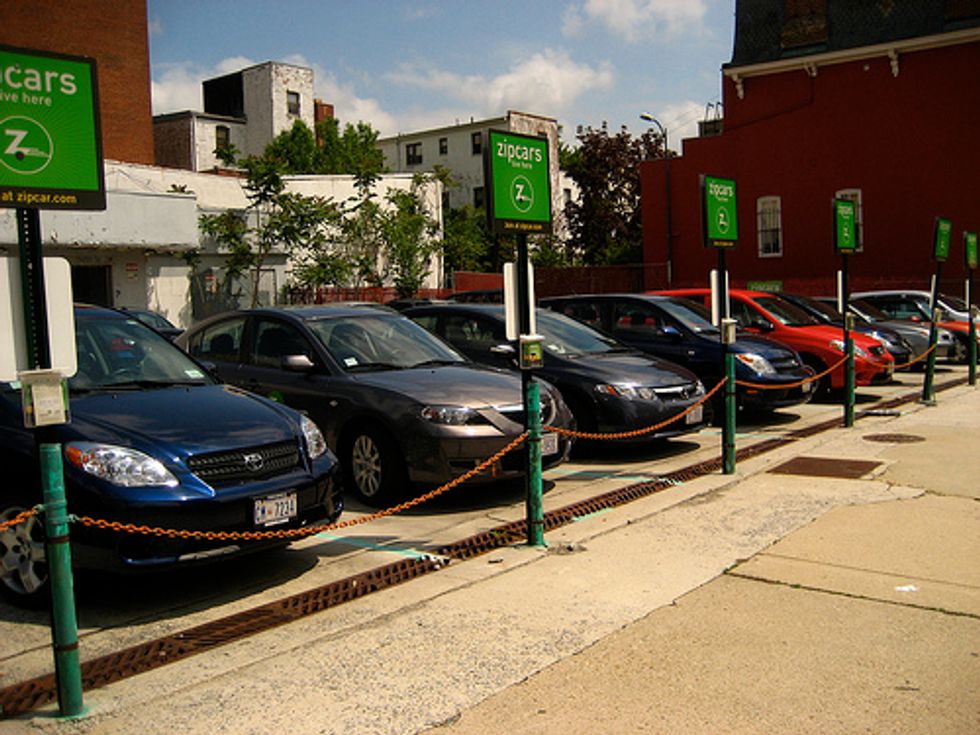 If you're trying to sell cars to young people, a central obstacle is that they don't necessarily want to buy them; instead, they want to share them. Now auto giant Ford is trying to turn this dynamic to its advantage by partnering with Zipcar, the service that allows users to rent cars cheaply by the hour.
It's an interesting move for Zipcar, which markets itself as "a community of folks who've found out that car sharing beats the heck outta car rental or ownership."
---
The two companies announced Wednesday that Ford would sell 650 Ford Focuses and Escapes to Zipcar, a GOOD Company Project finalist. The cars will be deployed for use at 250 car-sharing sites partnered with universities and colleges; Ford will also offer discounts to the first 100,000 new 'Zipsters' who join through higher education affiliates.
Zipcar will get more customers and free publicity—not to mention save some money on gas, which the company covers, thanks to the fuel-efficient cars—while Ford hopes that college students will fall in love with their cars and lean toward purchasing them when it comes time to buy a car.
"If you look at the sheer size of the millennial generation, it is pretty significant, and how they consume information is changing dramatically, which means we have to change how we communicate about our products and technologies," Angie Kozleski, a Ford representative, says. "Car sharing programs become students' first experiences behind the wheel."
According to studies commissioned by Zipcar, half of 18-to-34-year-old drivers spend less time in the car than previous generations, and 45 percent say they are consciously trying to drive less. The U.S. Department of Transportation found a 19 percent decline in 16-to-19-year-old drivers over the last two decades. That spells trouble for carmakers hoping to increase sales in the 100 million-strong millennial market.
But will the partnership result in real sales for Ford as college students fall in love with their cars, or is Zipcar just taking advantage of the free marketing to inoculate a generation in favor of its approach to auto use?
"For students moving to urban areas after they graduate from college, we want them to continue on as Zipsters; that's definitely our goal," Zipcar spokeswoman Colleen McCormick says. "The reality is that some students don't move to urban areas, or move to areas where car-sharing might not be available."
Still, there's upside here for Ford, too. The company will earn brand points for engaging with a hip, sustainability-focused company, and make a little money in the process.
"When you sell a large number of vehicles as a fleet like this, the cost makes it very profitable for an automaker," says Aaron Bragman, a senior analyst with research firm IHS.
Perhaps more importantly, the auto giant will learn some important lessons about the next generation of car buyers and the changing economic and environmental calculus around buying or sharing cars. Part of the motivation for agreement was forward-thinking Ford executive chairman Bill Ford, whose interest in environmental issues lead to initial discussions with Scott Griffith, the Zipcar chief.
Griffith told TheNew York Times that the Ford deal was a major endorsement of his fledgling business model, but if trends in sustainability, urbanism, and auto usage continue, this deal may be less important as a validation of Zipcar than as a demonstration that Ford can operate in the auto economy of the new century.
Photo via (cc) Flickr User tvol