Articles
The next chapter in our GOOD Design program will be funded by an exciting new initiative to drive urban revitalization through the arts nationwide.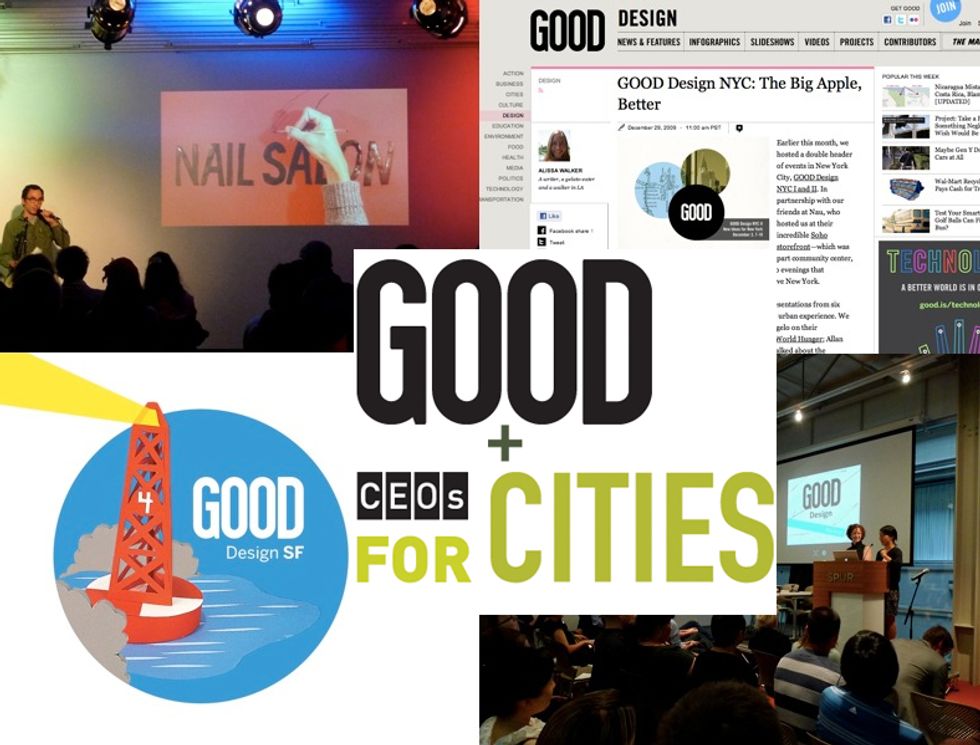 At GOOD, we know the power of creative thinkers when it comes to tackling urban problems. Creatives have a unique ability to make big ideas easy to understand, visualize solutions in a way that gets people engaged, and connect with audiences. Three years ago, we created a series of events called
GOOD Design
to showcase how creatives can solve real problems proposed by urban leaders. And today, we're excited to announce that
GOOD
and
CEOs for Cities
will be collaborating on the new chapter of this initiative,
GOOD Ideas for Cities
, funded in part through a grant from
ArtPlace
, a new nationwide initiative to drive urban revitalization through the arts.
ArtPlace is a collaboration between the National Endowment for the Arts and 11 top foundations—including the Ford Foundation, Rockefeller Foundation, Bloomberg Philanthropies—that are combining forces to accelerate the work of creatives who are improving their cities. 34 local projects in cities across the country, ranging from a Detroit street that's being converted into a cultural center to a high-tech, socially-focused urban redevelopment project in San Francisco, will share $11.5 million in grants. You can read more about the initiative in TheNew York Times, and you can even apply to be a part of it: ArtPlace is already looking for its next round of grantees.
---
[vimeo][/vimeo]
Brian Singer of Altitude SF presents his solution for the American Red Cross at the GOOD Design Bay Area event held at SPUR in San Francisco

We feel honored to be included in this inspiring list of ArtPlace grantees since they're all exactly the kind of projects we hope to incubate through our program. Since 2008, our GOOD Design events have paired creative problem-solvers with large-scale urban challenges proposed by civic leaders. The teams present their concepts at high-energy live events that allow for a meaningful dialogue between the creative teams and urban leaders, as well as immediate feedback from local audience members. These events have been held in Los Angeles, San Francisco, New York, as part of CEOs for Cities' national conference, and at several design schools across the country. We're hoping this grant will allow us to do even more.
The most inspiring part of these GOOD Design events is seeing how creatives and city leaders working together to bring their ideas to life. Most recently, a GOOD event in Los Angeles called "Steal This Idea" featured six creative teams tackling everything from transportation to public media, with clients ranging from LAUSD Superintendent John Deasy to L.A. Food Policy Council director Paula Daniels. And we're already seeing the ideas popping up locally.
One of the L.A. solutions, a board game to help train volunteers working with the homeless, is already in use at recent workshops in L.A. and New York. Becky Kanis, director for 100,000 Homes, says it has created a drastic bureaucratic shift. "It tends to cut processing time in half!" she says. "Serious systems change." In the health community, a solution by Karten Design for the USC Center for Body Computing has led to Stuart Karten joining the groundbreaking center to work on other wireless health solutions. Our hope is that our partnership with CEOs for Cities and guidance from ArtPlace will help us to implement more of these solutions across the country.
[youtube]http://www.youtube.com/watch?v=E36pFJtG5fU
Erin Mays and Jonathan Abarbanel of Stuart Karten Design present their concept for the USC Center for Body Computing at the GOOD Design LA event held at ATX in Los Angeles.

As we head into the next year, we plan to expand the program in several ways. First, we hope to engage a wider range of creatives, from artists to filmmakers to writers. We'd like to bring the program to mid-sized American cities, working to create the same kind of energy and enthusiasm created in L.A., San Francisco and New York. We also hope to launch several more programs in schools. We'll be creating a website that shares proposed solutions, as well as stories from creatives working on problems in their communities. We'll be launching a new effort that engages the community, so anyone can contribute their solutions for city problems. And finally, we'll be producing a toolkit that allows any group to produce a GOOD Ideas for Cities event in their community.
In the meantime, we'll be hosting events in New York City on September 19, and in San Francisco on September 29.
We're looking forward to the next year of GOOD Ideas for Cities and we hope to see you at an upcoming event! Please get in touch if you'd like to talk about bringing the program to your city by emailing alissa[at]goodinc[dot]com or follow us at @IdeasforCities