Articles
GOOD Instructions: How to Give Gifts With Less Waste
Here are a few ideas—from reusable wrapping to creative and home-made gifts—to get you started.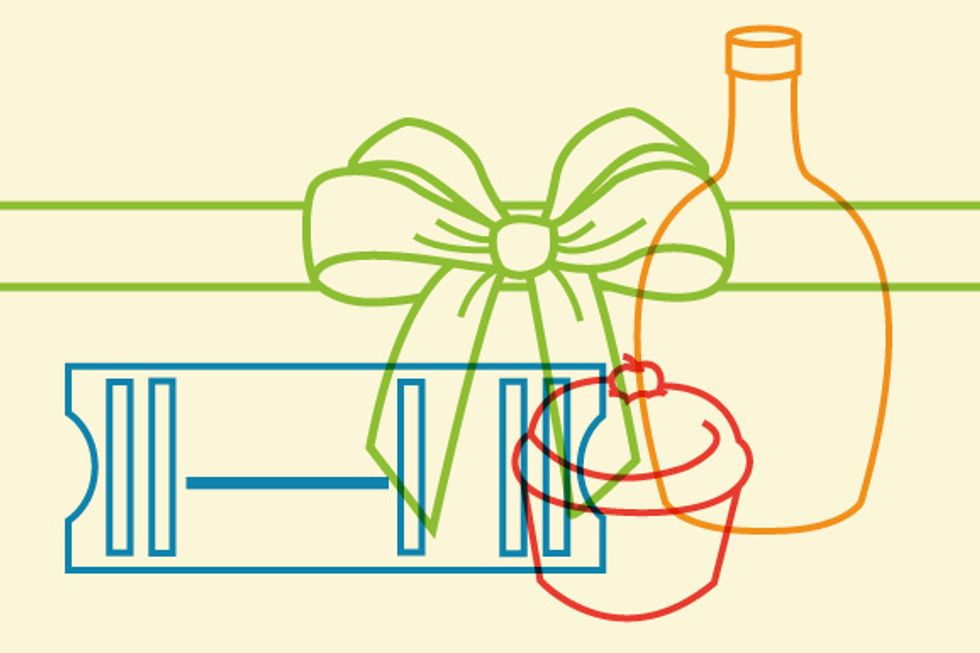 Between graduations, birthdays, weddings, showers, and Hallmark holidays like Father's Day, summers have become high season for gift-giving. But if you consider that during the Christmas alone, more than 8,000 tons of wrapping paper and almost two billion cards are thrown out every year, it's worth giving a little thought to how to do it in a less wasteful way. Here are a few ideas—from reusable wrapping to creative and home-made gifts—to get you started.

Think outside the box. There is no need to buy rolls of wrapping paper, bows, boxes, and gift tags. Keep a box in your closet for tissue paper, small paper bags, ribbon, string, boxes, or anything decorative that you acquire, either from shops or when receivng a gift yourself. You can even use newspaper, cloth napkins, or cute reusable grocery bags. For an added flourish, use some leftover ribbon to tie a flower from your garden to the parcel.


---
Skip the cards. Instead, just write a little note directly on the wrapping. If you're using cloth or you just really, really want to include a written message, skip the envelope and fold the paper to keep your message private. Use stationary that is made from recycled paper or that can be composted or planted.
Donate. If you don't know what to get or are on a time crunch, a thoughtfully chosen donation in someone's name can be a lovely gift. (You don't need to state the amount if you don't feel comfortable.)
Read through the registry. If the couple or person is registered, look through their list and try to find an item that is sustainably made or organic. If possible, purchase the item from the store and wrap it yourself to avoid the extra packaging (and footprint) involved in shipping.
Buy what is really wanted. Everyone's been there: In a panic, you grab something—anything—as a gift because you simply don't know what to get. But buying stuff people don't want or need is one of the most wasteful things we can do. Plan for this, and give it some thought. Once you have a good idea, try to get the most sustainably made version of that item.
Give from nature. Plant a tree for someone, or re-pot one of your plants and share it. For new plants, check out your local farmers markets or natural health food store for sustainably grown options. If you have your own food-bearing garden, take some fresh fruit or vegetables and put them in a reusable basket or bag.
Gift an activity. If your friend is a basketball fan, get them tickets to a game. For foodies, a gift certificate to an organic restaurant would work. For theater buffs, pick a well-reviewed play and get them good seats.
Get your hands dirty. Making something simple like body scrub or bath salts is sustainable, easy, and affordable. For bath salts, mix epson salts with some dried lavender or rosemary. Put them in an old mason jar and you're done. For a scrub, mix 1 cup coarse salt or turbinado sugar with 1/4 cup oil (avocado, almond, jojoba, sesame, or coconut oil are best), 1/8 cup cocoa, and 1/4 tablespoon of an extract you like the smell of. Seal it in a jar and you're done.
Make something edible. Homemade baked goods produce little waste and are always appreciated. If baking isn't your thing, try a flavored simple syrup. It can go on ice cream, in soda water, on pancakes, or in cocktails. To make it, combine one part sugar with one part water and the flavor of your choice. (Vanilla beans, ginger, and mint leaves are favorites.) Combine over heat and bring to a boil, dissolving the sugar. Once it's cool, pour it into a pretty bottle, and tie a ribbon around its neck.