Articles
How My Mother's Writing Helped Me Cope With Her Death
While the world celebrates my writer mother's life, I'm still coming to terms with her death.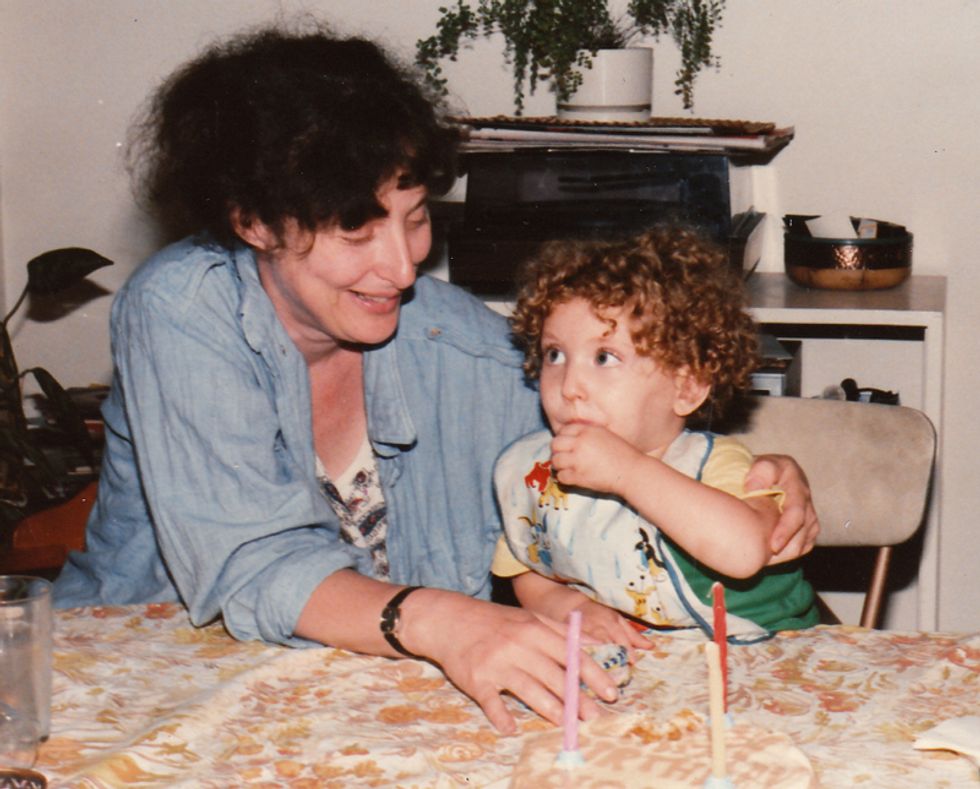 My mom and me on my second birthday
The loneliest I've ever felt was three nights before my mother died. Her lung cancer had accelerated from a bad cold to the worst-case scenario in just a couple of weeks, and no one had the balls yet to tell my father and me that she was definitely going to die. After a maze of maddening phone calls we finally arranged for a hospice worker to come in the morning. My father sent me back to my apartment to rest after two straight days of spoon-feeding my mother Ensure mixed with applesauce, keeping Otis Redding and the Velvet Underground in constant rotation, whispering softly that we were here, that we loved her. I spent that night with a knotted, caffeinated tummy, in and out of sleep, more hopeless than I'd ever felt in my 22 years. Barely anyone knew that my mother was dying, and nobody understood.
---
Three days later, she was gone. Suddenly everybody knew. Not just our family and friends, but the whole world. My mother, Ellen Willis, wasn't superfamous, but she was a pretty well-known writer, feminist, and professor at New York University. She was the first rock critic for The New Yorker and was a cofounder of the feminist group Redstockings. So the news spread in newspapers, on blogs, on massive email chains. The more obituaries people wrote, the looser my tummy knot became. My heart lifted a little more with each friend, colleague, former student, or random fan of my mother's who contacted me not just with generic condolences, but to tell me how influential my mom had been.
The funeral was almost joyful. The room was packed with 500 people, many of whom had never met my mom. Most of the speakers were writers themselves, and they peppered their eulogies with jokes and political commentary. There was a distinct feeling that even though Ellen the person was gone, Ellen the writer, the thinker, the voice would live on. All of it made me feel so much better. Nobody else had lost a mother when Ellen Willis died, but they'd lost an intellectual role model. I wasn't completely alone.
It was only when I watched the trailer for an in-process documentary called The Club, which profiles women who lost their mothers at formative ages, that I realized how unique my experience was. Women described the secretiveness that had surrounded their mom's death. "Her name was never mentioned again," said Rosie O'Donnell. "It's scary to feel like you're grieving on your own," author Hope Edelman added. The opposite had been true for me; when a stranger wanted to talk about my mom, they'd tell me about it more often than anyone else—whether I asked or not.
Inevitably, after my mom's funeral people flew back to their homes, moved on with their lives, and forgot to check in. But I continued to get notes from people who loved her work. I was getting to know my mother's writing better, too. I mined her books of essays and the endless stack of articles in her filing cabinet, some of which were deeply personal. I got to know her as a younger woman: I read about her first acid trip, about her awkward interaction with Lou Reed in a hotel room, about a random New York Jewish Christmas, about how in the hell she found herself married at age 19. I set up a Google alert on her name so I could have a perennial reminder that yes, she had existed, she had been important, and that no one was going to forget her.
I channeled these feelings into bigger projects. Only weeks after my mother's death, my friend Emma and I hatched an idea for a road trip to find out what feminism meant to young women. I fiercely guarded my mom's Wikipedia page from inaccurate information and created an online archive of her work. I spent weeks in my dad's basement meticulously preparing her papers for the Radcliffe Institute, poring over every word on every sheet of paper she'd ever saved. I embraced the years-long process of collecting her music criticism into a book, and then helped put together a conference honoring her. As I read and collected, the knot in my stomach became looser still. I owed it to her to preserve her legacy, but it also helped to ease my pain. I started to wonder how anyone deals with their mother's death without a huge archive of her work to sift through.
One offhand comment in the trailer for The Club made my heart stop: "It's hard to bring up my mom in conversation, because obviously you don't want to upset anyone." Even though I have spent the last five years feeling grateful that I've had an easy way to keep my mother's memory alive, it occurred to me that it still made people uncomfortable to talk about her death. People still squirmed in their seats when I recounted any details unrelated to her career. They didn't want to hear about the last week of her life, of her stumbling and struggling to speak and not knowing who I was. The praise for her writing is little comfort when I think of all the things I've done—written thousands of words, fallen in love, lived away from home, traveled the world—that I'll never get to tell her about. I realized there was a big difference between honoring a writer, whose legacy is inevitably buoyed by the romanticization of death, and honoring a person.
The Club hopes to remind us that a mother doesn't have to be a public figure to deserve a public tribute and a record of her impact. Just because a mom didn't happen to have a way with words doesn't mean her story shouldn't be a sort of public experience on its own— especially in the case of a woman from an older generation, who is even less likely to have a mom like mine. I understand why filmmakers Katie and Carlye, who both lost their mothers young, are so determined to make this movie. When The Club is completed, it will not only preserve their mothers' story—it will open a door for other people to tell their own.
Katie and Carlye still need a lot of support to get their movie made; you can support The Club on Kickstarter here.