Articles
If Only the Millions of Thanksgiving Travelers Took the Train
At least 37 million Americans will be traveling for this Thanksgiving holiday. Our roads and minds would benefit from better trains.
Breaking: lots and lots of people travel for Thanksgiving. How many? According to AAA: "37.29 million Americans will take a trip of 50 miles or more from home this Thanksgiving holiday weekend." Of these, 83 percent are expected to drive (or "go by motor vehicle," in AAA's parlance), and 12 percent (or 4.64 million) will fly.
These flight numbers don't agree with predictions by the Air Transport Association, which says that 24 million air travelers are expected over the holiday weekend, "with daily passenger volumes ranging from 1.3 million to 2.5 million."
---
I think the discrepancy probably has something to do with how AAA and the ATA count "travelers."
Now—probably to the surprise of my parents and friends—I have no intention of raining on anyone's Macy's Thanksgiving Day Parade with talk about the carbon footprint of the holiday or any such thing. But it does strike me as a good opportunity to talk about how much better Thanksgiving travel would be with a better national rail system, one that featured good intercity high-speed rail.
Seeing as every available passenger rail car in Amtrak's will be in service this holiday week, and that the company "is scheduling extra trains to accommodate additional passengers in the Northeast, Midwest, and on the West Coast," it's safe to assume that the demand is already there.
And so I'll use this holiday to opportunistically post this great graphic from the Center for American Progress about high speed rail.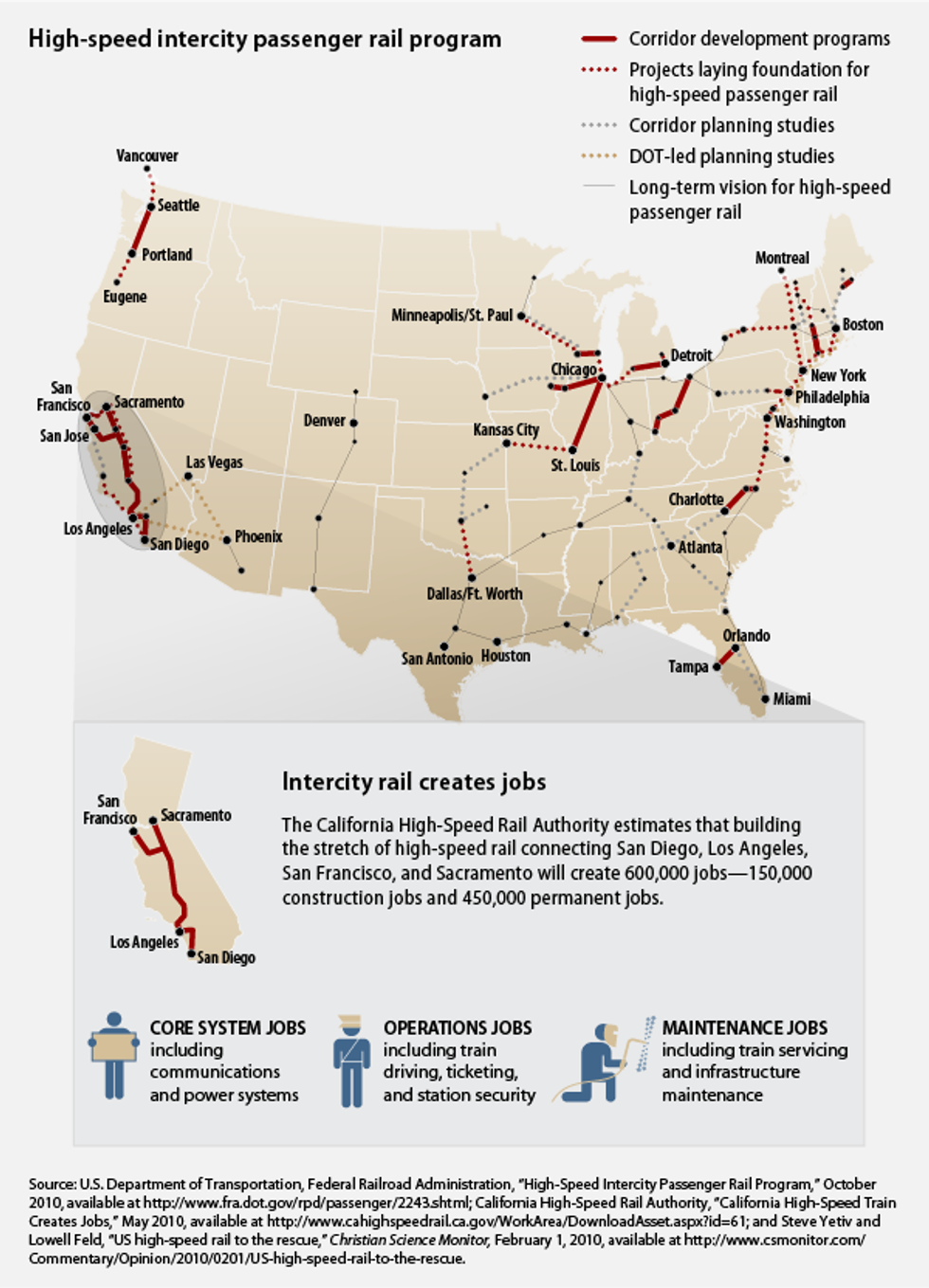 Anyone who has ever driven anywhere close to a major city on the Wednesday before Thanksgiving knows how awful it can be. And cities are, after all, the end destination for 34 percent of travelers. Seems reasonable enough to assume that lots and lots of these motor vehicle trips could be replaced by rail.
Maybe it's a coincidence—I actually don't think so—that the region of the country that has the best rail connections (the Northeast) has the fewest amount of auto travelers:
The greatest number of Thanksgiving auto travelers will originate in the Southeast with 8.81 million; followed by the West, 7.05 million; Midwest, 6.58 million; Great Lakes, 6.06 million; and Northeast, 2.34 million.

\n
And that's certainly not because there are fewer caring family members in the Northeast.
(Anecdotal evidence to prove the point: I'll be traveling from Philadelphia to Boston, up to Newburyport, Massachusetts, to make my family's dinner, and though I booked tickets weeks ago, tickets were scarce on Amtrak, Greyhound, and BoltBus. I'll be riding the bus, but would much rather be taking a train if there had been availability.)
Finally, even though I promised not too: If you needed any more reason to feel guilty on this otherwise glorious day of gluttony, sloth, family and football, those cruel nannies at the Los Angeles Times have broken down the carbon footprint of your traditional Thanksgiving turkey dinner. Pass the gravy!