In Europe, Package Deliveries Come Without Carbon Emissions
A handful of companies have started making deliveries with smaller trucks, skinny cargo trains, and hybrid tricycles.
09.11.11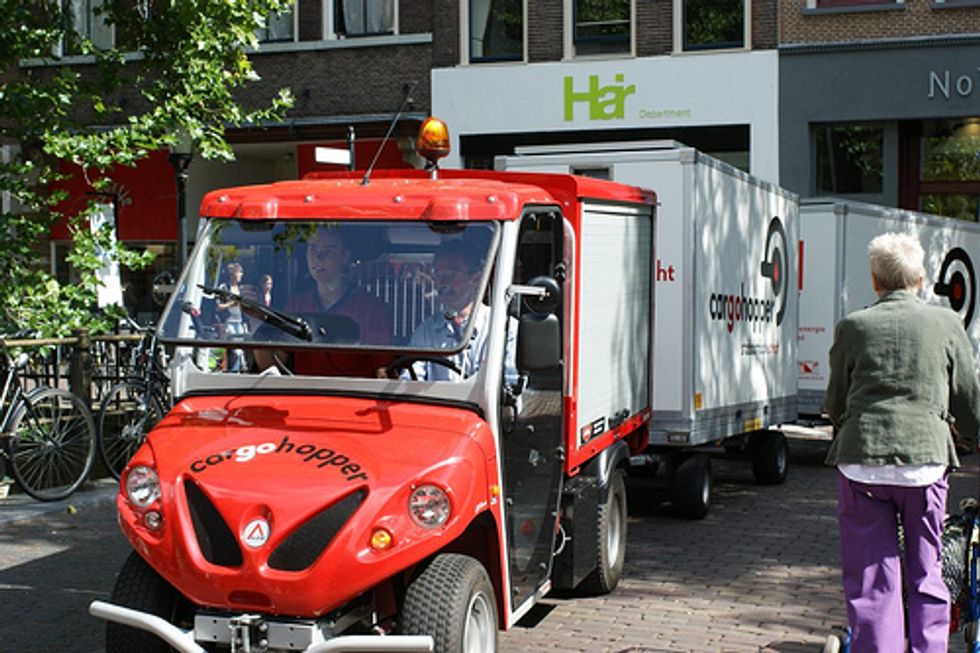 In the United States, deliveries come in behemoth trucks that idle on the street, spewing carbon and blocking traffic. But in European metropolises, a handful of companies have started making deliveries with smaller trucks, skinny cargo trains, and hybrid tricycles. These delivery systems not only alleviate traffic, they draw down the carbon impact of the "last mile," the final leg between shippers' closest distribution centers and customers' front doors.
Utretcht's Cargohopper and London's GnewtCargo were pioneers in greening the last mile. In 2009, Cargohopper grew out of a municipal initiative to decrease emissions in Utretcht, the fourth largest city in the Netherlands. A private company, Hoek Transport, began to deliver packages using 16-meter long electric vehicles—tiny trucks that could pull a series of cargo boxes behind them. The idea occurred to Jacques van der Linden, Hoek's director, after he saw electric trains carrying tourists around Bratislava.
---
Within a few months, the cargo boxes had been equipped with solar panels that could provide enough energy for the trains during most times of the year. One cargo train replaces the services of five delivery vans, the company says. Cargohopper originally could deliver only packages, but this year added the capability to carry larger pallets.
GnewtCargo relies on different modes of transportation: hybrid tricycles with cargo holds between the two back wheels, and electric vans for carrying larger loads. Distripolis, started this year in Paris by transport company Geodis, operates similar vehicles.
All three companies made their systems feasible by adding distribution centers closer to the city center. Packages still arrive at large centers further outside the city, but they make an extra stop at a smaller center, where they're loaded onto the green delivery vehicles. The vehicles do travel at slow speeds—GnewtCargo's cycles make their rounds at about 7 miles per hour, and Cargohopper's trains can speed up to about 12 mph—but they say drivers end up saving time by avoiding traffic congestion. And of course, the vehicles save significant carbon emissions: Distripolis hopes to decrease its carbon impact by 85 percent by 2015.
Photo (cc) via flickr user uitdragerij
Articles