Articles
Is Los Angeles the Most Diverse City in America?
It all depends on whom you ask—and how they measure.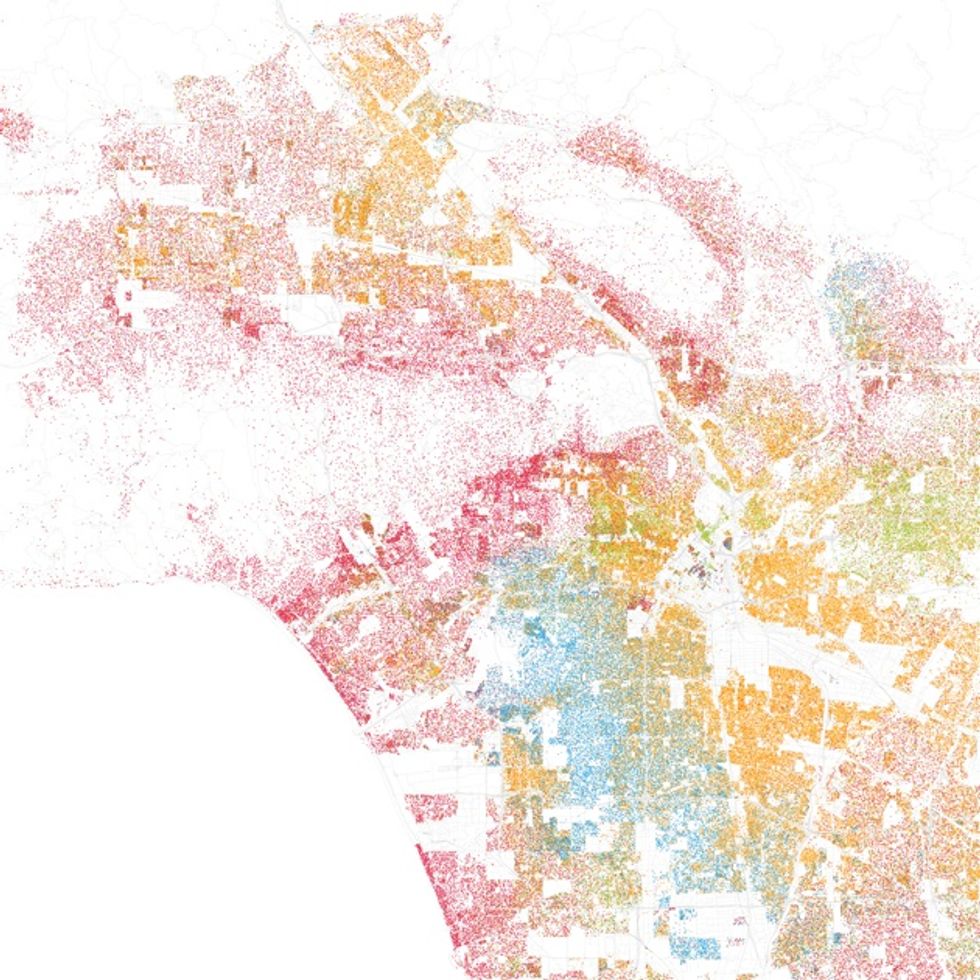 ---
\n
Every three months, GOOD releases our quarterly magazine, which examines a given theme through our unique lens. Recent editions have covered topics like the
impending global water crisis
, the
f
uture of transportation
, and the
amazing rebuilding of New Orleans
. This quarter's issue is about cities, spotlighting Los Angeles, and we'll be rolling out a variety of stories all month. You can subscribe to GOOD
here
.
From Spanish missionaries to the Watts riots, the Kogi Mexican-Korean food trucks to Crash, Los Angeles' ethnic and racial diversity has defined the city's history and culture. But how does it compare to other metropolitan melting pots?
It all depends on how you measure diversity.
If you look at the total number of minorities in an area, Los Angeles does come out on top. According to county-level data from the 2007 U.S. Census, Los Angeles County has more Hispanic residents (4.7 million), Asian residents (1.4 million), and Native American residents (146,500) than any other in the nation. But that's largely because Los Angeles County has more people, period. L.A. County has 9.8 million residents, nearly twice that of Cook County, Illinois, the second largest.
Another method is to look at the percentage of minorities in an area. By this measure, according to the online data repository City-Data, New York is the most diverse major city, with only 35 percent of residents identifying as "white only," followed by Dallas, Chicago, and Houston. However, City-Data's figures don't jibe with the 2005 to 2009 U.S. Census American Community Survey, which places the New York figure at 45.4, behind Chicago's 41.9 percent.
Regardless, that metric ignores the many differences between, for example, a Sudanese refugee and an African-American whose ancestors came over as slaves several generations ago. We might want to look at which cities have the most residents who were born abroad. By that measure, according to the Migration Policy Institute, a think tank based in Washington, D.C., Miami, with its large population of immigrants from Cuba, as well as other countries in the Caribbean and South America, leads the nation with 36.5 percent.
Not only do the MPI's numbers agree with Census data, the Institute also offers what might be the best measure of diversity. It defines "hyperdiverse" cities as those with at least 9.5 percent foreign-born residents, with no one country of origin accounting for more than 25 percent of the foreign-born population, and immigrants coming from all regions of the world. The MPI highlights New York as one of the most "hyperdiverse" cities in America, others being Washington, D.C.; San Francisco; and Seattle.
Image credit: Los Angeles 2009 census data visualized by Eric Fischer