Articles
Lessons From the End of the Free Starbucks Card Experiment (UPDATED) Jonathan's Card Starbucks Sharing Experiment Shut Down
You can't use his Starbucks card to get free coffee anymore, but Jonathan's card inspired a community of sharing that will carry on.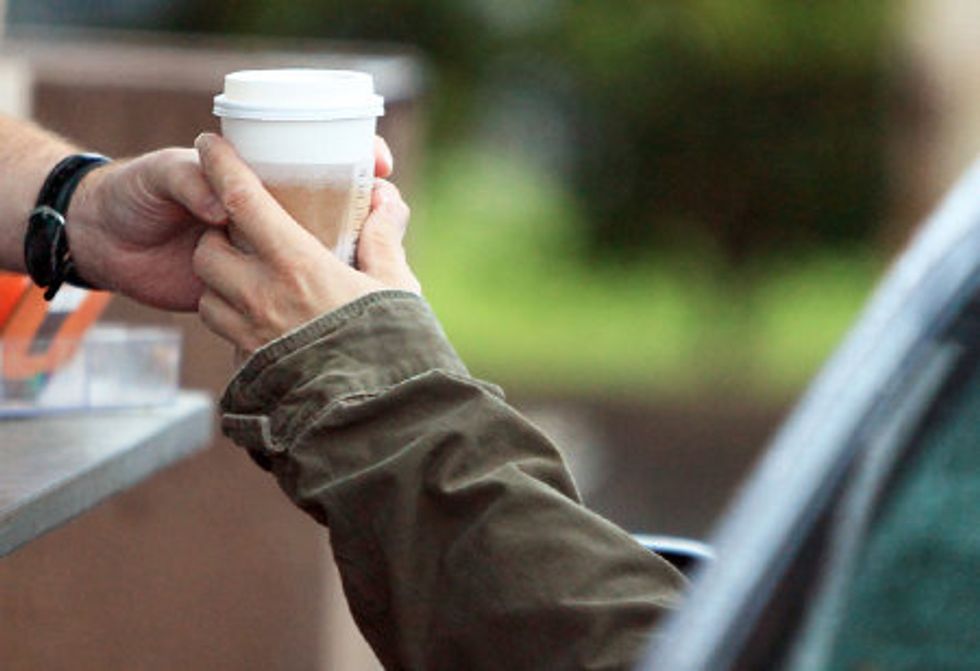 Starbucks has put an end to a the Jonathan's Card free coffee bonanza, citing concerns about fraud. As we
reported last week
, mobile app developer Jonathan Stark accidentally kicked off a massive experiment in collective consumption and mobile currency when he made his Starbucks card available for anyone to use or fund. Stark's project may be over, but it's inspired the community he created to carry on its legacy through new communal cards and other good deeds.
"This proved that people are generally good," Stark tells GOOD. "Way more people involved, from a person by person basis, did the right thing."
---
The card was open to the public for about a month before it became a national news story early last week. Then, over the course of a hectic several days, more than 500 coffee drinkers added (and spent) over $8,000 to the card. The experiment delighted thousands of people who saw it as anything from a cool game to a validation of humans' intrinsic generosity.
After about a week in the spotlight, the fun ended. The purported villain is a now-contrite tech entrepreneur named Sam Odio. Because Stark made all kinds of data about the card available, Odio was able to write a script that let him transfer large amounts of money to his own personal card. The program alerted Odio when Stark's card balance hit a certain level so he could know when to walk to the counter and efficiently transfer larger amounts to his own Starbucks card.
That may sound like straight up stealing, but Odio apparently intended it as an experiment of his own. He was open about his plan, writing a blog post in which he explained the premise, invited others to use the script, and promised to sell the card on eBay and donate the proceeds to Save the Children. It took him five hours sitting in a Starbucks, he said, to pilfer $625 off Stark's card, enough to make the point that this system wasn't secure. Meanwhile, Odio's brother added $625 to the card, canceling out the impact.
Even so, Odio doesn't clearly say his actions weren't stealing, "That's a hard question to answer [...] our net impact on the card was $0," he wrote. "Use of the card itself also had a very broad mandate and anyone in the community could use this card, not just one set of people. No specific withdrawal limits were set, though clearly one was implied."
Once Starbucks became aware of Odio's efforts, the company shut down Stark's card. "We were concerned with fraudulent activity," a company spokesperson told GOOD. "Starbucks was supporting the program from the sidelines, because it was an interesting thing, and in line with the pay it forward mentality." But, she said, the very concept of sharing a card violates the company's terms of service.
Card users had come to cherish this sweet system of radical sharing because it functioned without any set rules or oversight. So predictably, the sharers went ballistic at the news that one man's scheme had shut down the entire venture. Some called for Odio's arrest while others threatened violence. Odio apologized on his blog, saying he underestimated how invested people were in the project and how upset they might be when he threw a wrench in the plan.
"The experiment, as I understood it, was to examine human behavior through the creation of a common good (not to be confused with a public good)," he wrote. "With such a mandate it's hard to 'ruin' the experiment since the reactions of the participants can simply be considered an outcome." But cold logic can't sooth an exuberant community. Just read the comments on Stark's open letter to Odio.
Though clearly disappointed by the abrupt end to his otherwise-successful project, Stark is forgiving, pointing out it wasn't so much the script or code that Odio wrote but how it was publicized as a "hack" that was unfortunate, because that's what led Starbucks to shut it down. "The card wasn't hacked. He was standing in the store swiping the card just like anybody else." To all the critics who say one bad apple spoiled the bunch, Stark says, "from the inside that's not how I see it at all. Tons of people were way more generous than I thought. Just because one person spray painted the mural doesn't make it a failure."
Since the shut down, Stark has become something of a champion of the spirit of sharing on the various online hubs for the project. He set the tone in a farewell message for the card. "Tonight we lose our barcode. But of course, we never needed it in the first place," he wrote. "We've received hundreds of stories of people doing small things to brighten a stranger's day: Paying for the next car at the drive through. Sharing a pick me up with someone who has had a rough time. Charging up a phone card and sharing it with strangers at the airport. The list goes on, and on, and on..."
The @jonathanscard Twitter stream and Facebook page have become soap boxes for sharing about sharing. Former card users are broadcasting stories about the good deeds they've been motivated to perform and how the project reaffirmed their faith in the kindness of strangers. Some of it is pretty heartwarming, though the effect is tempered by large quantities of Odio-related vitriol. Meanwhile, at least three copycat cards have been created.
"I was at the market today, I seen this gentlemen counting his money and adding up his groceries up," Lisa Racine-Lapham posted on Facebook. "He kept looking at the bakery table! I turned around and gave him $5.00 and told him go get yourself that snack! He was so grateful and told me that he is trying to get food stamps and god bless me! Just wanted to thank you Jonathan for your inspiration!!!"
Before the card became a national phenomenon, Stark summed up his motivation in an interview with GOOD this way: "If I had one goal it would be for more people to think like this and spawn more projects." By that measure, the project remains a rousing success.
And as for Odio's eBay auction? The top bid, which will be donated to Save the Children, is already well above face value.
UPDATED adding quotes from Stark.
Photo (cc) via Flickr user Ian Sane.