Articles
Neighborhood School Sellout
Hello, my name is Liz, and I'm a neighborhood school sellout.I used to be a hardcore preacher of the "Support your...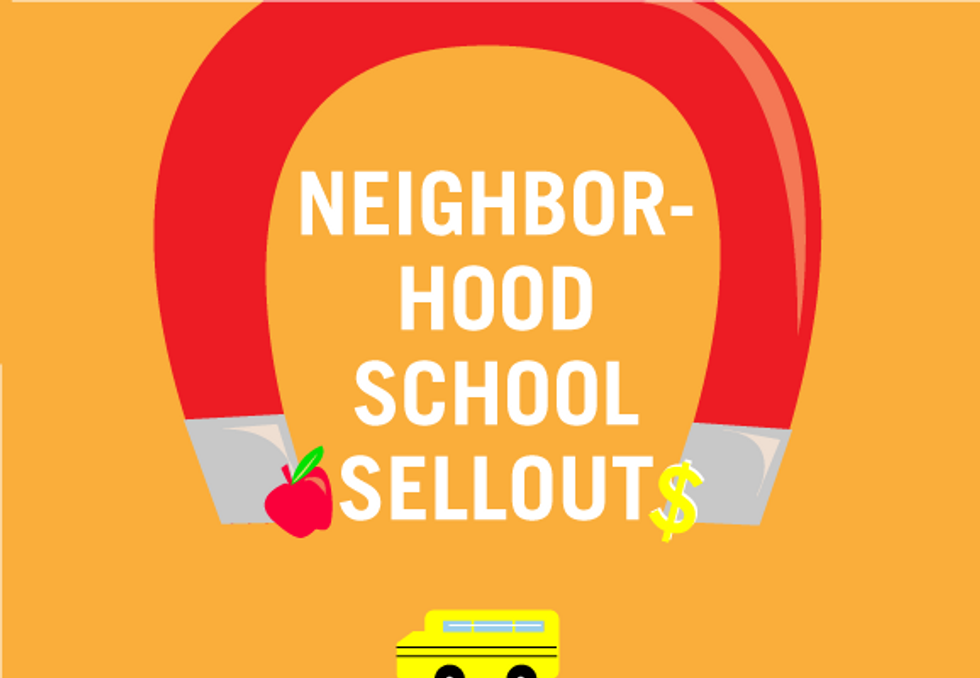 ---

Hello, my name is Liz, and I'm a neighborhood school sellout.

I used to
be a hardcore preacher of the "Support your neighborhood schools" gospel. I argued that middle-class parents who ditched neighborhood schools in favor of private, magnet, or charter schools, no matter how low performing the neighborhood school might be, were part of the problem. In my mind, neighborhood schools needed educated "activist" parents, people willing to work with administrators and teachers to ensure that an excellent public education was available to all children. Well, just like a rapper who insists they're keeping it real even though they've moved out of the hood, I'm selling out my neighborhood school and accepting an offer to enroll my first and third grade sons in a magnet school.
This is no easy decision. Yes, the magnet is a better educational choice. The problem is it's only better for
my
kids, not the entire community. It feels like I'm giving my neighborhood the finger and saying, "Good luck with that!" I sat in a school council meeting recently, voting on next year's budget, and I didn't even have the heart to tell anybody that my sons won't be enrolled after June. I feel selfish, like I'm bailing on the heart of our neighborhood.
My conversion to the dark side happened after the Los Angeles Unified School District transferred a lousy principal to our neighborhood school. LAUSD frequently dumps bad principals on schools with our demographics—our student body is 99 percent minority, 49 percent of kids are English Language Learners, and 94 percent receive free breakfast and lunch. Effective teachers left our school, test scores plummeted, and when the principal tried to disband the PTA, parent involvement disappeared.
Ensuring my neighborhood's kids got an excellent education despite all this became a crusade for me. I spoke up against what was happening because, unlike other parents, I don't live in fear of ICE agents banging on my door if I complain. I became the school council president, which meant I had sign-off authority on the school budget, and because I worked in education, I knew what questions to ask and when shadiness was going down. I even organized with a few other parents and we went to district headquarters to share a 42-page PowerPoint presentation about what was going on.
After three years of misery, the district transferred the principal, but the neighborhood school was still in bad shape and my love affair with it had long been over. I was just about willing to sell my soul to get my sons into a magnet school. Magnets have their roots back in the mid 1970s when the California Supreme Court ruled that public school segregation was so bad in Los Angeles that children were experiencing the "five harms of racial isolation": low academic achievement, interracial hostility and intolerance, lack of access to post-secondary options, low self-esteem, and overcrowding. Magnets were the courts' integration solution—legally, they can't be more than 40 percent white.
These days they've morphed into a quasi-private school system within LAUSD. The district pours resources into them and outstanding teachers clamor to be on their staff rosters. They're the academic jewels of the city and competition to get in is fierce. About 65,000 students a year enter the magnet lottery for approximately 16,000 spots at 173 schools. Parents freak out over the process because you can only apply to one magnet per year, and if you don't get in, you're out of luck and stuck at your neighborhood school.
Last month two letters from the LAUSD Student Integration Services office arrived. I expected them to say, "Sorry, you sucker LAUSD parent. Your kids are stuck in educational purgatory." I ripped them open and promptly burst into tears as I read, "Your child has been selected to attend the Magnet Program listed above for the 2010-2011school year."
At their new magnet school, my sons will each get a school-issued laptop and have access to a robotics program, a full science lab, and an innovative math curriculum. They'll get a comprehensive visual and performing arts program, and, most important, they'll get on-the-ball staff members in every classroom. When the school became a magnet last year, the district brought in a new principal and gave her the power to hire the staff members she wanted. She seriously cleaned house, transferring out any "I'm just here for my check" teachers.
Who's
not
getting all that? The kids at my neighborhood school. I wish I had faith that those kids will get the education my sons will at the magnet, but I'm a realist. I fear the day when one of the neighborhood kids—the recipient of the education at our neighborhood school—joins a gang and rolls up on one of my sons, asking, "What's your set?" I doubt they'll wait to hear my boy say, "Don't shoot! We were in third grade together!" Still, I can't make my sons pay for my own personal political and social convictions. I'm selling out and sending my boys to a magnet.