Articles
Obama Celebrates Anniversary by Pushing Controversial Education Reform Program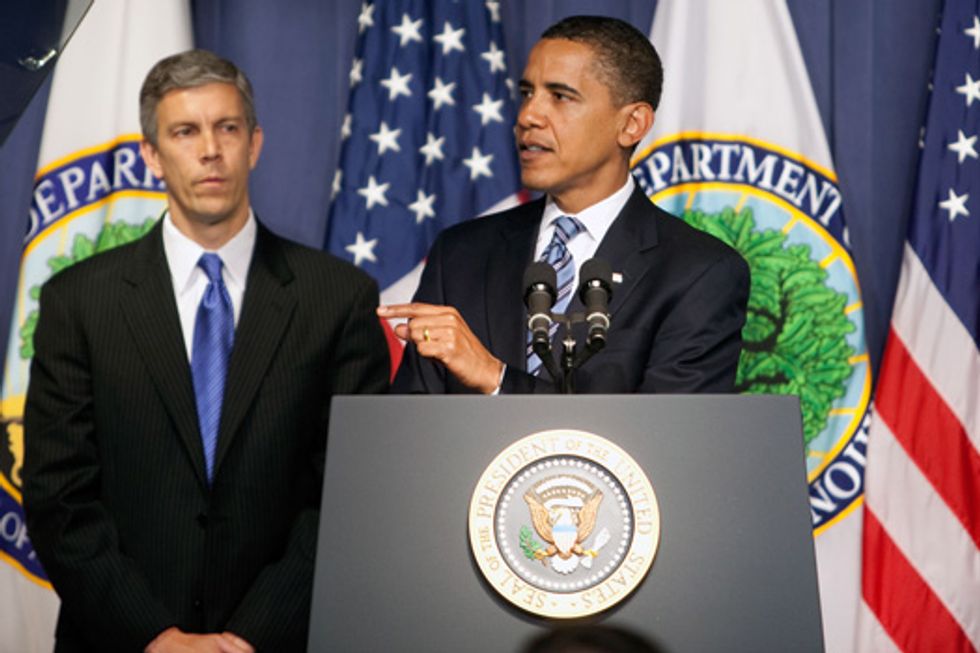 ---
Well this is interesting: The President and Arne Duncan are celebrating Obama's first anniversary in office by pushing states to come up with bold ways to reform education. Until recently, it seemed to me that education had fallen off the administration's priority list entirely. Then
Obama delivered his intense and hated-by-conservatives stay-in-school plea
(follow that link for video and transcript), where he put the onus on kids to take responsibility for their own education, and now there's this.Built into the stimulus plan was
$100 billion for education
-and from that huge pot of cash is this little-known effort,
announced this past summer
called the
Race to the Top
. Well, it's
getting a big push today
, and the idea is this: Spur states to compete for the $4.35 billion in grants, because competition begets innovation, and innovation is what schools need-bad.To qualify for the money, states must meet certain criteria. They have to show they are able to build systems to measure success; that they can design and adopt internationally recognized success standards; commit to turning around crappy schools, possibly through charters; and that they are willing to reward teachers for student performance. Wait, what?That all sounds good, except the part where charter schools get a broad bump and the part about merit pay, which immediately disqualifies some states. California, for instance, had a law in place that prevented schools from rewarding teachers based on student performance, but they
quickly overturned it
.The whole merit-pay thing been controversial for some time.
One study
showed a decrease in student performance when teacher pay was tied to it (though the study allowed that this might have just been a poorly implemented program). Other studies show the opposite. No matter, other states have made similar moves-and frankly, can you blame them? Politics aside, these schools need money if they're going to be able to adopt better practices, boost teacher retention and up student performance. The teaching to the test model has to go, but with limited resources, that's been next to impossible. Still, it strikes me as a little dicey when states start rushing to change controversial laws just to qualify for much-needed financial supportThe grant winners will be announced in January. Stay tuned.Image
via