Articles
OLPC Extends Hand to India and Its $35 Tablet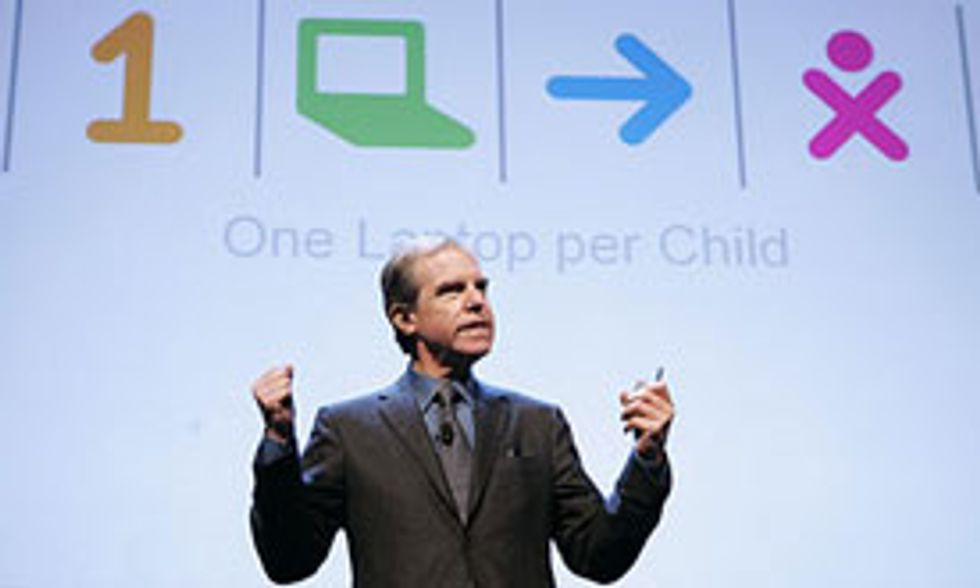 Late last week,
Nicholas Negroponte
, founder and chairman of One Laptop per Child (OLPC), invited the Indian Ministry of Human Resource Development (MHRD), which
unveiled a $35 tablet PC last month
, to travel to the Massachusetts Institute of Technology to study the know-how the OLPC team had developed for its XO laptop.
In an open letter
, printed in
The Times of India
and on the OLPC site, he labeled the Indian effort as a possible collaborator, rather than a competitor.
Negroponte also offers six pieces of advice for how the Indian government should proceed in developing its device. Here are the first two:
---
1. Focus on children 6 to 12 years old. They are your nation's most precious natural resource. For primary school children, the tablet is not about computing or school, it is about hope. It makes passion the primary tool for learning.
2. Your tablet should be the death of rote learning, not the tool of it. A creative society is built not on memorizing facts, but by learning learning itself. Drill and practice is a mechanism of the industrial age, when repetition and uniformity were systemic. The digital age is one of personalization, collaboration and appropriation. OLPC's approach to learning is called constructionism. We hope you adopt it too.
Whereas, Negroponte asserts there will be no competition between the Indian device and his XO laptop, as well as his newly announced XO-3 tablet, there is a history fraught with friction between the OLPC and the largest democracy in the world. As detailed on Ars Technica, India sought to develop a $10 laptop and rejected an offer to buy the $100 XO from OLPC, before abandoning its own effort and ordering 250,000 units.
The Ars Technica piece characterized the Negroponte offer as diplomatic:
Negroponte is offering to assist the MHRD, but it's obvious that he has carefully phrased his offer in a way which implies that India has something of value to contribute back to OLPC and the broader education computing community. This is politically savvy because it gives the MHRD a way to buy OLPC's upcoming XO-3 and still save face.

\n
Photo via.