Articles
Pedal to Prosperity: Fighting Poverty with Sturdy Bikes in Sub-Saharan Africa
A durable bike is hard to find in sub-Saharan Africa, but the World Bicycle Relief is delivering thousands of bikes to those who need them most.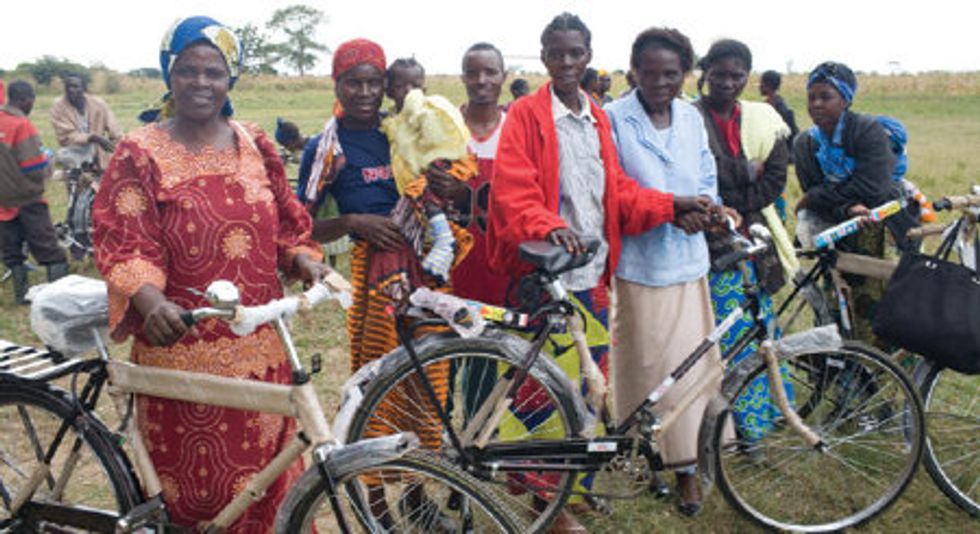 Never underestimate the power of a good bike. Particularly in the rural areas of the developing world, where great distances and poorly-maintained roads separate nodes of development, bikes that stand up to potholes make a huge difference for people in search of an education, healthcare and employment. That's why World Bicycle Relief (WBR) has dedicated itself to connecting people across sub-Saharan Africa with sturdy bicycles since the organization's founding in 2005. WBR's newest project operates with a social enterprise model by selling bicycles to micro-finance institutions and aid organizations, expediting the delivery of bicycles and raising revenue to fund their work.
---
WBR was founded in the wake of the 2004 Indian Ocean tsunami, when F.K. Day, the vice president of the bike parts manufacturer SRAM Corp., traveled to Sri Lanka to aid with the relief effort. He arranged for the delivery of bike frames and parts, to be assembled on the ground in Sri Lanka and distributed to relief workers and victims. Six years and 75,000 donated bikes later, the Chicago-based WBR now operates programs in Zambia, Zimbabwe and Kenya.
The organization's goal is to use bicycle mobility to fuel development projects. Building schools and hospitals can only go so far if doctors, teachers, patients and students have to walk hours each way to get there. Over a 10 mile commute, biking instead of walking can free up three hours each day for an average commuter. And getting bicycles to local entrepreneurs can spur economic development by increasing their capacity to carry goods while decreasing the effort involved in transport. WBR's new social enterprise program has already sold 19,000 bikes to organizations eager to tap into the anti-poverty power of bikes, including the Catholic Relief Services and the World Food Programme.