Articles
Planning Your Indie Wedding: A Modern-Day Cautionary Fable
Blend Etsy impulses and well-to-do lefties with pressure-cooker marriage culture, and you just might end up with hobo-themed wedding.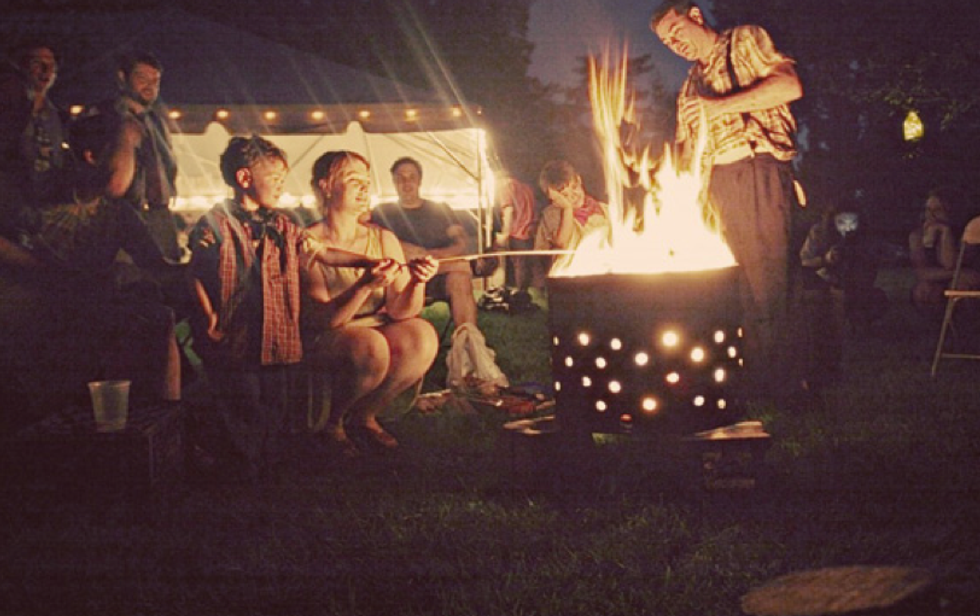 Two progressive, creative, laid-back, quirky, relatively moneyed people get engaged. The idea of a pre-packaged banquet wedding makes them sick. They want their love bash to be uniquely them, and they want to buck some of the traditions that don't fit with their values. A virginal white dress, schmaltzy speeches, a bouquet tossed in a sea of screaming women just itching to be the next at the altar? Yuck. Jill wants to scrap the ivory gown and trade it in for an authentic 1920s flapper dress; Jack wants a Bloody Mary bar instead of a champagne toast. Jill's a little crafty and gets the idea to make her own garter, wedding cake topper, and place settings. They want a wedding that is revelrous yet sustainable. Most of all, they want to make it the best party they've ever attended.
---
Problem is, all their friends are progressive, creative, laid-back, quirky and relatively moneyed, too, and Jack and Jill want their wedding to stand out from the other Etsy-fied ceremonies they've attended over the last five years. It turns out Jill's best friend already had the homemade garter idea, and Jack's eclectic metal playlist eerily resembles his brother-in-law's. So they (mostly Jill) comb the indie wedding blogosphere. Every idea they see is supercute, original, and definitely not overly sentimental. But if they took those ideas, wouldn't their wedding suddenly become just like all the others? Pretty soon Jill is spending hours each day looking at these sites, racking her brain for original tweaks while mentally adding up the exorbitant costs of said tweaks. (Non-nauseating flower arrangements: $2,341. Off-the-beaten-path arboretum: $7,000/day. Translucent rice paper to print vows: $98. And so on.)
It doesn't take long for Jack and Jill to get wind of themed weddings. Mad Men-themed weddings. Prison-themed weddings. Artichoke and asparagus-themed weddings. They like it! And since they're socially conscious (and also daunted by the price of a single customized coat hanger) they get the brilliant idea to make their special day a nod to the Great Recession. Before they know it, they've planned a hobo-themed wedding, down to the last detail of exchanging a single bean instead of rings and encouraging the guests to "wear their shabbiest." Jill has long ago realized that even though the dress need not be a frilly monstrosity, it is still a Big Fucking Deal. So she makes sure that her ruffled cotton voile frock is 100 percent Depression-Era authentic. She ransacks secondhand shops and online boutiques for the perfect vintage millinery crown and delicate cutout oxfords.
The big day comes. They take Hipstamatic photos and feel proud that they only spent $15,000—far less than the cost of the average American nuptials. (They try not to imagine how much cheaper a trip to Vegas would have been.) At the wedding itself, things go surprisingly well. People compliment them on their adorable clown-hobo invitations and brown bags full of popcorn. Jill breathes a sigh of relief, glad to be rid of her nightmares about vicious, idea-stealing other brides.
A few months after their Memorial Day wedding, when the dust has settled and the trashcan fire has been put out, Jack and Jill post some photos of their hobo wedding on Etsy. To their horror, Jack and Jill instantaneously see their meticulously planned, one-of-a-kind ceremony mercilessly trashed on Regretsy.com. Apparently, their hobo wedding was offensive. Apparently, spending $15,000 to look poor rubbed some bloggers the wrong way. 'What is the big deal?' they think. 'It's not like we had a colonial-themed wedding.'
Jill spends two days staring at the computer screen, debating whether to take the Etsy photos down or defiantly leave them up. She wishes someone had said something in the eight months she spent planning. Come to think of it, she did vaguely recall her out-of-work hairdresser friend's horrified expression when she announced she was going to "Party Like It's 1929." Other than that, Jill can't clearly remember a single non-wedding conversation since she had gotten her engagement ring piercing.
When all is said and done, Jack and Jill decide to leave the photos up, despite the Internet shitstorm. They had sacrificed one year, five figures, three panic attacks, 14 bushels of firewood, and 436 hours of sleep for their one-of-a-kind-wedding—there was no way they were going to join the banquet-hall mainstream now.
photo courtesy of Brian and Sarah on Etsy