Articles
Project 009: Shehla's Crunchy Chicken Wrap
For Project 009 we asked you to send us menus and recipes for a tasty brown bag lunch (yes, it can be a brown canvas bag; it...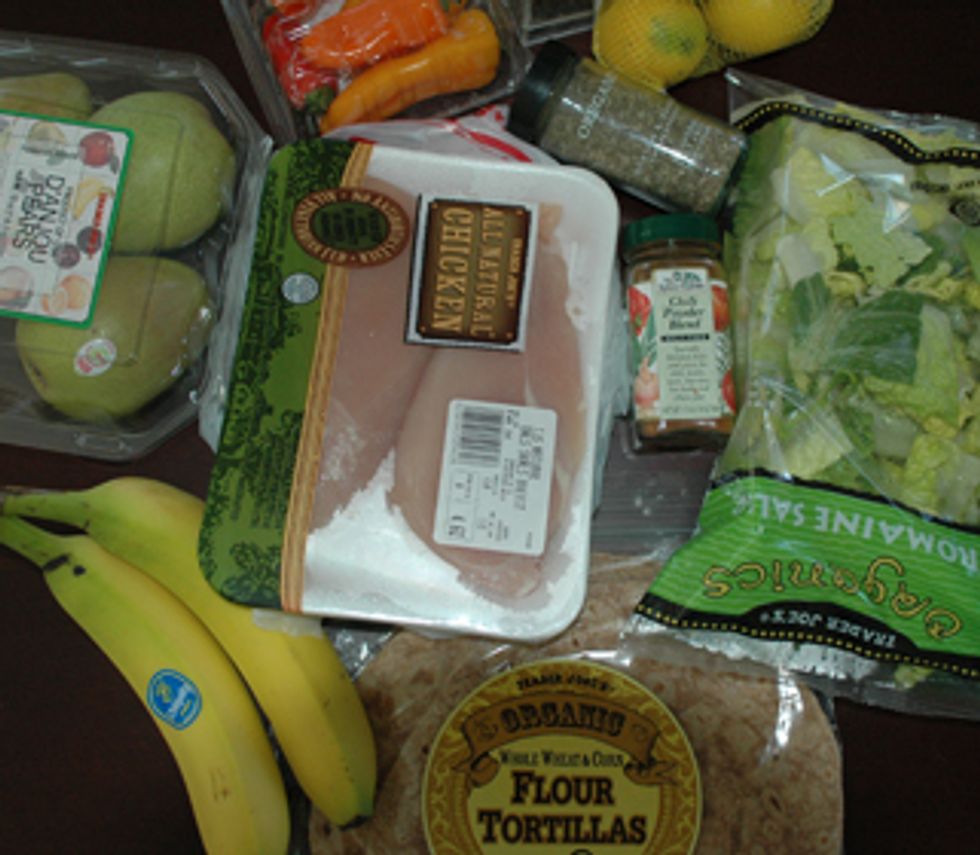 For Project 009
we asked you to send us menus and recipes for a tasty brown bag lunch (yes, it can be a brown
canvas
bag; it doesn't have to be paper.)
Reader Shehla sent us some photos and a recipe for her Crunchy Chicken Wrap. We'd definitely try one of these. It'd probably be good for us. Here's the step-by-step from Shehla:
---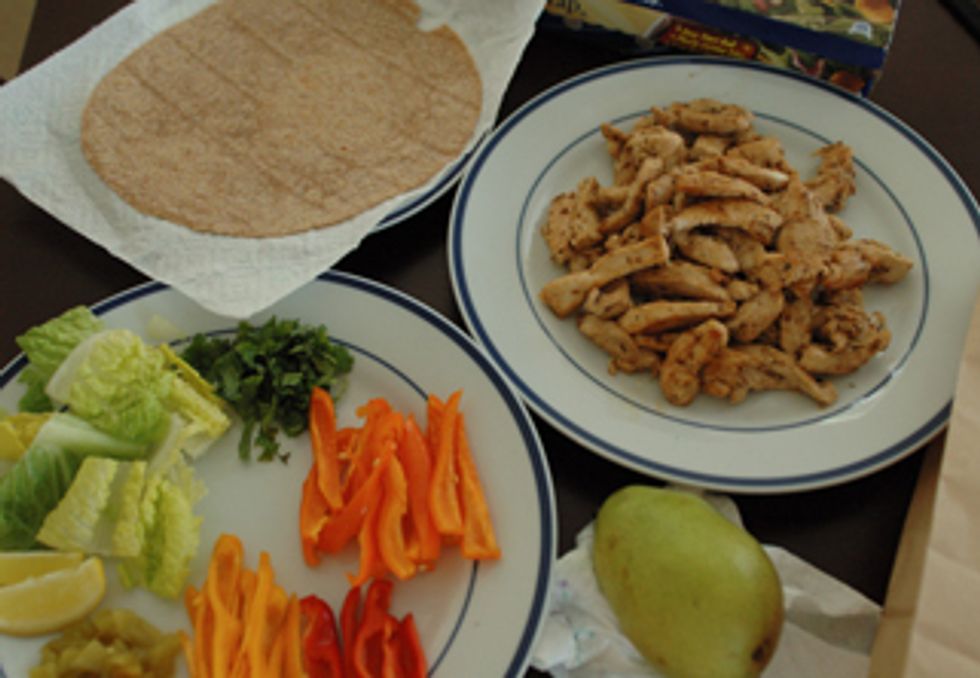 INGREDIENTS:
2 Chicken breast, skinned, boned½ Teaspoon cumin, coarsely crushed½ Teaspoon chili powder blend½ teaspoon oreganoJuice of one lemon½ teaspoon Salt½ teaspoon fresh ground pepper1 tablespoon minced cilantro2 each, mixed red, yellow and orange peppers1 Package of whole wheat tortillasRomaine lettuce, already cut-up/torn into bite size pieces2 tablespoon canola oil for stir frying chicken
OPTIONAL ITEMS:
Store bought or home made salsaCan of jalapenos, drainedSlices of lemon(If I am making this wrap for eating at home, I also add garlic to the marinade and few slices of red onion to the wrap but for air travel, I try to make this so that it's not too smelly)
PREPARATION:
1.
Cut up chicken in Fajita-like strips
2.
In a glass bowl mix chicken, cumin, chili powder, oregano, salt, pepper and Lemon juice. Marinate it overnight or 6-8 hours. (I usually do this on Sunday morning so that I can do the assembly of the wrap Sunday evening in preparation for my travel.)
3.
Cut up peppers in strips
4.
To prepare the wrap, drain chicken and discard the marinade (there shouldn't be too much marinade left).
5.
Heat canola oil in pan and stir fry chicken strips until just golden and cooked through. Cut one piece and check. It should not be pink inside.
6.
Drain chicken pieces on paper towel and cool.
7.
To assemble, place handful of romaine lettuce, few slices of red, yellow and orange pepper on each tortilla. Add 3-4 pieces of chicken, add ½ tsp of drained jalapeno pepper. Wrap the bottom and sides so that items don't slip from the bottom.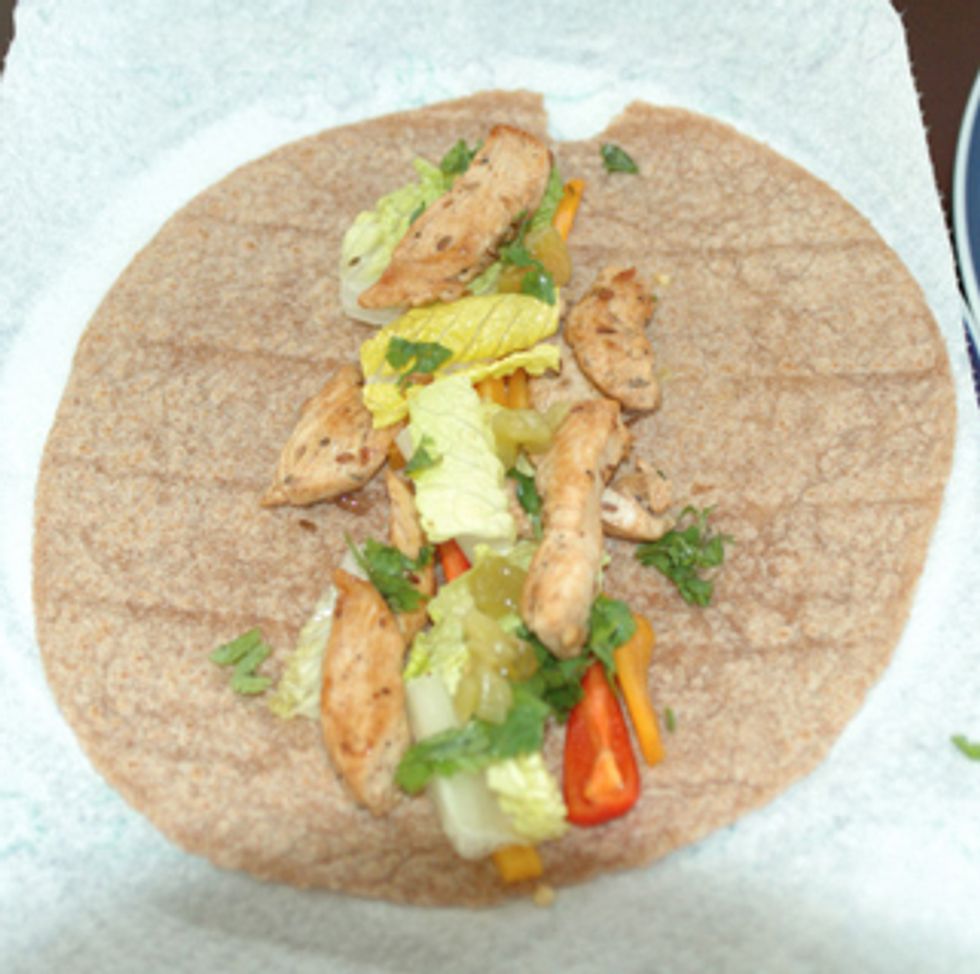 8.
Since the wrap may be in my bag for a long time, I usually wrap it in paper towel first before wrapping it in sandwich wrap. (my Mom's tip)
9.
Keep the lemon slice in a separate wrap for later. Sprinkling it ahead of time may make the wrap soggy.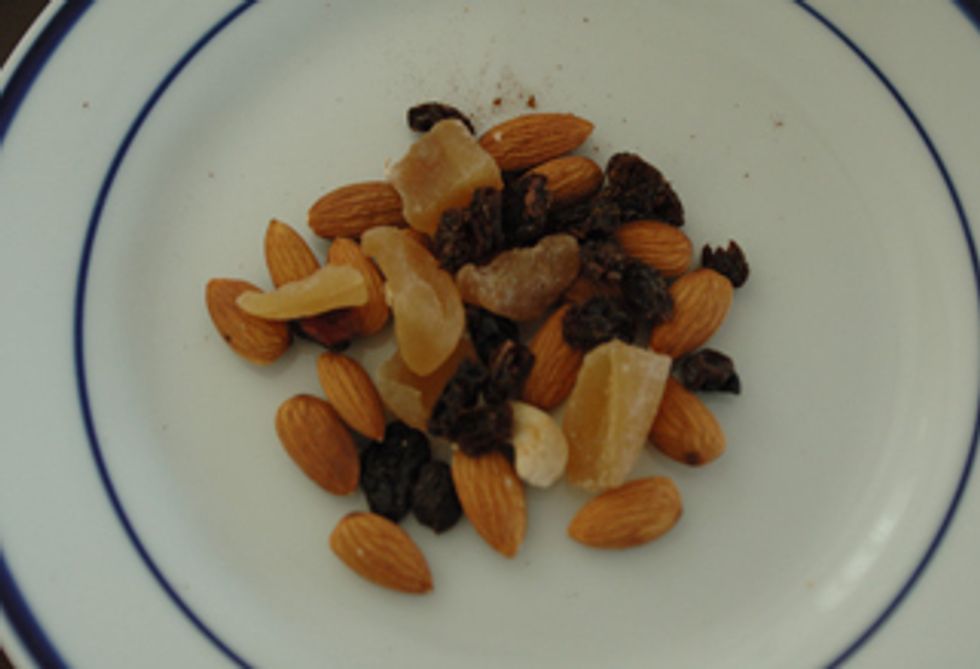 ACCOMPANIMENT:
Any fruit (pear, apple or Banana), a small bag of mixed nuts prepared at home...consisting of almonds, cashews, raisins and/or cranberries)