Articles
Project: Design a Better-Looking Libya Leaflet
We challenge you to create a functional, better-looking Libya leaflet using an actual NATO slogan: "One Libya, One People."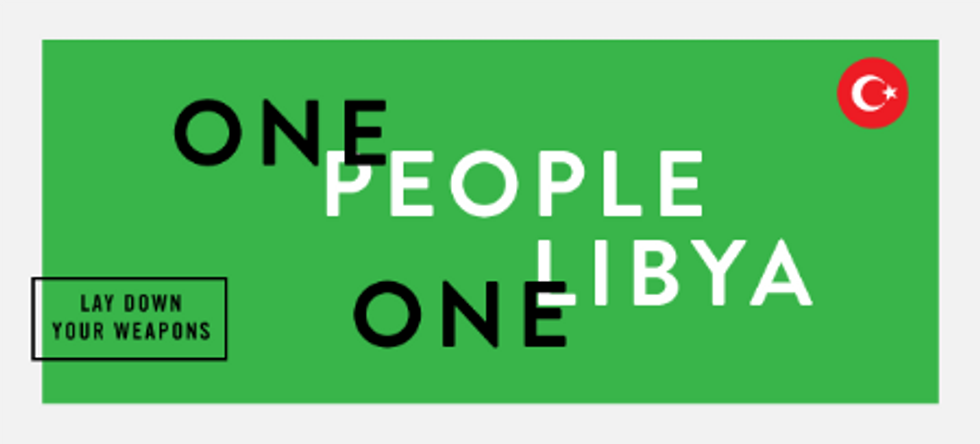 With rebel forces still battling Gaddafi loyalists in Libya, NATO has begun dropping propaganda leaflets around Tripoli in an effort to quell the violence. Though the leaflets have a variety of themes, the most important asks Libyans to remember that they're fighting their own countrymen and lay down their arms. It's an important message, with only two problems: 1. It's not working, and 2. The leaflets are hideous.
---
For this GOOD design competition, we want you to create a functional, better-looking Libya leaflet using an actual NATO slogan: "One Libya, One People."

the OBJECTIVE

Via images and words, inspire Gaddafi loyalists to put down their weapons.

the ASSIGNMENT
Redesign the NATO propaganda leaflet while keeping in mind the theme: "One Libya, One People." Beyond that, you can incorporate whatever you see fit. Just make sure your design is motivating and memorable.

the REQUIREMENTS

Please submit your design here—as a JPG image, 450 pixels wide, and less than 1 MB in size. We'll contact the winners and the runners-up for higher resolution pieces. The deadline is noon PST on Friday, August 25.

The winning entries will be selected by GOOD's staff.











You mentioned in the comments section that you wanted an Arabic version of the leaflet above. Here you go.