Articles
Rethink Your Green: Teaching Angelenos to Save Water
Michelle Park and Manny Garcia explain their award-winning campaign to teach Southern Californians to use less water in our miniseries Rethink...
Michelle Park and Manny Garcia explain their award-winning campaign to teach Southern Californians to use less water in our miniseries Rethink Your Green.
The
California Institute of the Arts
is notorious for being frighteningly unconventional. So for a few graphic design students it made perfect sense to enroll in a semester course titled "Mutant Design." This class is the shape-shifting, dream-catching laboratory of instructor
Louise Sandhaus
, who created a unique opportunity for our fall semester. When the annual
INDEX: | AIGA Aspen Design Challenge
was presented, asking students to design solutions around the global water crisis, Sandhaus quickly gathered her team and informed us we would enter this competition together.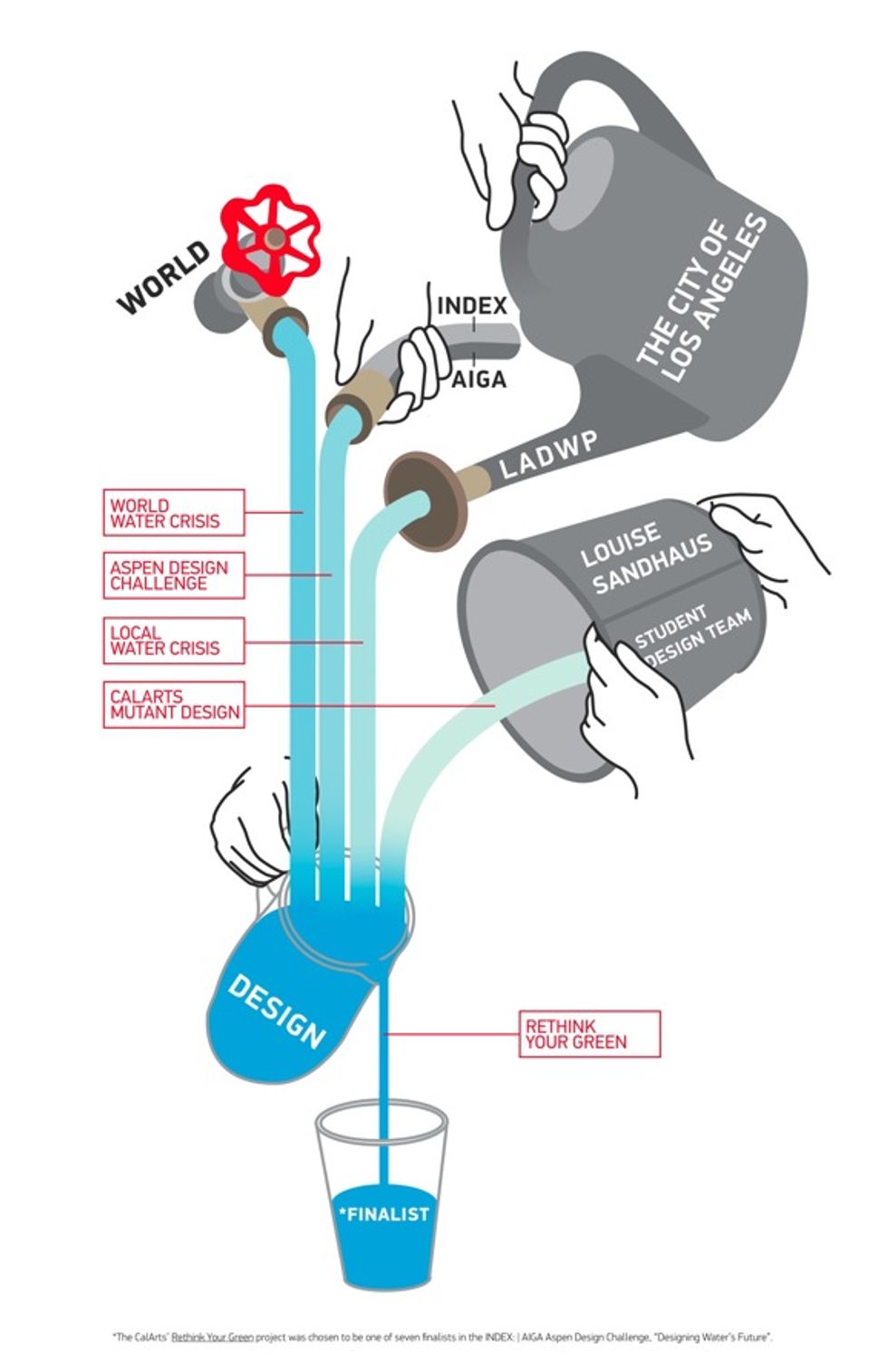 ---
For the next five months our group-consisting of one faculty member, one CalArts alum-turned-advisor, and six graphic design students-formulated, researched, prototyped, debated, and eventually designed a product. The premise of the Aspen Design Challenge was that each submission had to provide a solution to the growing water crisis for their local area, inspired by the mantra: "think globally, act locally." The only way to get such established and sophisticated citizens to listen to the message was to quite literally brand the problem. The team of students diligently whittled the potential posters and pamphlets into didactic, humorous, seductive, and-most importantly-bite-size portions. Reform, a concept so elusive and taboo to many, needs to be displayed unpretentiously.The idea for where to focus our efforts came quickly. The main culprits of water waste in Los Angeles are lawns. It is estimated that up to 60 percent of our fresh water supply is literally thrown onto the ground. In a time when our water reservoirs are at historically low levels, the dirtiest habit is waste, and it's that habit that this campaign strives to break. In an effort to simultaneously relate and differentiate the cause from countless other "go green" ventures, the word
rethink
suddenly appeared appropriate. Why hold onto a piece of unsustainable green (a lawn) while wasting another kind of green (scarce water), in order to maintain it? The media elements coerce the audience to analyze their conservation efforts without simply becoming another piece of green noise.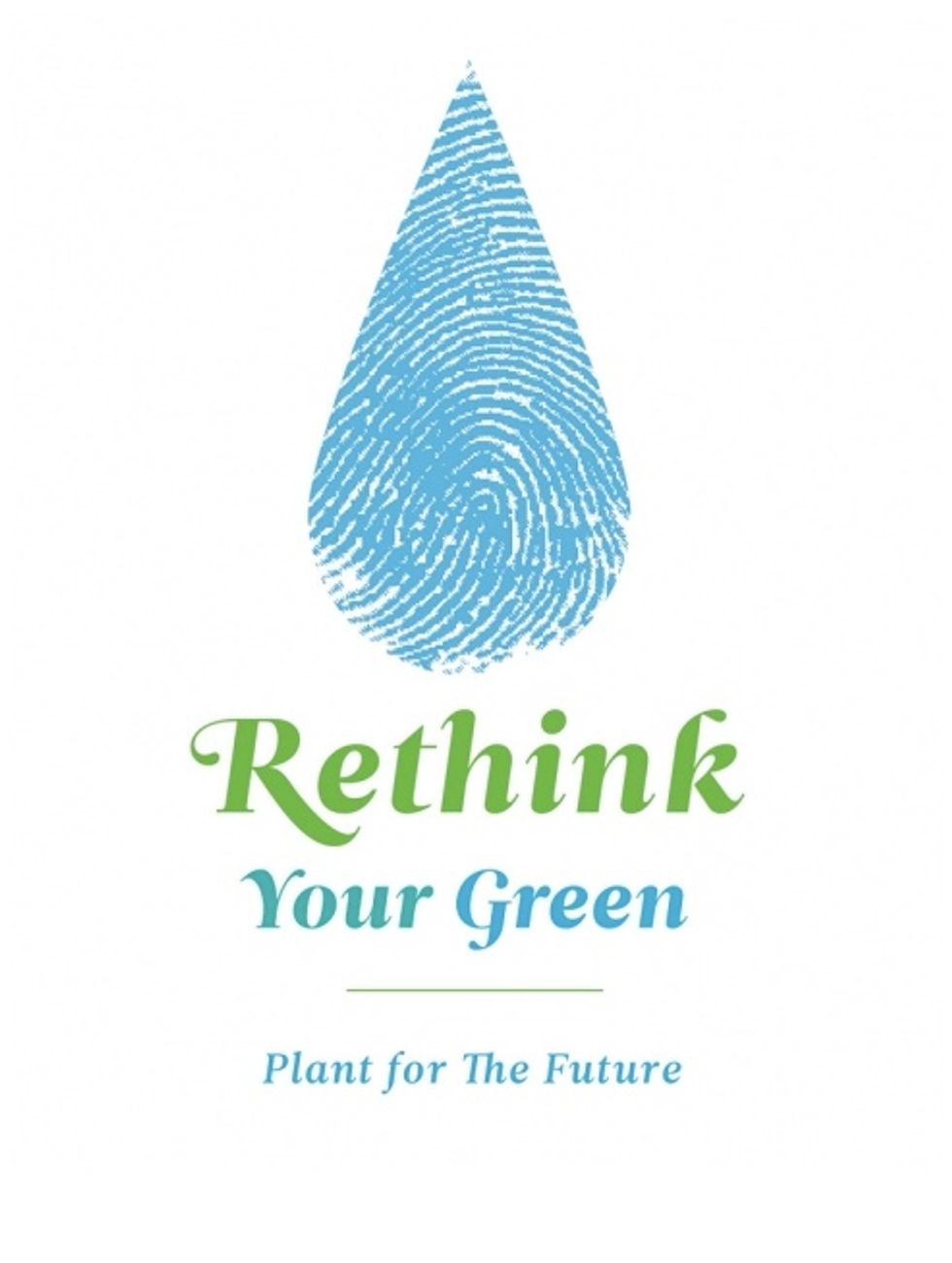 Our design addressed the city of Los Angeles with the grassroots campaign
Rethink Your Green
. The final elements included a media package consisting of street posters, pamphlets, guerrilla signage, a public service announcement, consumer and retailer information, a website, and even a mobile application. Sounds like stimulation overload, but in fact lengthy sessions with advisers from City Hall proved that it's the exact wake up call that Angelenos need.By the end of the semester the CalArts team felt as if we had run a marathon. But payoff came around sooner than expected when the project was selected as a one of
seven finalist groups
out of more than 200 international entries in the competition. Our humble "mutant" design team was headed to Aspen. Up next, learning to how to sell our ideas.
Michelle Park is a graphic designer based in Los Angeles. Manny Garcia is a graphic designer, illustrator and Ewok tribe leader.