Articles
Root for Trees Keeps New York Green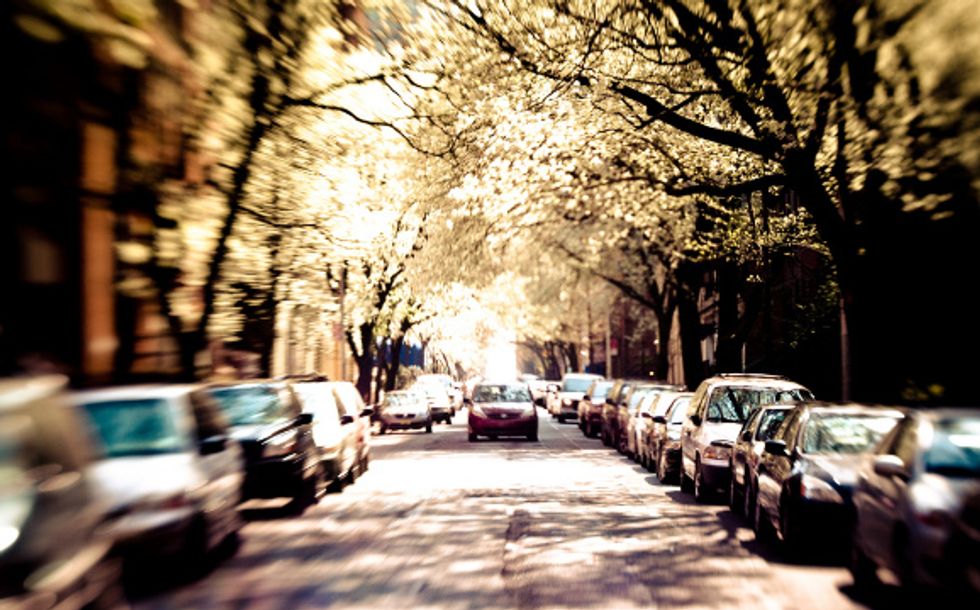 ---
\n
Environmentalists hailed New York City mayor Mike Bloomberg when he launched the MillionTrees NYC campaign, a plan to plant one million leafy greens by 2017. Though a brilliant and much-needed mission, the Big Apple can be a rough place for trees. Between the smog and the dogs, the bikes and the litter, it wasn't long before the trees began to wither, and the public's attention began to wane.
Distressed by blocks of dying and neglected trees, Jessica Schweifel and Nicole Davis founded the Root for Trees program. An amalgamation of stewardship, artistic expression, and consciousness raising, Root for Trees, which debuts its first installation this week, aims not only to ensure the vulnerable trees' survival, but to use art to inform locals about their importance.
Root for Trees grew in an appropriately organic manner. Schweifel, a former fashion buyer from Miami, longed for her home state's natural habitat, and decided to channel that energy into protecting New York City's vulnerable tree population. Rather than creating Plain Jane tree guards to keep man and beast at bay, Schweifel wanted something more visceral. She decided to adorn the guards with aluminum signs denoting the tree's name and featuring a piece of art to draw the eye. Most important, she wanted to create an emotional bond between the city's denizens and its sporadic saplings.
"You see people tie bikes up against trees. They just don't realize that they're alive, that they're living beings. They seem like wood, like a static post," Schweifel explains. "The idea with the signage is that it's not just in a way that you can learn the name of a tree, but also that you can really identify with it." If people can identify with the tree, she says, they'll be more inclined to care for and protect its growth. "We're not looking to create new infrastructure. We're looking to find a way to use our network and what we're doing to funnel people into stewardship."
New York's a large city, however, and Schweifel thought it best to spread out neighborhood-by-neighborhood, starting with the art-centric Chelsea. Still, it was a daunting task, and she needed some help to get the ball rolling. Fortuity struck when a friend introduced her to another Miami native, Nicole Davis. It was a perfect fit.
Like Schweifel, Davis also pined for Florida's luscious canopy. "We have such beautiful trees in Florida, and I became a little depressed from the winters here, so I found myself really clinging to the little trees that were on the street," said Nicole, whose past ten years writing about the art world armed her an encyclopedic knowledge of the city's creative scene. More than that, Nicole had already memorized the English and Latin names for most of the city's 164 species of tree. "I'm a frustrated botanist," she laughs.
Hoping not to be too predictable with their artistic army, the women eventually compiled a diverse group of painters, sculptors, and photographers who reflected the city's multiple personalities. "We didn't want them all to be beautiful and bucolic," Davis contends. "We wanted sardonic, we wanted funny, we wanted all the messages you could possibly have to engage different types of people in the city."
Most importantly, the artist's contribution had to convey a certain message: "We wanted to create something that could engage people and remind them that they're in an urban environment, but they're also part of a global world and need to be accountable to the enviornment."

One of the artists, N Dash, readily embraced the project. "Pointing to the nature in the city is a valid and needed endeavour," said Dash. "Creating an enclosure—to keep the humans out—seems like the least we can do to protect trees' very limited space. It also brings attention to the vast amount of space in the city that is lacking trees."


Swedish artist Christina Pettersson also couldn't resist the invitation. And, according to Pettersson, the timing was just as serendipitous as Davis' and Schweifel's collaboration: "I was already working on a series of tree drawings at the time, from the graves of two Southern writers—Eudora Welty and Zora Neale Hurston. Thus I was seeing the majesty of a tree in very human terms."
Unlike some of New York City's other art-based projects, Root for Trees strives for something more permanent. It is, the women say, inherently sustainable. "It's going to become part of the landscape, like now in Times Square, people forget that those blocks used to be for traffic, and now there are chairs there. Roots doesn't even have to be 'sustainable,'" insists Schweifel.
"More than anything, it's an environmental campaign, and it's an environmental statement. It's not a temporary art project," says Davis. "It's a permanent, public installation, one that has a life of its own, and does continue on one neighborhood at a time."

After the unveiling of Chelsea's Root program this week, Schweifel and Davis will head to the Lower East Side, where they'll work with local communities to shape the next Root for Trees installation.

Though they're tight-lipped, one thing remains certain: These dedicated tree huggers won't stop until all of New York start seeing trees as part of our urban backyard, instead of just a trunk to be defiled by dogs. Sorry, Spot...




Image (cc) by Flickr user Radville