Flowchart: Should I Buy This?
Don't let Black Friday deals and holiday gift-giving pressure get to you. Here's the ultimate answer for your shopping dilemmas
11.26.14
I used to pride myself on two things: scoring really great bargains, and giving really great gifts. But this summer, something snapped. Preparing for a cross-country move, I found myself mired in cardboard boxes, drowning in stuff: A soup tureen I requested on my wedding registry, six Champagne flutes snapped up for $11, a ceramic monkey sculpture from my college roommate. Never having considered myself a person of extravagant taste (granted, a porcelain soup tureen and champagne flutes should have been clues), I was suddenly confronted with the fact I had way, way too much crap.
But some of this "crap" came from friends and relatives in the form of thoughtful gifts. And, let me be clear, it is stuff that I treasure, but in the end, it is just stuff. I then realized that, as much as I liked giving gifts, they too, were just stuff that someone else now had to deal with. I wondered how many of the gifts I had given over the years became a source of aggravation. Or worse, how many ended up in some landfill? If, as they say, it really is the thought that counts, then why not treat your friend or loved one to a dinner, or a movie, or a dinner and a movie? That seems a lot more fun than a gift gathering dust on a bookshelf or in a closet.
---
"But it's a good deal!" I know that refrain well, but with Black Friday ready to kick off another holiday shopping season of sales, us bargain hunters should remember that it's only a deal if it's something that you really need. Otherwise, you're paying good money for something of little personal value. During the bombardment of doorbuster days and present-giving pressure, my gift to you is this printable flow chart. Refer to this any time you ask yourself, "Should I buy this?"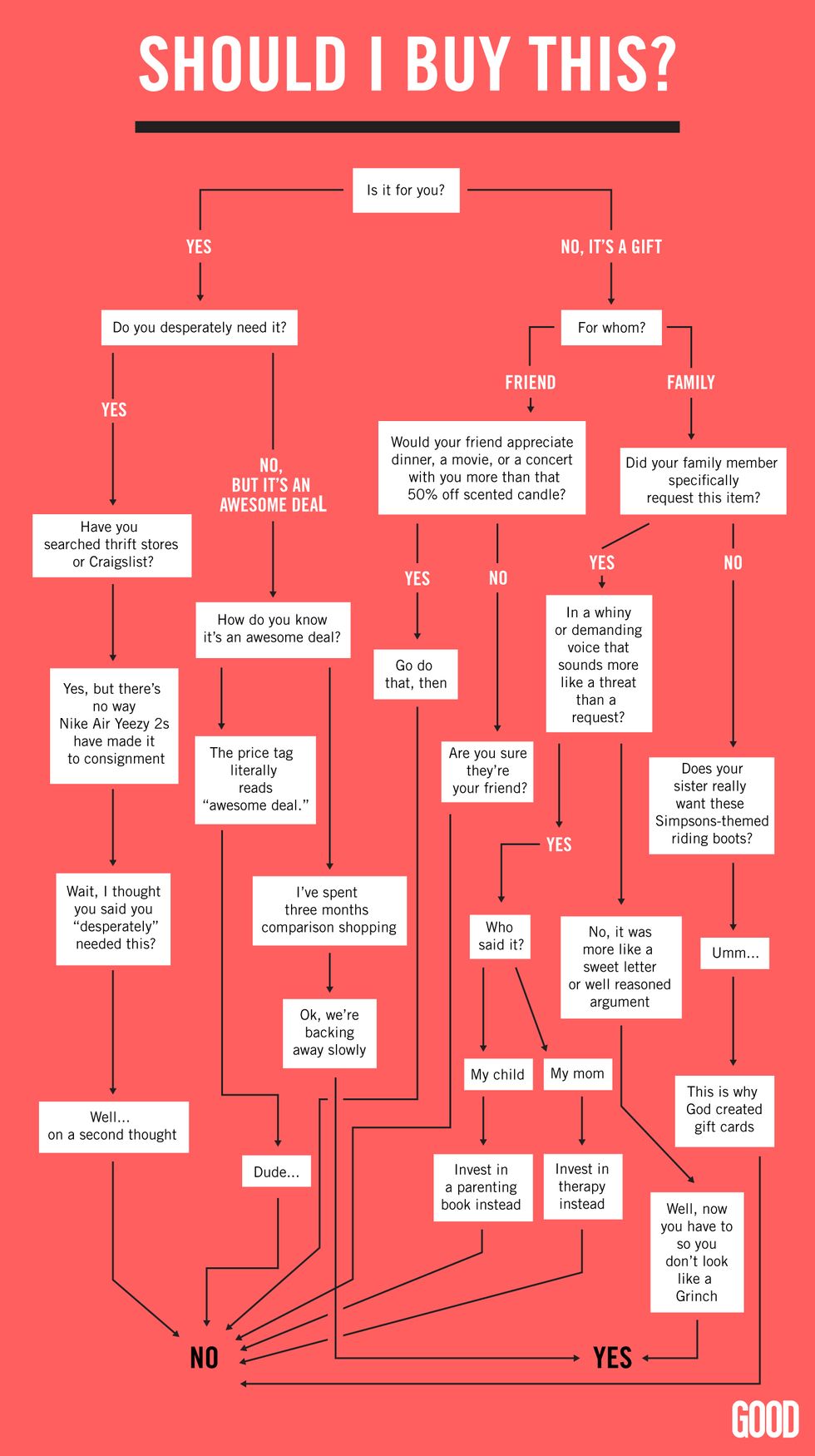 Articles