Articles
Taco Bell: Thanks for the Lawsuit
Taco Bell defends its seasoned beef, explaining its 88 percent actual beef and 12 percent "secret recipe." Reassured?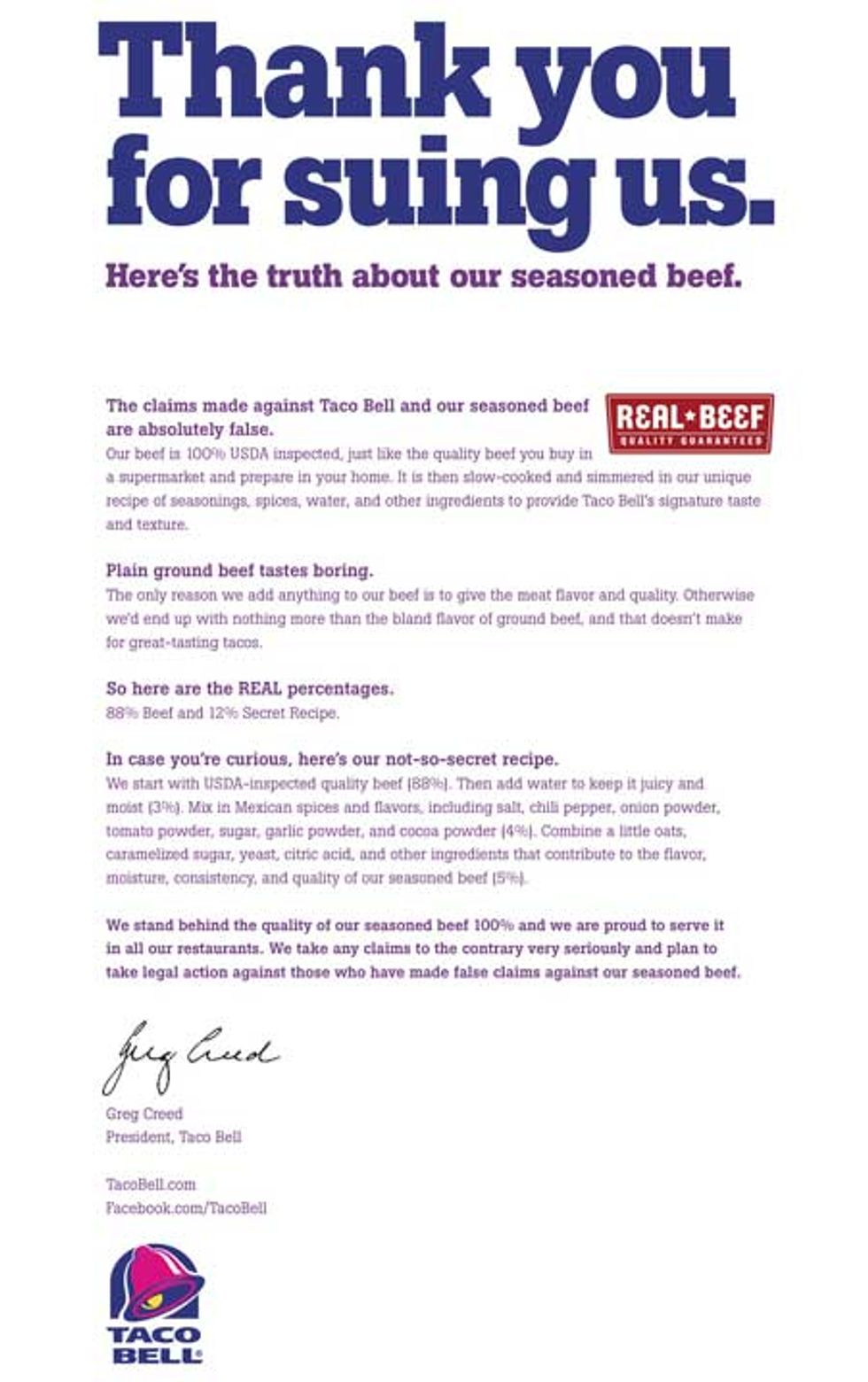 A lawsuit announced this week says there's
more than just cattle flesh in Taco Bell's seasoned beef
. Apparently, whatever it is does not conform to United States Department of Agriculture standards for "beef" because there are too many seasonings and fillers in the mix.
Taco Bell responded today by launching a "Thanks for suing us" campaign (a classic PR ploy) that says their beef is 100 percent USDA inspected. The company says the recipe for beef filling calls for 88 percent beef and 12 percent "secret recipe." The secret ingredients include water, spices, onion powder, salt, oats, caramelized sugar, cocoa powder and "other ingredients that contribute to the flavor, moisture, consistency and quality of our seasoned beef."
---
Digging a little deeper, the company's website elaborates on some of those other ingredients:
Beef, Water, Seasoning [Modified Potato Starch, Salt, Autolyzed Yeast Extract, Dextrose, Maltodextrin, Carrageenan, Paprika, Garlic Powder, Onion Powder, Spices, Hot Sauce (Aged Red Peppers, Vinegar, Salt), Citric Acid, Sugar, Dehydrated Vinegar, Soybean Oil, Natural Flavors, Soybean Lecithin], Sodium Phosphates. Sauce: Water, Seasoning (Salt, Caramel Color, Modified Food Starch, Autolyzed Yeast Extract, Maltodextrin, Dextrose, Garlic Powder, Xanthan Gum, Onion Powder, Beef Stock, Vinegar Solids, Natural Flavors, Citric Acid, Sugar, Thiamine Hydrochloride, Succinic Acid, Soy Lecithin, Beef Fat, Potassium Sorbate) Partially Hydrogenated Soybean Oil, BHT. CONTAINS SOYBEANS
Incidentally, since May, Taco Bell has also been running a series of web videos about its "Super Delicious Ingredient Force" that are admittedly kind of funny (but won't help you much if what you want is to actually understand what's in your food).
[youtube]http://www.youtube.com/watch?v=scBf7ix-lMM