Articles
Talking to a Famous Person: Adam Gardner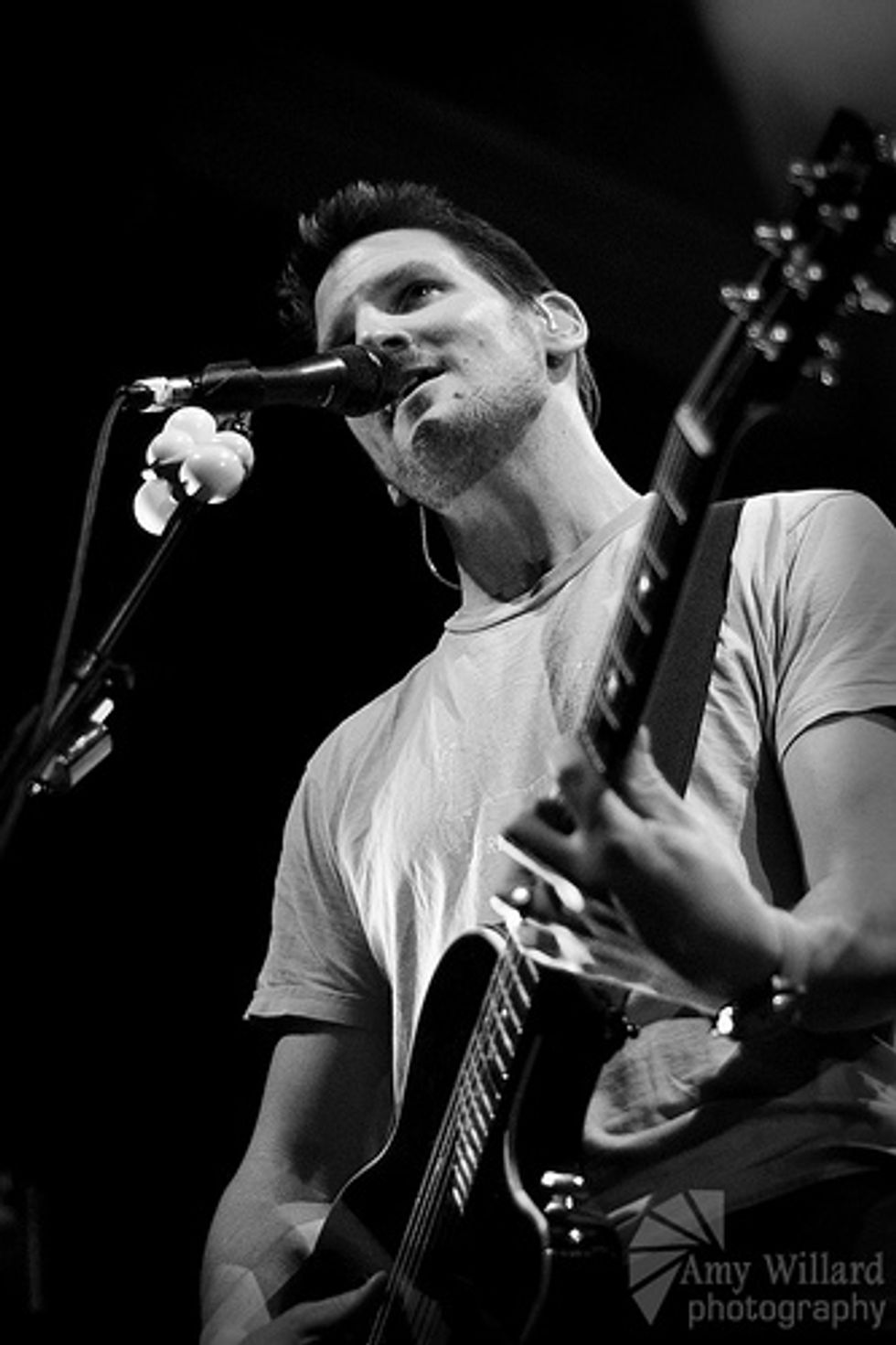 ---
As the lead singer
and guitarist for Guster, Adam Gardner witnessed firsthand the damaging effects of a concert tour. Stick around after the final encore and there's a littered venue and a parade of dirty tour buses. To help reduce the waste touring bands create, Gardner and wife Lauren Sullivan created Reverb. The project works with artists to reduce their carbon footprint while on tour and aims to educate fans about local and national environmental nonprofits.
GOOD:
What was the first song you learned to play on guitar?
Adam Gardner:
Wow, I'm stretching my memory back to when I was 12 years old. I think it was either "Refugee" by Tom Petty or "Smoke on the Water" by Deep Purple. I was listening to a lot of classic rock back then.
G:
You testified to Congress about sustainable biofuels in 2007. What did you hope to achieve? Have you seen any positive changes since then?
AG:
My goal was to reinforce the fact that biofuels were indeed a feasible and viable solution to fossil fuels and that not all biofuels are created equally. There are sustainable ways for biofuels to be produced and there are not such sustainable ways. I emphasized the need for legislation on biofuels based on environmental performance and the need for a shift in thinking to a community-based system. It's been proven that in a community-based system (where the biofuels are sourced, produced, and sold locally) that 90 cents on the dollar stays in the local economy.
G:
Your wife, Lauren Sullivan, is an environmentalist as well and the co-founder of the nonprofit group Reverb. Is the Gardner household sustainable?
AG:
It was really my wife's environmentalism that rubbed off on me! Once we started living together, suddenly I was eating vegetarian, composting, walking everywhere, running the laundry machine in off-peak hours. It was the dichotomy between how I was living at home and what life on the road was like with my band (gas–guzzling tour bus, trash all over the place at the end of a show, awful fast food, etc.) that sparked the idea for Reverb in the first place.
G:
What was the first tour Reverb worked on greening? How has your approach changed from the first tour to now?
AG:
Our first tour that we greened was a co-headlining tour with Alanis Morissette and Barenaked Ladies the summer of 2004. Lauren and I chased the tour in Guster's old van—I've never been more sleep deprived! We'd set up an Eco-Village (the tents and banners were lent to us from Bonnie Raitt, who did something similar on her 2002 Green Highway Tour) interact with fans all day, pack up the Eco-Village, drive to the next city after the show that night, and start over the next day.
That first tour was mostly focused on connecting fans to local nonprofit groups in the Eco-Village and getting the awareness out. It was literally just Lauren and I for that tour and whatever friends around the country we could get to help us. We had volunteer fans bringing home bags of recyclables from backstage because the venues didn't recycle.
Since then we've gone on to green over 85 major tours including Jack Johnson, Coldplay, Dave Matthews Band, Maroon 5, Sheryl Crow, John Mayer, and many others. Now we have much more comprehensive greening programs backstage: fueling tour busses with biodiesel, sourcing local farmers for catering, reusable water bottles and water stations, biodegradable catering products, environmental requirements for venues, rechargeable batteries onstage, etc. We also have expanded fan communication beyond the concerts through the bands' social media and by creating official band-specific greening websites with info and fan calls-to-action.
G:
Very cool. What is the most environmentally damaging effect of tours today that Reverb focuses on?
AG:
Fans' travel to and from the shows is the largest piece of the environmental impact of a concert event—over 75 percent of the carbon footprint. To combat this, we set up an online rideshare service with partners like PickUpPal and Zimride for fans to carpool to shows. We work with venues to create priority parking for cars with four or more people in them so they can get in and out of the show faster. This along with other incentives like being entered to win ticket upgrades and meet and greets with the band helps get fans excited and motivated to carpool and take public transportation. It's definitely making a difference—Phish fans eliminated 728,000 miles of driving by carpooling on Phish's summer tour alone!
We also activate a fan carbon offset program for fans to neutralize the carbon emissions from traveling to the show. Even if they took the train to a show, there is still a carbon footprint. On Dave Matthews Band's last summer tour, fans reduced over 2.3 million pounds of carbon dioxide between carpooling and carbon offsets.
G:
The Green Music Group, a Reverb project aimed at greening the music community, recently launched with a number of founding artists, venues, and labels. What are you doing to get more of the music community to participate?
AG:
The Green Music Group is a coalition of musicians, music industry leaders, and music fans coming together to bring about widespread environmental change within the music community and around the globe. The majority of GMG's founding members are artists partly because the music community revolves around musicians, and partly because many musicians have been leading the charge environmentally. It was equally important to include venues, labels and most of all, music fans!
Founding members, such as Maroon 5, The Roots, Warner Music Group, and Comcast Center, along with Reverb will be setting environmental benchmarks and criterion for joining GMG. Once these are published, we will invite all those interested to committing to these benchmarks (or have already been meeting the criterion) to join us and spread the word! We will expand to other sectors of the music community as well: radio stations, festivals, tour bus companies, etc.
To attract fans to get involved, we recently launched the
Green Music Group Challenge
—a series of calls-to-action from founding artists directly to fans. So one week it's a video message from Sheryl Crow asking you to write an email to your senator to support environmental legislation, the next week it's Dave Matthews Band asking you to participate in a community service project. All of this is incentivized by sweet prizes for each challenge as well as the grand prize: a Honda Insight Hybrid. Anyone can take part, so please join us!
G:
According to the GMG website, the group will be offering "Green Grants." What will people have to do to earn one of these grants? What kinds of projects would you hope to fund?
AG:
At first, this will be geared toward up-and-coming bands that want to go green but need help and resources. Reverb will be giving their time to "teach a man to fish" so that these bands can continue more earth-friendly tours for the rest of their careers.
G:
How are you planning on reaching out to other musical groups? Is there one artist in particular that you'd love to work with?
AG:
The good news is there's already been a number of artists reaching out to us that want to take part. Once we set the environmental benchmarks for joining we will open up membership to those who commit to these criterion.
We in particular are interested in diversifying the genres and audiences of artists that get involved. We're excited to see hip hop artists starting to take this on and country would be great to get involved next!
G:
What can attendees of Campus Consciousness Tours expect?
AG:
The 5th Annual Campus Consciousness Tour has been going great! Ben Harper and Relentless 7 just finished their portion of the tour and the Drake leg has been sold out and nuts! In addition to the concerts, we co-host daytime activities on campus with the student environmental groups including community service projects, eco-screen printing (on T-shirts made from recycled threads and plastic bottles), and town hall forum discussions.
At the shows we have our interactive Eco-Village set up with student groups, games, an eco-pledge photo booth, like-minded brands (Silk Soymilk, Brita's Filter For Good, and Anvil's eco-friendly T-shirt line), and nonprofit partners (this year it is HeadCount, Hip Hop Caucus, Sierra Club, and Green For All). The focus of the nonprofit partners this year is lifting urban youth out of poverty through green jobs and the green economy. Students can win meet and greets with Drake and Ben Harper, autographed guitars and all sorts of cool stuff for getting involved.
G:
What has the fan response been? Do you know of any fans who took your message and applied it to their communities?
AG:
The fan response has been very encouraging—in fact, it's what keeps us going. It seems like almost every time a fan has an opportunity to take action, they take it. It's all about setting it up so it's easy for people to understand why it's important to do something and then make it easy for folks to do what you're asking them to do. There are so many stories I can tell about fans suddenly engaging and taking real measurable action, but here are a couple examples:
Over 1,700 Phish fans volunteered to clean up parking lots, diverting over 130,00 lbs. of recyclables from going into landfill.
For the Green Music Group Challenge, a father of two elementary school-aged children took the whole family out for a day of cleaning up trash along the streets in their neighborhood. He said it was the first time they've ever done anything like that and it won't be their last.
It's results like these that inspire me to continue our work at Reverb. It is working!
G:
What environmental changes have you seen in the music industry?
AG:
In general, there's obviously been a huge change in the public's awareness of environmental issues. I give a lot of credit on this front to the movie
An Inconvenient Truth
. Within music, we're seeing a lot more bands, festivals, and venues making real efforts to tread more lightly on the planet. I think the conversation has moved from "if" the music industry will be going green to "how" and "when" it will be truly green.
When Reverb first started in 2004, there were very few examples of artists actually greening their own footprints (Neil Young, Bonnie Raitt, Willie Nelson). It was more about the traditional way celebrities support causes—through donations and being a mouthpiece for an organization or campaign. This is still very important, but now artists and the rest of the music world are starting to realize that the music industry as a whole does direct harm to the environment and that there is much to be done right in our own backyards.
I'm proud to say that Reverb has played a big role in bringing about that change in mindset and have helped a variety of bands, venues, labels, and radio stations make real changes that will continue to spread throughout the music world.