Articles
A contest to send one lucky and talented blogger to Cancun in December to cover the COP16 climate change conference.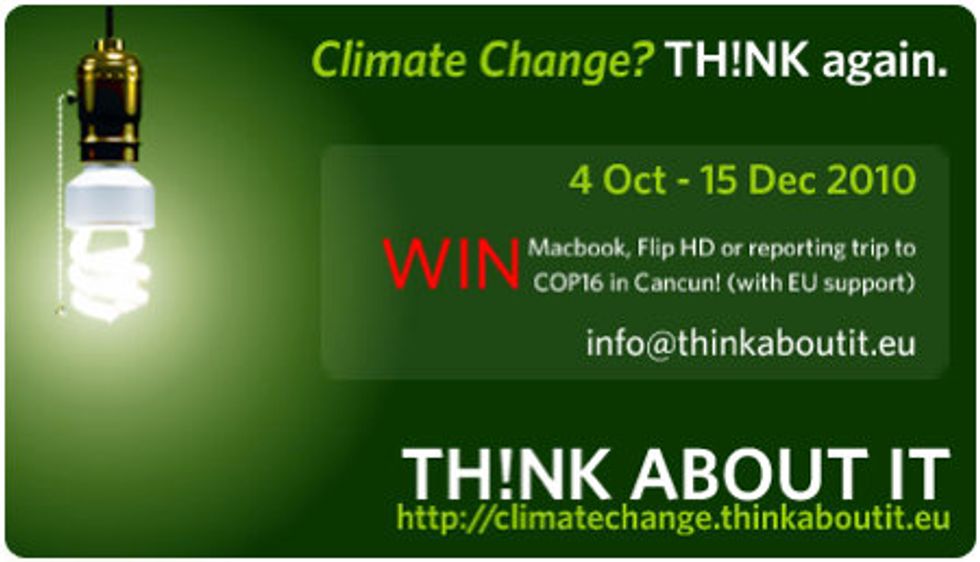 ---
Want a free trip to Cancun this December? More importantly, do you want to to immerse yourself in the murky world of U.N. climate negotiations and blog about the COP16 meetings that happen to be in Cancun this December? If so, you better act fast and submit a blog post for consideration to the the
Th!nk:Climate Change contest
before the November 1 deadline.
Some background: Last year, the European Jounalism Centre ran a similar contest to send a bunch of aspiring bloggers to COP15 in Copenhagen, where they dutifully filed reports from amidst the confusing chaos of the most anticipated UNFCCC meeting ever. This year, they're doing it again, but only sending one lucky—and talented—blogger to Cancun.
I love this concept. Having logged lots of hours in Copenhagen blogging about COP15 last year (and at the "intersessional" UNFCCC meetings in Bangkok and Barcelona before that), I saw up close how the young bloggers—or new media journalists in training—were often the ones shining the light on crucial, lesser-told stories. Most wire reports coming out of these conferences are written in the press conferences and slightly reworked press releases from various constituencies involved. But there's nuance and drama at the talks that the majority of the global audience simply doesn't see in the Reuters or AP reports. Once upon a time, there were full-time staffed diplomatic stringers that covered these U.N. talks from bell to bell. No more, alas. This void, I believe, has a chance to be filled by well-trained and motivated bloggers. Like those that might come out of a contest like this one.
There's also the fact that this contest is truly a global one. Th!nk's editor in chief wrote last week, "[a]s with previous rounds of the TH!NK competitions, also this edition is truly an international affair. Bloggers from The Philippines to the USA and from Kenya to Norway are getting (more) online experience and the comments on the various blog-posts are keeping our writers occupied."
More details: While there's a November 1 deadline for the COP16 reporting trip, the contest actually runs until December 15, with a Macbook and some Flip HD cams being given away to the most promising climate bloggers who aren't in the running for Cancun.