Articles
The Best Places to Watch the L.A. Marathon This Sunday
This Sunday, L.A. Marathon will transform the city into a 26.2-mile street festival. Here's where to watch it and how to support its runners.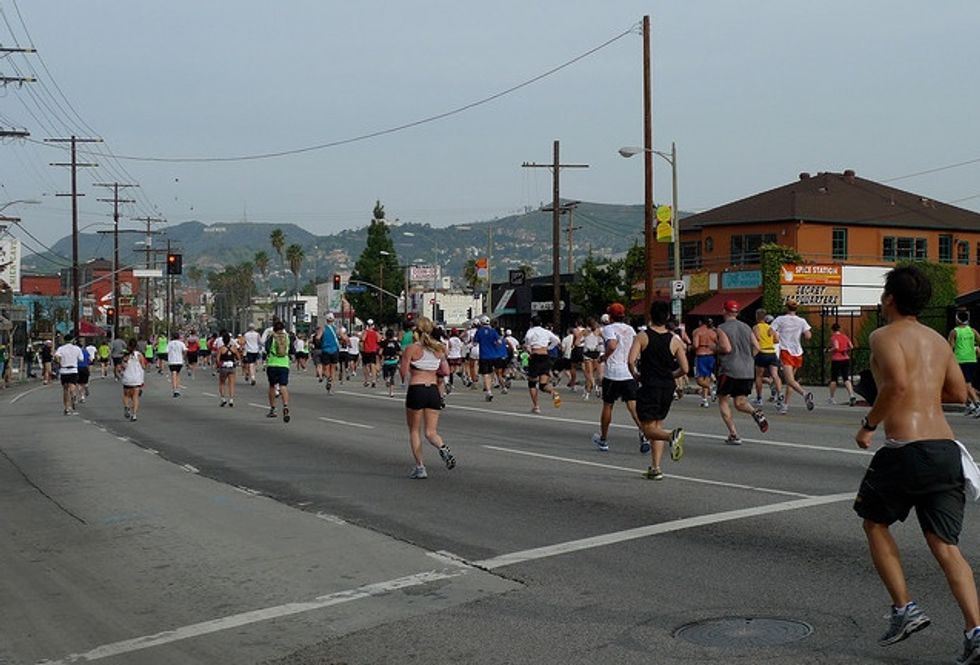 This Sunday, the
Los Angeles Marathon
will transform a 26.2-mile corridor of L.A. into the city's largest street festival. Even if you're not running from Dodger Stadium to the Santa Monica Pier, you can still enjoy the car-less streets.
Live bands
will be playing at almost every mile, and neighbors will be out cheering on their spandex-clad fellow citizens. And while the marathoners keep running, you can have a leisurely brunch. Here's where to watch the race, and a few ways you can help support these civic-minded runners.
Watch the Unofficial Marathon: Head to the course after the bars close on Saturday night to see bikers from Wolfpack Hustle navigate the already-closed streets in their annual "crash race." The ride starts at 3:00 a.m. at Dodger Stadium and heads west all the way to the sea. Check out last year's video here. Truly amazing.
---
Use the Red Line: Runners will take off from Dodger Stadium starting at 7:20 a.m., but navigating the dicey street closures downtown will he hard on four wheels. Take the Red Line to Union Station, where you can see runners venture from Chinatown to Olvera Street, then head back one stop to Civic Center, where you can perch on the Music Center plaza and watch the runners come up from Little Tokyo and head out of downtown.
See Flea Go: Outside the Silverlake Conservatory of Music at Sunset Junction there will be a cheering section for Flea (yes, that Flea) and his team of runners who are raising money for the Conservatory. They're just shy of their $65,000 goal, so chip in online, put on your Red Hot Chili Peppers shirt from high school, and sip a fair-trade cappuccino from Intelligentsia, next door.
[youtube]http://www.youtube.com/watch?v=pchZgDuzOCo
Dance break! Here's an animated visualization of the course

Party in Hollywood: Near the Chinese Theater, Hollywood Boulevard will be transformed into a block party with restaurants like the Hard Rock Cafe handing out free food and drinks to keep spectators happy. Similar block parties will be happening throughout the route. Check the schedule to find the one near you.
Cheer on Cheerleaders: Mile 18, starting just past Beverly Hills High, will be transformed into Cheer Alley, a gathering of hundreds of cheerleading squads that will attempt to break the Guinness World Record for "Largest Cheerleading Dance." Come on, you know you liked Bring It On.
Experience Ed Norton's Mile 20: In a series of videos produced for the marathon, celebrity runners pick their favorite mile of the course. Ed Norton chose Mile 20, which begins just outside Westwood, where runners dip under the 405. Wait for Norton at the corner of Eisenhower and Dewey Streets in Veterans Park, and don't forget to heed his challenge to donate to one of the marathon's many causes: Norton wants to raise $4 million.
Wait at the Bitter End: Runners will finish just outside the Santa Monica Pier, where they can reunite with friends and family. To join in, check out the marathon's Spectator Guide, which has more information about street closures, public transportation, and parking throughout the day. Then hop on the solar-powered ferris wheel on the Pier and take in the panoramic views of tens of thousands of exhausted but triumphant runners streaming your way.