Articles
The Conservative Evolution of Gay Marriage
While 57 percent of people under 30 see gay sex as "morally acceptable," only 46 percent of them would say the same about having an abortion.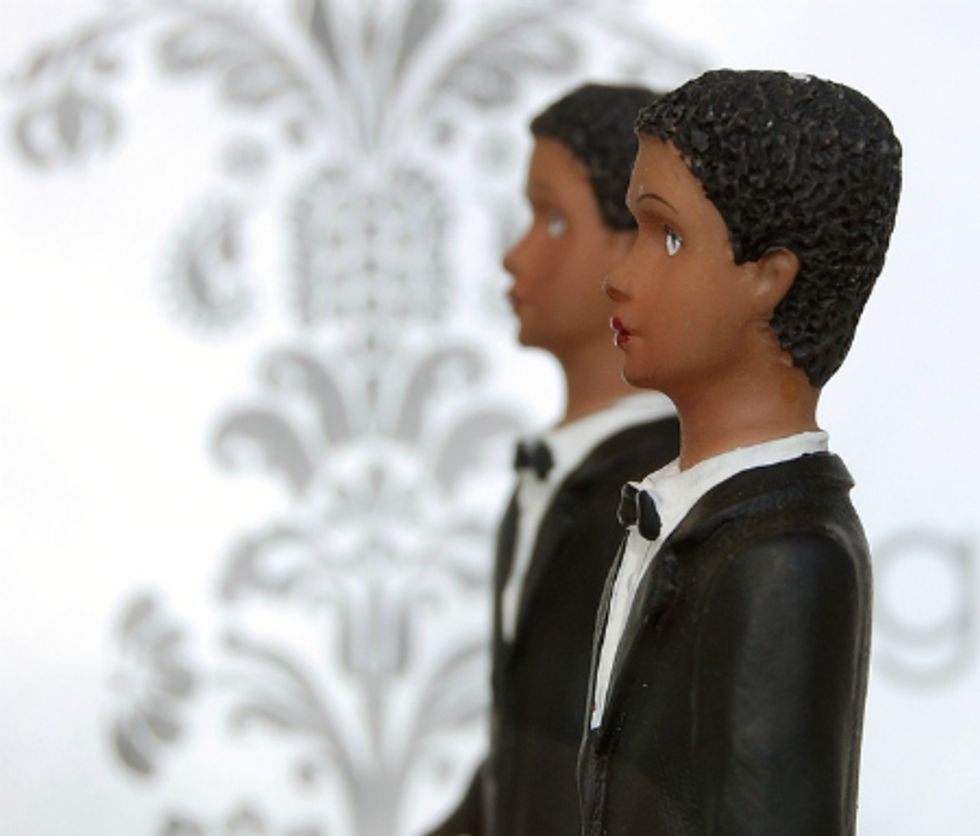 Americans are now
evenly split
on same-sex marriage: 47 percent support marriage rights for gays and lesbians, and 47 percent oppose them. That stalemate won't last long—critics of gay unions are dying off. According to
a new report
from the Public Religion Research Institute, only 31 percent of Americans over age 65 support gays getting hitched, compared to 62 percent of Americans under 30.
But strong millennial support for gay marriage has not translated into an uptick in acceptance of other sexual freedoms, like the right to an abortion. The Public Religion Research Institute notes that popular support for keeping abortion legal has dipped a percentage point since 1999, and young Americans are not swelling the ranks of abortion rights supporters. Today, while 57 percent of people under 30 see gay sex as "morally acceptable," only 46 percent of them would say the same thing about having an abortion.
---
The institute calls this a "decoupling of attitudes." Support for same-sex marriage and abortion rights have traditionally gone hand-in-hand, and that's changing. Though young people today are "more educated, more liberal, and more likely to be religiously unaffiliated" than their parents—all factors traditionally correlated with support of abortion rights—they are not actually more likely to support abortion.
Here's one explanation for the decoupling: Youth support of same-sex marriage does not reflect an embrace of progressive values, but rather an expansion of conservative ones. Over the past several decades, the mainstream gay rights movement has aligned its priorities with fundamentally conservative institutions: Gays and lesbians want the right to get married, adopt children, and serve in the military. These family-friendly, all-American demands appeal to the conservative base, and work in direct contrast to the lingering stereotyping of gays as promiscuous Communists. Today, support for gay marriage is nearing 50 percent among even the most conservative of American youth, like Republicans and white evangelical Christians.
Reframing abortion rights as a family value is a trickier sell. Though about one-third of women will abort a pregnancy in their lifetimes—a figure that spans age, ideology, and religion—many who have undergone the procedure remain in the closet. And the increasing acceptance of gay marriage among conservatives may not help the cause. After all, the anti-abortion movement has now found a key ally in gay Republicans.
Photo (cc) via Flickr user laverrue