Articles
The New China
Shenzhen, once a sleepy fishing village, is now a teeming city of skyscrapers. Will this model of modern China be a lesson in getting too big too fast?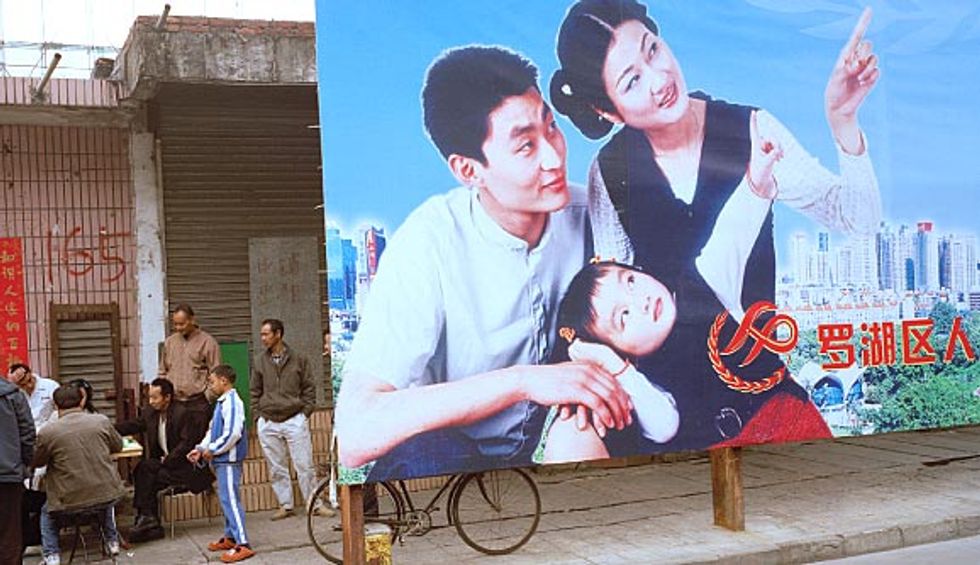 On the outskirts
of Shenzhen, up a small mountain and around a bend, is a Buddhist temple. At first glance, it looks like any other Buddhist temple-vibrant yellows and reds, wreaths of flowers celebrating the Chinese New Year, devotees with incense in hand, waiting to offer prayers to the temple's 12 different Buddhas. Even the on-site restaurant, in keeping with Buddhist tradition, is vegetarian. But lining the ground floor of the orange pagoda are gift shops (several of them) and illegal minibus drivers perch just outside, ready to ferry tired worshippers back down the hill to the city for a few cents a head.It's the last few days of the Chinese Spring Festival, and under the bright sun, the ornate pavilion looks lost in time. The whole complex could date from the beginning of the last century-ancient in Shenzhen. Except it doesn't. It was built in 1990, which makes the 102-year-old head priest 84 years older than the temple he cares for."There are no old buildings in Shenzhen," explains a worshipper with a laugh.In a city built on expectations and the promise of a new China, the temple is an oddity-a building made to look old. Here, gleaming skyscrapers are prized, shooting up into the sky with improbable speed to accommodate the hundreds of Chinese who show up every day to find work. And from an observation deck on the 68th floor of Shenzhen's tallest skyscraper, one can track the city's three-decade rise through its rapidly shifting architecture: dull concrete apartment blocks with oppressive metal window bars (early 1980s), low-rises covered in bathroom tiles (mid-1980s), Pepto-Bismol-pink silos (early to mid-1990s), Hong Kong meets Miami pastel (early 2000s), and large, curved-glass showpieces (post-2004). In all directions, cranes shift materials to brand-name condos and business towers designed by superstar architects. Nearby, a high-rise looms 40 stories in the air. It looks about a year old, but if you look closely, the brick is already starting to discolor. Beside that, a structure has been razed.In 1979, Chinese leader Deng Xiaoping chose a sleepy Pearl River Delta fishing village about 20 miles from Hong Kong to be a "special economic zone," a testing ground for China's experiments in capitalism. In the nearly 30 years since, Shenzhen has exceeded all expectations. It has exploded from a population of 70,000 to at least 10 million. It has also become a high-tech business destination with a massive container port-the fourth largest in the world-and a stock exchange surpassed in China only by those in Hong Kong and Shanghai. But listen closely in the city's markets and one can hear migrants from Sichuan and Hunan worrying that their jobs won't cover their big-city rent; cabbies stopped at red lights discuss the feasibility of striking for better pay. Like any big city that promises a better life, challenges here abound.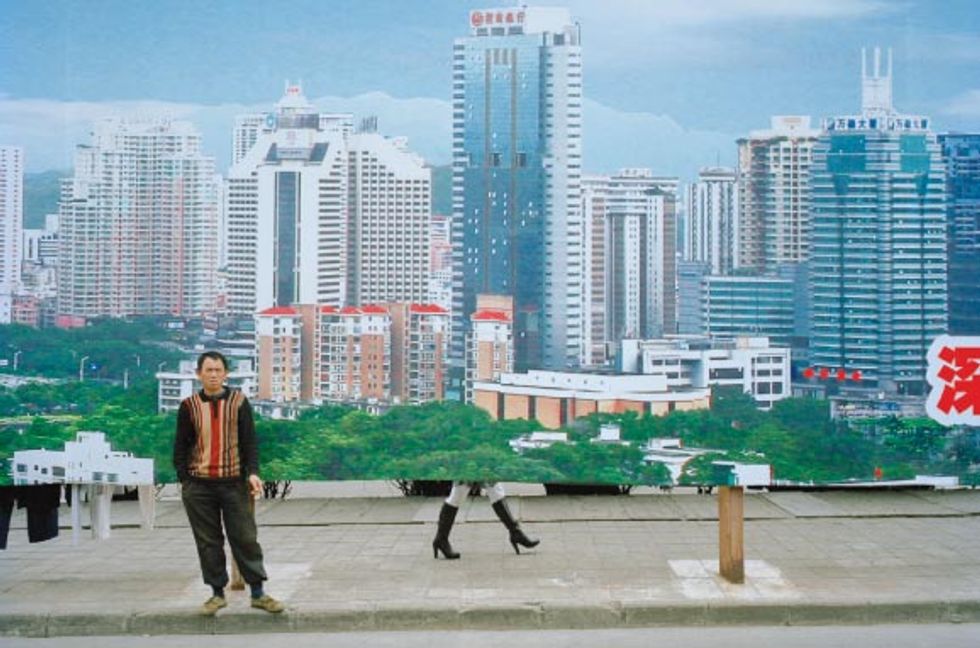 ---
A woman walks behind an advertisement for a new development in Shenzhen.
Every day, hundreds
of migrants arrive at the Luohu train station. Situated above a five-floor flea market selling counterfeit goods, the station teems with chaos. Along its central courtyard, bordered by stands of gigantic bamboo, a group of young men in leather coats, designer jeans, and bootleg sneakers squat on small stone planters, their eyes fixed on the next crop of newcomers, cigarettes turned upward so that they burn slower. Every so often, one of them attempts to change money for a British couple, who heed their guidebook's advice and turn their backpacks to the front as they walk away. Just past the station, a sidewalk sex bazaar takes shape. For three blocks, tired-looking and dumpy middle-aged madams hawk
"massagie."
Migrants sit on curbs across the boulevard from the Shangri-La Hotel. One man wears a threadbare herringbone suit and scuffed, pointy-toed black dress shoes. His clothes, dark tan, and hardened face all reveal a lifetime in China's impoverished, agrarian interior. If Shenzhen is China's New York City, then Luohu is its Ellis Island.When Echo Yang first visited the area in 1983, she saw a vastly different place. "There was nothing there," she says. "It was just deserted. It was very undesirable." At the time, Luohu was the city's only district. By the time Yang graduated from college in Hunan province and returned to Shenzhen, in 1999, the city had ballooned-six districts instead of one, with the core shifting from gritty Luohu to the more cosmopolitan Futian. Now 29, Yang works in the Shenzhen High-Tech Industrial Park for Lenovo, the Hong Kong-based company that has acquired IBM's laptop division. IBM, where Yang began her career, is heavily invested in Shenzhen. It has located its world procurement headquarters at SHIP, joining foreign giants like Philips, Compaq, Olympus, Epson, Lucent, and Thomson. In 2005, exports from the park increased 23 percent-to $8.746 billion.Yang embodies the city's new generation: College-educated and upwardly mobile, her heart is set on business school at Northwestern University. Yang is about five feet tall with a ready smile, short hair, and a quick laugh. In keeping with Chinese tradition, she lives at home with her parents, who have retired and joined her in Shenzhen.
Quote:
I have mixed feelings toward this city. A month ago, Shenzhen was elected China's most suitable city to live in. Rich people, they think this place is very good, but for common migrant workers, Shenzhen is probably the most undesirable city to live in.
Much of Shenzhen's charm reflects the city's lack of history and flair for pastiche. This is especially true of Yang's neighborhood, Overseas Chinese Town. It was designed by the Communist Party to attract Chinese investment from abroad. It features a theme park called Window of the World, which allows visitors to take in many of the world's landmarks-the Pyramids, the Eiffel Tower, and the leaning tower of Pisa-in about three hours. There is also a mock Swiss town called the Portofino, and the Galleon Restaurant and Bar, a full-sized ship perched on top of the InterContinental Hotel. On a warm February evening, the bar's band is blazing through their tight-panted rendition of Daddy Yankee's "Gasolina."Spending a few days in OCT, with its cover bands, bootleg wonders of the world, and over-the-top theme bars, it's easy to see why Shenzhen is so often called a "desert of culture." But to Shenzheners like Marc Hum, who delights in charting new directions, the lack of artistic hierarchy here is liberating. "China is a country of long history, so it has some old and unchanged habits," explains Hum. "So if you're living in your hometown, you never review it. In Shenzhen, you have a chance to review those old traditions." For Hum, this means there are no hometown obligations. "This can make people's relationships simpler," he explains. In Shenzhen, Hum and his colleagues are living for themselves.His firm, Hum Design, is housed in a former factory that would look at home in any worldwide design capital. Entering through the rounded cement doorway feels like stepping into a spaceship. There are high ceilings, stark white walls, and matching white epoxy-painted floors. Hum's 12 employees work at desks of repurposed metal or custom camphor wood from Hunan, Hum's home province. But like artists' districts all over the world, prices are rising here almost as quickly as its artists set up. Hum's studio, which overlooks faded body shops and car detailers, may soon be demolished. In New York, the transition from factories to lofts takes about a century; Hum's building was completed just 25 years ago. Should it be destroyed, Hum has a contingency plan: move the company to Overseas Chinese Town. "They wouldn't tear down OCT, right?" he reasons.
Quote:
Compared with Beijing, Shenzhen is less political, more freestyle. So that's why I prefer this city to other Chinese cities. I disagree with those people who say Shenzhen has no culture. Personally, I think it's bullshit.
Hum and his friends, though, still enjoy a modern, bohemian lifestyle. On a warm February day, he and his drummer friend Deng Fang catch up over coffee at a downtown Starbucks. Together, they are the picture of American hipsters-Hum with a stylish black bomber jacket and Prada-ish black shoes and Deng in black-rimmed glasses-discussing the pros and cons of postcollegiate life in China's metropolises."Compared with Beijing, here is less political," Deng says, their friend Alex Li translating for him. "More freestyle. So that's why I prefer this city to other Chinese cities. I disagree with those people who say Shenzhen has no culture. Personally, I think it's bullshit. Bullshit!" he repeats, peering down his glasses and smirking authoritatively, as if to mock high culture."This city's a new baby," he continues. "Even though its culture is not so distinguished, it's developing."The next evening, after dancing to third-rate reggaeton and dining to a soundtrack of Lionel Richie and Rick Astley, Deng's band takes the stage. An ethnic Kazakh singer pairs plaintive
dombra
-led folk music with the band's sophisticated drum riffs and chord changes. The crowd is transfixed.
A family gets their picture taken in front of a billboard.
During the Cultural Revolution
, the Communist Party enacted a household registration system called Hukou, which designated the province, city, and town where citizens could live. For farmers and enemies of the state exiled to the countryside, this meant a life consigned to rural poverty. Now, for the first time since the 1950s, Chinese are ostensibly free to live wherever they choose. But in Shenzhen, official residency is still restricted and mostly reserved for people with government or white-collar jobs sponsored by major corporations. For migrant, non-Hukou workers, this means no mobility and limited benefits. The lion's share of the people here travel between Shenzhen and their hometown just once a year, during the Spring Festival. They never go anywhere else.At last official count, Shenzhen had 2 million Hukou households, and 6.5 million non-Hukou households. And though Hukou is still technically on the books, enforcement is virtually nonexistent, so it's hard to say how many people actually live here. At the end of 2006, the city officially contained 8.5 million permanent residents, though most would put that number at about 2 to 4 million higher-and growing fast.Many of the uncounted men and women reside in the city's isolated industrial districts, Bao'an and Longgang. Visitors rarely go there since they're hard to reach via public transportation and the Special Economic Zone visa available at the Hong Kong border doesn't permit travel to the area. And a figurative border further separates these two districts from Shenzhen's four richer districts. Within Bao'an and Longgang, the minimum monthly wage is just $105, almost 15 percent lower than in Shenzhen's other districts. Meanwhile, the price for a round-trip taxi ride from there to Overseas Chinese Town is prohibitive: around $20, the equivalent of a week's wages for a laborer.The area is prowled by packs of motorcycle bandits who reportedly mug migrant workers with startling regularity, knowing that the workers have little legal recourse. And as a high-tech boom has lifted Shenzhen's fortunes, life for the migrants has gotten worse. The central government recently passed tougher wage-protection laws, further squeezing low-cost manufacturers, and last November, hired goons stabbed a prominent labor activist named Huang Qingnan in broad daylight. Though his assailants were captured, Huang was left with an indentation in his calf and a pronounced limp.Zhang Zhiru, a youthful looking 29-year-old former laborer and colleague of Huang, knows these struggles firsthand. He runs a worker's rights group in an industrial building in Bao'an, organizing laborers who often work for so-called "black factories"-unregistered manufacturers that are very difficult to regulate. Two incidents inspired Zhang to start a group called the Spring Breeze Labor Dispute Association: In the late 1990s, he watched bosses beat two workers to death; in 2001, after he injured his hand and was unable to work, his boss, an unregistered factory owner, declared bankruptcy and fled."When I first started this job, it was because of my own accident and my co-workers' [death]," Zhang explains. "I started it because of my dream. I would tell myself that every job involves some risk. No job can absolutely avoid any risk. We can try to cut the risk to a minimum by being very rational and reasonable when we negotiate with the factories."Still, Zhang worries that as Shenzhen moves away from manufacturing and toward skilled technology jobs, the migrant workers who paved the way for the tech boom are being forgotten. "I have a lot of mixed feelings toward this city," he says. "A month ago, Shenzhen was elected China's most suitable city for living. When I read this news, I felt a little bit funny. Rich people, they think this place is very good, but for common migrant workers, this city is probably the most undesirable city to live in." He pauses for a second, and then adds, "Many migrant workers in Shenzhen had beautiful expectations when they came here, but the reality blew them down."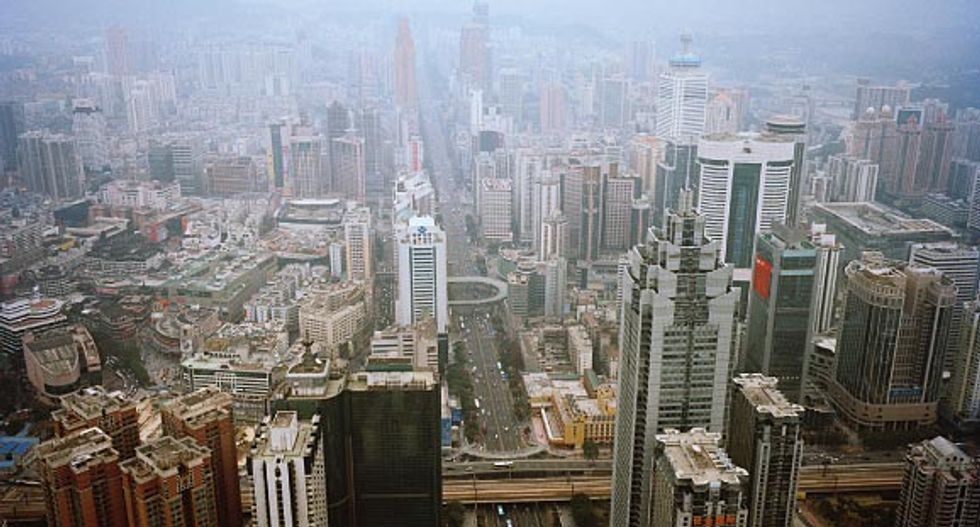 Shenzhen is best viewed from the 68th floor of the city's tallest skyscraper.
It isn't necessary
to cross Shenzhen's internal border to see how the other half lives. One afternoon, Allan Chu, a friend of Echo Yang's, leads the way through a part of the central Futian district that is slated for demolition. There are limping feral dogs, young men selling bowls of lukewarm entrails, and gambling. Lots of gambling: cards, mah-jongg, and two pool tables set up along the main road surrounded by young hustlers. Around here, all the windows are barred and the buildings are so close together that no light gets in. Chu calls them "buildings shaking hands."He pauses to speak with a restaurant owner, who spends the equivalent of $300 per month to rent a fetid noodle stall. The man comes from a rural area of Guangdong province. His daughter, who couldn't be older than 10, works a wok nearby. When asked about the future, the man shrugs. "It doesn't matter what I think. They will knock down the buildings anyway."Two blocks away, a teenager is making noodles in front of a small, tidy restaurant. He whips around a lifeless ball of dough, stretching, pulling, and deftly shaping it into micro-thin noodles with his hands. He then deposits it in a bubbling pot of beef broth. The owner, his father, beams. "The only difference between me and the Han [who comprise more than 90 percent of Chinese citizens] is my hat," the proprietor explains, pointing at his white skullcap. He is from the Xinjiang autonomous region, where discrimination against Muslims is common. But in Shenzhen, he says, locals are excited about trying food from Xinjiang, a tasty novelty from an area they've never visited. If his restaurant shuts down, he'll just open up somewhere else. He likes Shenzhen, he says. It isn't cold like Xinjiang.Later that day, I get a glimpse of what might replace the slum. A short subway ride away, Shenzhen's brand-new civic center is fast becoming the center of town. It houses a branch of the local mega-chain Book City, a KFC, and a Starbucks, along with a record store, a concert theater, and the central library.The main building looks like a gigantic handlebar moustache grafted out of pieces of interlocking yellow and red steel. Chu has a different take: "It looks like it's wings taking off and flying into the sky." As you walk underneath the moustache, and dizzily stare down into the building's banked glass walls, you can see the library and concert hall to the left and a glass children's museum to the right. The trail leads out toward a nearby mountain. Before one can get there, though, the trail ends abruptly. This is Shenzhen. There is always more to build.