Articles
The Promise of Spaceship Apple
With his design for a nature-building hybrid, Sir Norman Foster is swapping out one vision of the world for another.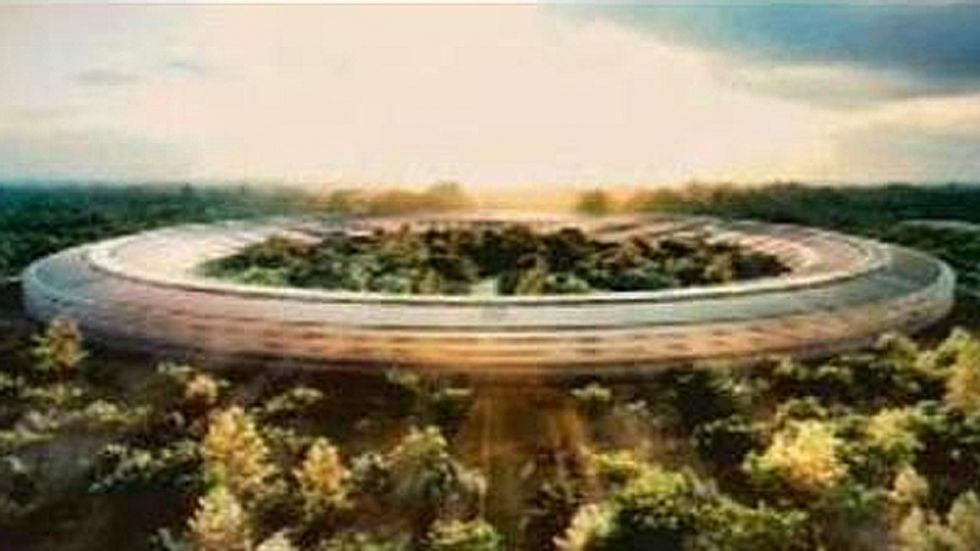 What happens when you pair Steve Jobs, arguably high-tech's most visionary and audacious leader, with Sir Norman Foster, one of the world's most daring and preeminent architects? Besides two black mock turtlenecks (yes, they look remarkably similar these days), you get something utterly paradigm-breaking. During his surprise visit to Cupertino City Hall on Wednesday night, Mr. Jobs himself called Mr. Foster's design for Apple's future headquarters a "spaceship."
---
While the design does indeed bring images of UFOs to mind, the name should not mislead you. It is anything but science fiction. The design is another benchmark for the architect—made possible by working with a dream client willing to do anything to make his company's new office building no less game-changing than, say, the iPad.
The 150-acre campus will be transformed to 80 percent landscape. The old Hewlett Packard buildings and surface parking on the site allowed for only 20 percent landscape. In the Foster design almost all parking will be pushed underground to do away with vast, heat-producing areas of paving. Where there were 3,700 trees (yes, somebody counted them), the new scheme will have 6,000 indigenous trees—including an apricot orchard—selected by a Stanford arborist. The building will be powered by natural gas and renewable energy sources, drawing power from the grid only when it needs a back-up.
Foster's UFO-like shape is more than mere formal gesture. The circular glass building—as Jobs noted, there isn't a single piece of straight glass—will be able to take advantage of sunlight throughout the day, thus reducing the need for artificial lighting. The expansive forest inside the ring will help to passively cool the building. Specific details about the building's other sustainable features have not yet been made available, but knowing Foster they are bound to be comprehensive and deeply integrated into the design. The building is thus an expression of a totalized environmental vision.
After decades of advancing the boundaries of what we now call "sustainable design" in massive, territory-shifting projects, Foster, winner of the Pritzker Prize in 1999, and his teams of designers, have a wealth of experience.
Foster + Partners has not only designed and engineered the world's largest building (Beijing Capital Airport), but also masterminded the city of Masdar, one of the first ground-up potentially carbon-zero sustainable cities, in the desert terrain of Abu Dhabi in the United Arab Emirates. The firm has completed projects at the largest scales and has experience with photovoltaics, zero-waste ecology systems, geothermal and hydrogen power, and even solar-powered desalinization. Job's vision for, as he modestly put it, "the best office building in the world," is well within reach for Foster.
The thinking that went into Masdar is implicit in Foster's iconic circular gesture for Apple. Though formally the two are distinct (Masdar seems to take its cues from the microchip), he understands that at this scale and with all this land he is not merely designing a building but an entire ecosystem, with a capacity for producing its own micro-climate and maintaining its own culture of use. Additionally, by taking the pavement and sprawl of Hewlett Packard's former headquarters and turning it into an intensified nature-building hybrid, he is swapping out one vision of the world for another. But does it really go far enough?
The reaction to Masdar is instructive. Critics, like former New York Times architecture critic, Nicolai Ouroussoff claim that, while appearing to be super-sustainable, the ultimate reality of Masdar is a social agenda that pushes "the growing division of the world into refined, high-end enclaves and vast formless ghettos where issues like sustainability have little immediate relevance." So while the design is compelling and the technology breath-taking, these are just the starting points.
This criticism may apply to Apple's new building as well. It is, after all, a company known for its fast-paced, late-night culture as well as its sketchy treatment of factory workers in China. Foster and his architects can indeed design space that embodies the ideals of the "green" economy and balanced, healthy lifestyles, but Apple's management will ultimately determine the culture that enlivens that compelling space.
Sustainability isn't just about solar panels. Foster's curved, crystalline, arboreal paradise could actually facilitate an unhealthy and unsustainable stay-at-work-and-don't-go-home ethos by providing Apple employees with everything they need to "sustain" their workdays longer. Perhaps the only thing missing from the design is on-site housing or sleeping pods under every desk.
This, however, does not diminish the significance of ecological ideals contained in the project. But once the building is up, the trees are planted, and all the sustainable gizmos are put in place, the ecology is still only half-complete. The people who move in, the end-users, as they are called, bring it to life.