Articles
The Subway Falafel Sandwich and the Americanization of Ethnic Food
"Mediterranean food is delicious," Zaibak says. It's about time everyone knew it.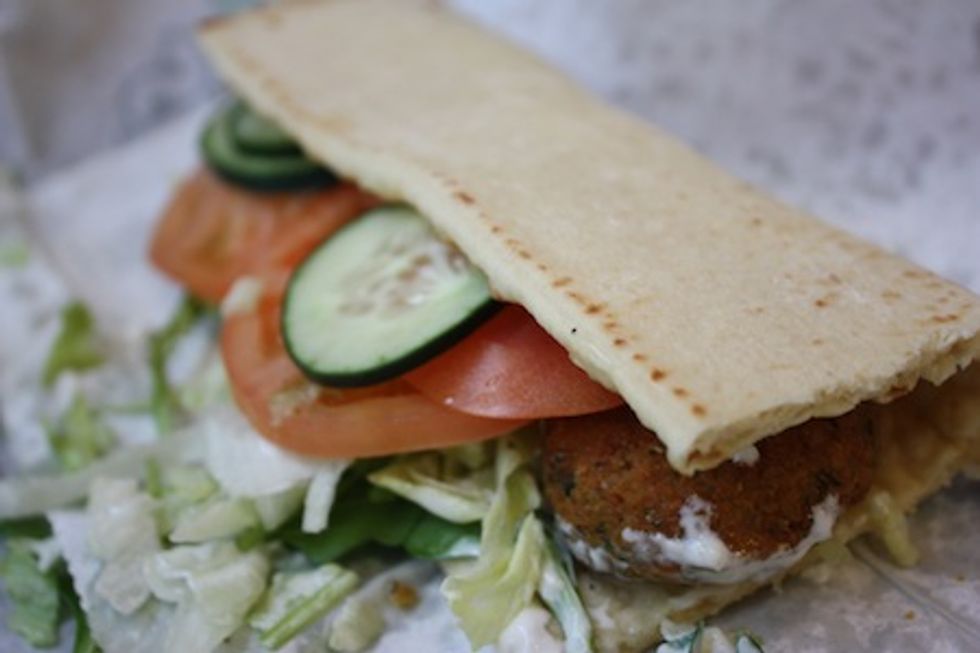 A few years ago, Khaled Zaibak began promoting fried chickpeas in his sleep. "I started to have some dreams about falafel," says Zaibak, president of Chicago-based falafel wholesaler Zaibak Bros. "As a strong believer in faith, I felt as though it was a message from God."
---
Zaibak set about spreading the word. He assembled a research and development team and pitched the traditional Middle Eastern
sandwich
to Subway. Soon, Zaibak had the blessing of the chain's co-founder and CEO, Fred DeLuca, to start selling a falafel patty based on Zaibak's Turkish grandmother's recipe. Select Chicago-area Subways began offering footlong falafels in April of 2010. They've since expanded to restaurants throughout Illinois and Northwest Indiana.
Falafel's foray into Subway stores is a logical step in the food's journey into the American mainstream. After watching the rising popularity of hummus in grocery stores across the country, Zaibak says he saw an opportunity for another chickpea-based Middle-Eastern food to become an American staple. If the Subway falafel sandwich goes national, it could give the ethnic treat the most American treatment of all: fast food mass production.
"The history of American food is really a history of immigration, and the nostalgia that comes with a cuisine's decline is an indicator of an ethnic group's confidence in its American identity," novelist Dana Horn
wrote
in a 2009
Wall Street Journal
piece. "When a group first attains critical mass in America, its restaurants are mostly for its own members." As generations settle in, the food, like the ethnic group itself, becomes subsumed into American culture: Think chow mein takeout, or drive-through Taco Bell. As later generations stabilize, they tend to cultivate an appreciation of ethnic difference alongside Americanness. "Shortly thereafter, food nostalgia sets in, and the quest for the 'authentic' begins," Horn writes.
The history of the falafel in America, particularly in Chicago, makes it seem like it will conform to the trend. Much of the city's falafel joints are concentrated in Middle Eastern immigrant neighborhoods, particularly the northwest side's Albany Park, which saw an influx of Arabs and Assyrians from Iran and Iraq beginning in the 1970s. In recent years, several new lunch spots cropped up outside these traditional neighborhoods offering falafel of varying quality.
Unsurprisingly, reception of the Subway menu item wasn't met with much fanfare in a city with so many quality falafel outlets.
Chicago Tribune
columnist Steve Johnson
called out Subway
for "failing to stay in their place." But critics aren't customers. Zaibak says the falafel sandwich has proven to be extremely popular, says Zaibak. Taking a cue from the McDonald's McRib, Zaibak Bros. and Subway have attempted to drum up a cult following for the sandwich with social media profiles on Twitter and Facebook. "The Subway falafel sandwich is surprisingly not bad," one diner recently tweeted.
While his company expected to sell just one case of falafels per Subway store per month, Zaibak says the average is closer to 4.5 cases per store per month. (He wouldn't say exactly how many falafel pieces are in each case.) Of course, some quality has been sacrificed to bring the food down to American fast-food standards. Instead of fresh parsley, a dehydrated version of the herb is used. Falafels arrive flash-frozen from the Zaibak Bros. plant and are heated in Subway toaster ovens. The "cucumber sauce," which Zaibak says is intentionally not referred to by its more ethnic name "tzatziki," is a little watery. The patties offer a slightly mushy, orange-tinged version of the traditional falafel. These quirks are by design. "We take the whole ethnic feel out of it and create a relationship that is familiar to everybody," Zaibak says of the Subway falafel.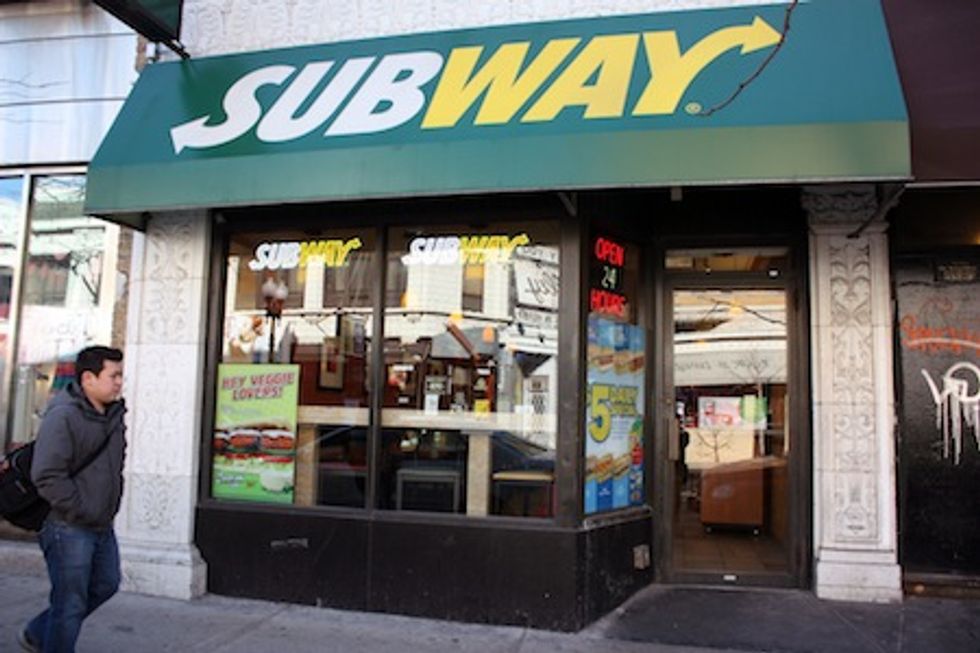 \n
Though falafel snobs may scoff at an "Eat Fresh" version of a dish that usually packs an aromatic crunch, owners of Middle Eastern restaurants say Subway's falafel provides a major service to all Americans by expanding their palate. "It's almost kind of flattering that they want to be offering falafel," said Shadi Ramli, co-owner of Chicago's
Sultan's Market
. Ramli says Subway's sandwich is hardly competition, but it is a marketing campaign that could end up helping restaurants like his when Subway eaters and falafel newcomers want to try a more authentic version. "It gets the word 'falafel' out there," he says.
A Subway corporate spokeswoman said the fate of the falafel is unknown at the chain, but Zaibak expects the product to expand well beyond Chicago to new markets like Boston, Northern California, New York, and Houston. All of those areas have sizable shares of either ethnic populations, health-conscious communities, or both. In other words, they're places where falafel isn't entirely foreign.
If the falafel goes national with Subway, it would reach places where the food and the cuisine is un-American by virtue of unfamiliarity. Zaibak views this as an educational opportunity as much as a financial one. He sees the spread of falafel as a way to spread Middle Eastern cuisine, and by extension Middle Eastern Americans, to wider American culture.
"For a while in this country, anything Middle Eastern and Mediterranean was not accepted. The falafel's growing popularity shows we have become open-minded as Americans," Zaibak says. Besides: "Mediterranean food is delicious." It's about time everyone knew it.