Articles
The Un-Daily Deal Site That Wants You to Donate for Discounts
The Mutual is a socially conscious business that mixes self-interest and eco-philanthropy.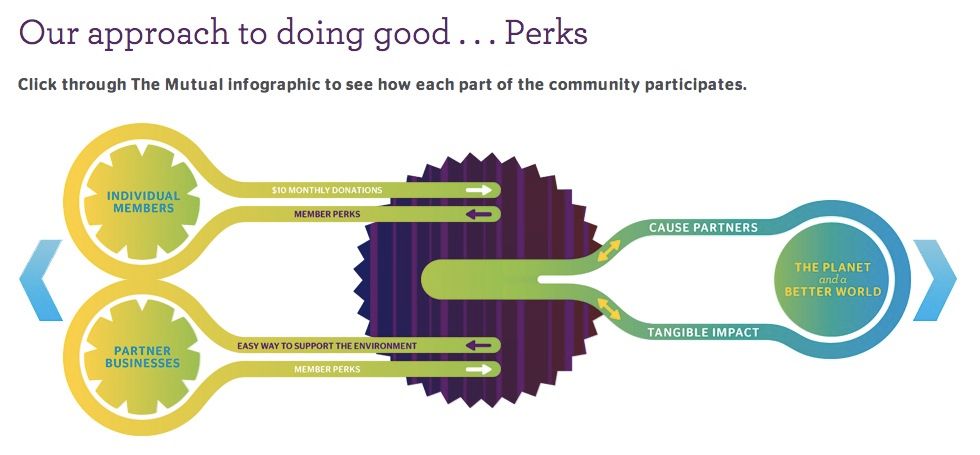 As daily deal sites began to take off, we lamented how few of these budding businesses that were harnessing huge mailing lists and bargain offers for good.
---
Sure, some sites have promoted green deals, while others give charities exposure to the public, but there's plenty of room for the sector to raise the bar. By and large, small businesses have to eat the deep discounted costs for one-off customers when dealing with Groupon and its clones, and social consciousness isn't built in.
So, how about an un-daily deal site? The Mutual is a social enterprise that officially launched last week to pair businesses with sustainability-minded customers. "Daily deals devalue brands and create one-time customers," Mutual co-founder Daniel Vallejo says. His deals are different. For one, they aren't daily. They're constant. And to get them, shoppers have to give a damn, or at least $10.
"It's not terribly easy to be green," Vallejo says. "You have to volunteer to clean up a beach, or find out what a carbon credit is and pay for it." He hopes that his enterprise will harness self-interest to make daily acts of environmental philanthropy frictionless.

Mutual members donate $10 each month—$8 of which goes to an environmental charity through the site, the rest to The Mutual. In return, consumers get access to discounts from participating businesses that want to reach eco-friendly customers. Many of the offers Vallejo has negotiated with the first 35 participating businesses have low or no cost to the companies: Priority seating, and early access to products, for instance.


The business model—perks to a select group—isn't especially new. Large corporations offer employee benefit cards, public radio and TV stations have issued affinity cards for many years, and student and senior citizens' groups do the same. New entrants to the field, like the Founder's Card, target a hipper set. But Vallejos hopes that The Mutual will motivate people to give to charity regularly with 10 percent off tapas on Monday nights, while still benefiting participating vendors' bottom line—the customers are more likely to come back because his deals don't expire.
The Mutual's early focus on environmental giving is designed to keep membership united around a cause, and, in theory, to build a group of shoppers with a shared eco-interest that could eventually become hefty group-buying power.
Photo courtesy of The Mutual