Articles
Green Box Top: The Groupon of Green Companies Want a Daily Deal Site that Shares Your Values?
No more botox emails! The latest daily deal site only promotes businesses that improve the environment, your wellness, the community, or all three.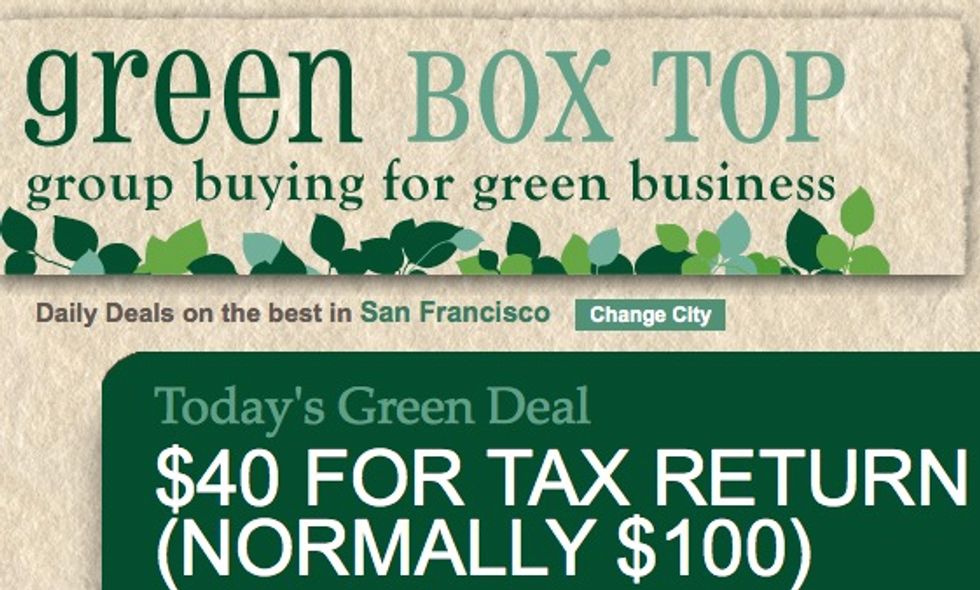 Do you like
Groupon
's deep discounts, but crave a dose of
conscious consumerism
in your inbox? Well, the latest daily deal site entering the
$15+ billion fray
is distinguishing itself by offering only "green" deals.
Green Box Top was founded by two yoga instructors who tried promoting their business on the other deal sites and using them as customers but ended up "frustrated that only about one in ten deals were interesting to us—we didn't care about discounted Botox or teeth whitening," Green Box Top co-founder Lynn Ruolo writes. So they started their own deal site that only promotes merchants that "improve the environment, your wellness, the community, or all three." You can sense a good deal of the yoga wellness value system in the deals and promotions.
---
In place of Groupon's snarky commentary, each Green Box Top email includes an explanation of how that day's company qualifies as "green." It's nice to see that narrative touting better business right beside the 60 percent off banner.
A portion of each sale also goes to charity. This month's beneficiary is CUESA, the Center for Urban Education about Sustainable Agriculture.
They launched in San Fransisco in August 2010 and are spreading to other cities. So far they've reached Denver, Eugene, and have a national daily email for online shoppers. But if you want Green Box Top in your city, the yoga instructors-cum-internet entrepreneurs want to hear from you. Get in touch with them to help bring the discounts to your city. And tell the other daily deal sites you wouldn't mind a little more conscious consumerism in their promotions either.