Articles
Underbelly Project: Massive, "Underground" Street Art in Abandoned MTA Stations
The Underbelly Project is a massive, underground street art installation in an abandoned New York City subway station; almost no one has seen it.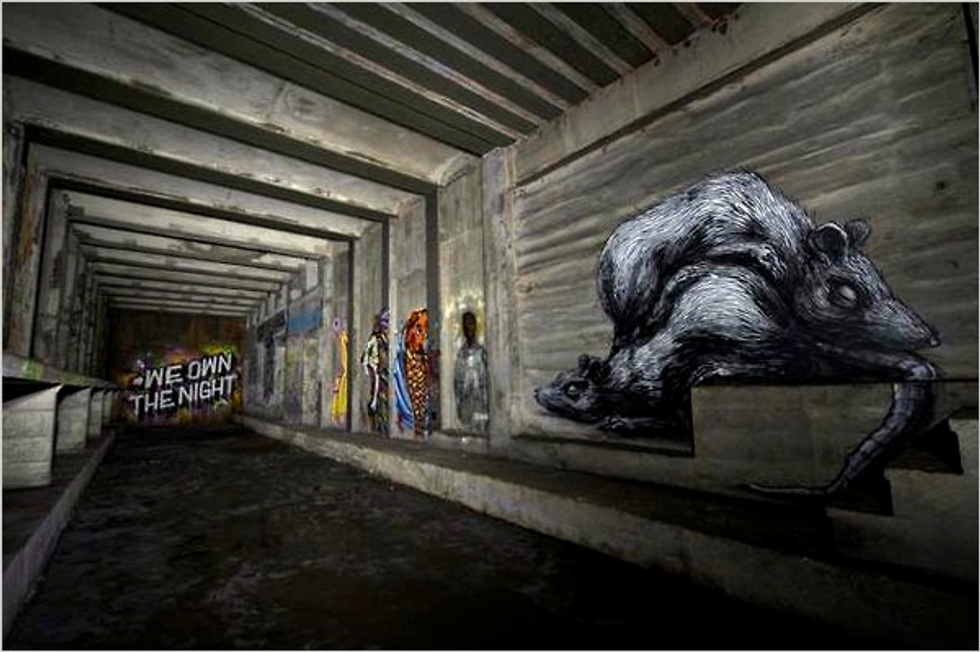 ---
\n
The New York Times unveils a
behind-the-scenes appraisal of the Underbelly Project
, the massive underground street art installation decorating the walls of an abandoned New York City subway station and created by Workhorse and PAC. It features contributions from 103 global artists—including big names like Ron English, Swoon, and Revok—but almost no one has seen it.
Known to its creators and participating artists as the Underbelly Project, the space, where all the show's artworks remain, defies every norm of the gallery scene. Collectors can't buy the art. The public can't see it. And the only people with a chance of stumbling across it are the urban explorers who prowl the city's hidden infrastructure or employees of the Metropolitan Transportation Authority.

That's because the exhibition has been mounted, illegally, in a long-abandoned subway station. The dank, cavernous hall feels a lot farther than it actually is from the bright white rooms of Chelsea's gallery district. Which is more or less the point: This is an art exhibition that goes to extremes to avoid being part of the art world, and even the world in general.

\n
Just getting into the abandoned station was an adventure (read: illegal), and working underground in the humid dark threatened the well-being of the artists, while also presenting challenges to their work (one painting simply never dried). If you're in New York, it must be exhilarating to know that at any moment you could be setting foot atop a hidden collection of art, especially since you'll likely never set eyes on it.
Photo by Workhorse, for The New York Times, from a slideshow of photographs of the Underbelly Project