Articles
USDA Comes Out for Sugary Beverage Tax
Yesterday, the USDA released a report (PDF) on the potential effects of taxing sweetened beverages. Given that the government is in the business of generating revenue (and, under Obama, reducing obesity), it not surprisingly found that a a tax would be a good idea. What differs in their research from other reports on a potential soda tax is that the USDA says that a tax would actually result in enough reduced consumption to cause a small—but significant—weight loss for the country as a whole.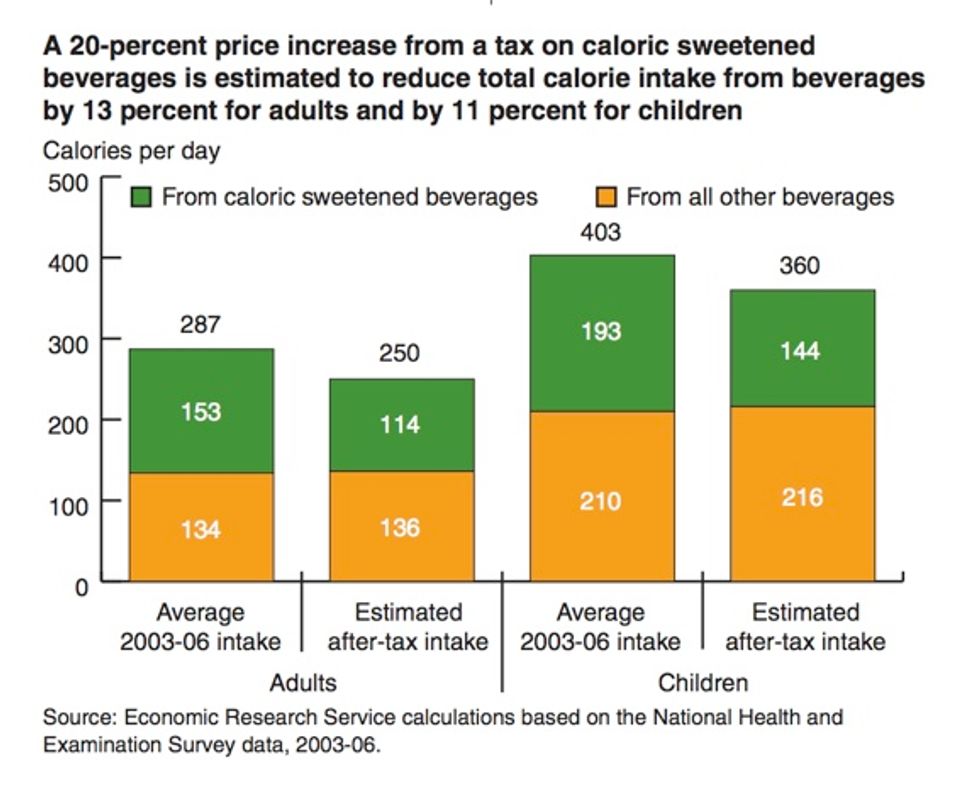 ---
As you can see in this chart, the USDA estimates that a tax would reduce the number of calories from sweetened beverages (the calories from unsweetened beverages come mostly from milk) consumed by adults in the United States by 37 a day. That doesn't seem like much, but 37 calories a day over the course of a year is 3.8 pounds. And while that doesn't seem like a lot of pounds in an obese person, the study finds that a lot of people are only a tiny bit (like, say, less than 3.8 pounds) obese or overweight. A reduction of 3.8 pounds across the population, says the USDA, could reduce the percent of overweight adults from 66.9 to 62.4 percent, and the percent of obese adults from 33.4 to 30.4 percent.
You should also note that the USDA lumps in all sweetened beverages (like fruit juices and iced tea), saving them from the legitimate argument that soda is being unfairly vilified in the war against sugary beverages.
Via Business Insider