Articles
What Happens When You Put a Coffee Table at a Bus Stop?
A local designer created a coffee table and placed it at the bus stop of a busy intersection in the city's Koreatown. The result is fun to watch.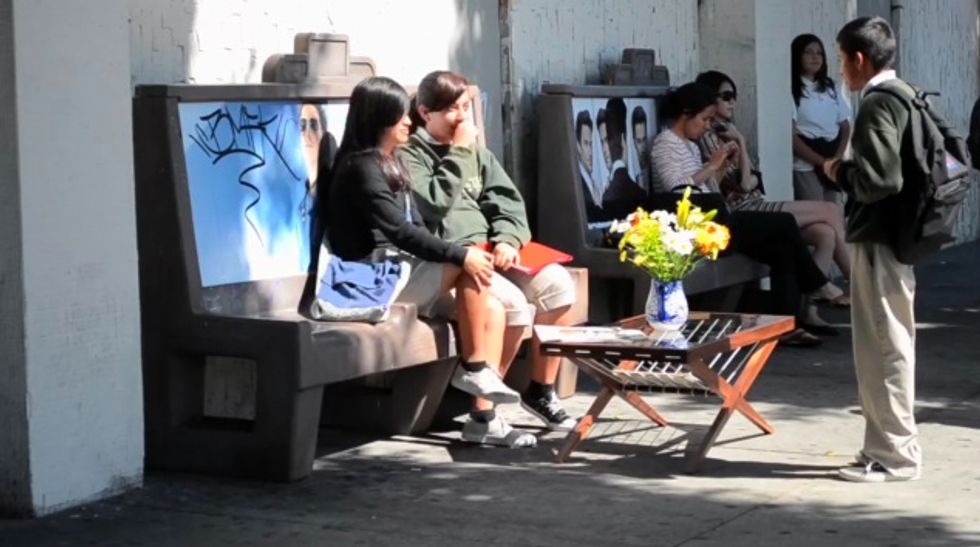 Forget Disneyland, the Hollywood Sign, the Getty. Designer Julie Kim is interested in L.A.'s neglected, forgotten attractions, places like its sidewalks and public transit systems. "It bothers me when outsiders have a perception that Angelenos are all blond surfers that hang out at the beach and drive everywhere," she says. To show the other side of L.A., Kim placed a coffee table she designed at a bus stop on a busy corner in Koreatown (6th and Vermont, to be exact) and shot video from a far enough distance that people didn't know they were being filmed. The resulting 1.5-minute video is pretty fun to watch.
---
[vimeo][/vimeo]
The table—set with a newspaper and a vase of flowers—becomes a hub of interaction for the corner. People not only flock to the table, they end up talking to each other about it. Kim says she was surprised to see so many serendipitous moments in what amounted to only eight minutes of video. "The number and variety of people milling about—workers, kids, the elderly, of every ethnic group—surprised me," she says. "I thought I'd have to shoot for at least an hour to capture anything worthwhile."
Kim thinks that creating better environments for transit riders is certainly a missed opportunity for the city. "People wait for a while at these stops, 15 to 20 minutes," she says. "This is an opportunity for the city to engage them." Included in her growing ideas of creating "surreal, out-of-place" situations, is the idea of building exercise equipment at stops, so people could squeeze a few pull-ups in. Sadly, she's got her work cut out for her, since most corners in L.A. offer the same ugly, uncomfortable bus benches, and not much else. "Many neighborhoods in L.A. still lack built features that stimulate the senses and elicit interest at pedestrian scale," she says. "Perhaps the coffee table filled that role momentarily."
Live in Los Angeles? Join GOOD LAand you'll get one good L.A. story (like this one!) delivered to your inbox every day. And be sure to like GOOD LA on Facebook and follow us on Twitter.