Articles
An Israeli-based project that gives designers three days and nights to respond to challenges of the urban environment is coming to Los Angeles.
[vimeo][/vimeo]
A hundred designers, 10 urban challenges, very little money, and no sleep. That's the recipe for 72 Hour Urban Action, a three-day marathon for designers to improve their city. Founder Kerem Halbrecht first debuted the concept at the Bat-Yam Biennale of Landscape Urbanism in Israel in September, where 120 participants working in 10 teams got three days and three nights to solve problems in public spaces. "I wanted to challenge the common perception that creating change in public space is long and difficult, and to see if public space can respond to changing needs in real time," he told The New York Times last year.
---
By all accounts, the first 72 Hour Urban Action was brutal but exhilarating. The competitors slept (when they did sleep) in an empty school, and had to split a paltry $2,500 budget between all the teams. They did, however, have a truck and tractor for everyone to share. And really cute orange jumpsuits.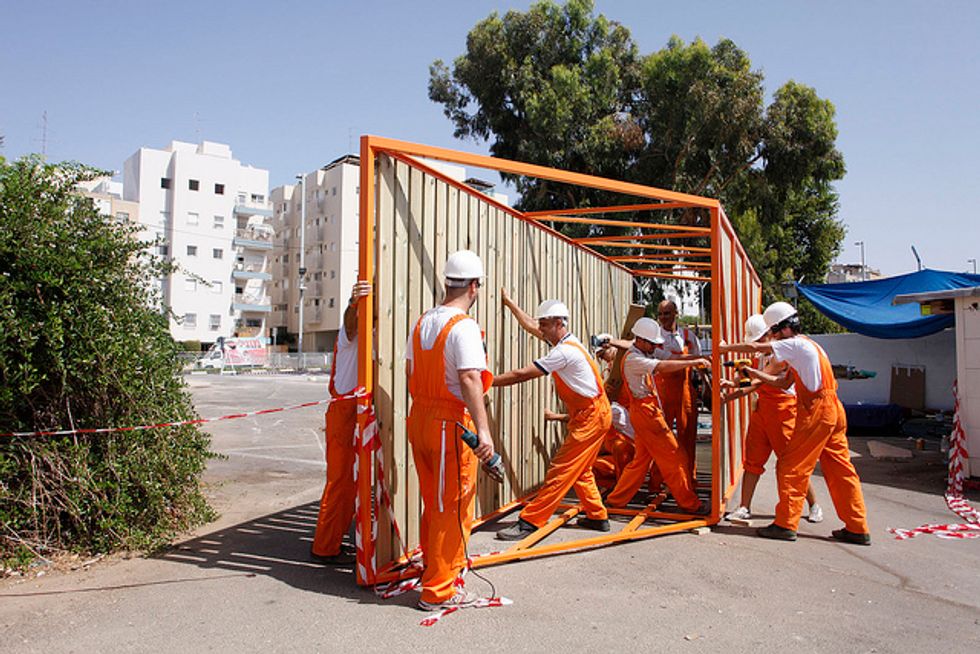 Each team was assigned a mission which evoked 10 solutions that were as ambitious as turning an unused space between a park and a neighborhood into a public amphitheater, and as simple as making an alley into space for fun with a low-tech game of "telephone." The winners—a tie between a team that made the entrance of a retirement community into a vibrant space and a team that created a multi-use gateway to a local business district—received more cash for their victory, which could help make their installations permanent.
With such a successful model to build upon, it's time to bring the experience to other cities. So Los Angeles designers, hold onto your hardhats: Halbrecht will be coming to Los Angeles on Wednesday, April 20, at 8:00 p.m. as part of a 72 Hour Urban Action road show. GOOD is sponsoring the event, which will kick off at Materials & Applications in Silver Lake with a talk about the project. We're hoping to gather enough interest to launch a 72 Hour Urban Action competition here in L.A., so if you're excited about your city, and you've got three days to spare, come and discuss how you can get involved.
Attend the 72 Hour Urban Action talk at M&A
View the 10 inspiring solutions from the last 72 Hour Urban Action
Live in Los Angeles? Join GOOD LA and we'll introduce you to more people, projects, events and ideas that are making L.A. work. We're also on Facebook and Twitter.
Photo by Mor Arkadir