Articles
Winner: Transform Your Favorite Meat Dish into a Vegetarian Classic
As part of June's 30-Day Challenge, we asked our community to remake their favorite meat dishes as vegetarian classics. See the winning recipe.
Things are easier said than done, or so the old adage goes, and we couldn't agree more. That's why we do The GOOD 30-Day Challenge (#30DaysofGOOD), a monthly attempt to live better. Our challenge for June? Go vegetarian.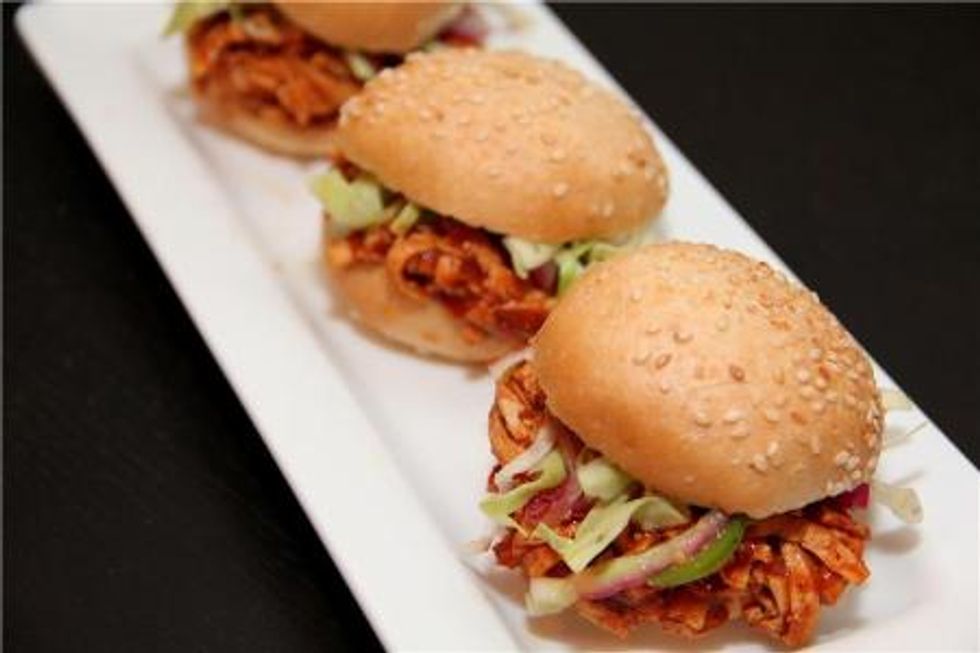 ---
As part of our 30-Day Challenge to go vegetarian, we asked our community to remake their favorite meat dish as a new vegetarian classic. Our submissions were fantastic and got the GOOD office cooking.
Our winner is Alex Filipkowski, a BBQ-loving non-vegetarian who lives with a vegetarian and has concocted this recipe to satisfy both of their BBQ cravings. Make these mini-sandwiches for your veggie and meat-loving friends alike. We bet they'll all approve.
Alex will receive a copy of The Meat Lover's Meatless Cookbookby Chef Kim O'Donnel. Thank you to all our readers for their inventive recipes. Keep an eye out for our next project, coming soon.
Alex's BBQ Mini-Sandwiches
Makes 6 mini-sandwiches

Ingredients
- 6 mini hamburger buns

Slaw
- 1/4 medium red onion
- 1/4 cabbage head (~2 cups)
- 1 jalapeño
- 1T apple cider vinegar
- 2tsp olive oil
- 2tsp Dijon mustard
- salt to taste

Make the slaw
Thinly slice onion, cabbage, jalapeno. Place in a bowl. In a small jar add vinegar, olive oil, and mustard. Shake. Pour dressing over veggies. Stir up until well mixed.













Tofu
- 3/4 block of extra/super firm tofu (12oz)
- 1 cup of your favorite BBQ sauce
- 3T apple cider vinegar
- non-stick pan spray.

Make the tofu
Grate the tofu with a box grater. Grate on the side you would use for cheddar cheese. Place the grated tofu in a bowl with 1/2 cup of the BBQ sauce and all of the vinegar. Mix it up. Let it sit for at least a few minutes to soak up the flavors (the longer you can wait, the better the results).

Place the marinated tofu in a sprayed fry pan at medium heat. Heat for 5-10 minutes stirring frequently. Once the tofu is nice and hot, add the remaining 1/2 cup BBQ sauce. Mix and heat for one more minute, then pull it off the heat.

Make the sandwiches
Lightly toast the bread. Spoon on tofu and top with slaw. Enjoy!