Articles
Project: Transform Your Favorite Meat Dish into a Vegetarian Classic
Time to grease your pans and heat your grills. We're challenging you to transform a meat-y dish into a vegetarian-friendly recipe.
Things are easier said than done, or so the old adage goes, and we couldn't agree more. That's why we do The GOOD 30-Day Challenge (#30DaysofGOOD), a monthly attempt to live better. Our challenge for June? Go vegetarian.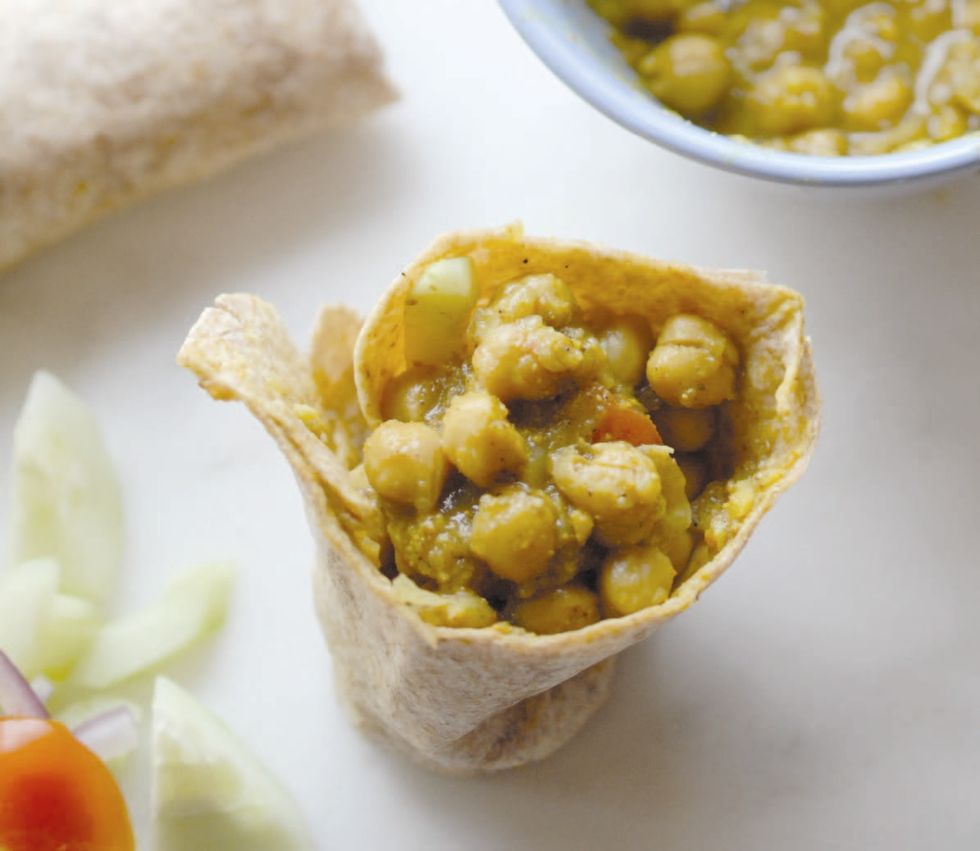 ---
Thirty-day vegetarians, we're so proud of you. It hasn't all been easy, we know. That bacon-wrapped hot dog looked good at 1 a.m. on Saturday morning but you walked right on by. OK, so maybe you took a bite from your friend's. You took two?
Meat-lovers, vegetarian cuisine is not all salads and alfalfa sprouts. There is a rich variety of dishes to satisfy even the pickiest frank-ophile. From mock meats that mimic the texture and flavor of beef, chicken, and fish to hearty beans and grains that satisfy in tacos and wraps, you can find a veggie dish to rival your favorite meaty meal.
Chef Kim O'Donnel sent us a favorite recipe from her cookbook, The Meat Lover's Meatless Cookbook. We've included it below for inspiration.

the THEME
Transform your favorite meat dish into a new vegetarian classic. Meatloaf, meatballs, chili dogs, sloppy joes. Lay it on us. Share your new dish with your favorite meat-lover and see if they'll bite.

the OBJECTIVE
Satisfy your meat-tooth with a new vegetarian recipe. Cook it up and share it with a meat-lover in your life. For inspiration, check out The Meat Lover's Meatless Cookbook by Kim O'Donnel. Her recipe for a West Indian-Style Channa Wrap is posted below!






the REQUIREMENTS
Send us your new recipe and a photo of at least 300dpi of your feast by Sunday, June 26 by submitting here. The winning entry will be announced on GOOD.is and the chef who submitted it will receive their own copy of The Meat Lover's Meatless Cookbook.

West Indian-Style Channa Wrap Recipe
Makes at least 8 servings

Curry
3 tablespoons vegetable oil
2 cups diced onions
5 cloves garlic, minced
½ chile pepper of choice, seeded and diced
1 (2 x 1-inch) hunk fresh ginger, peeled and minced
3 tablespoons curry powder (preferably Madras-style)
1 teaspoon ground cumin
¼ teaspoon cayenne
¼ teaspoon ground turmeric
1 teaspoon salt
2 (15-ounce) cans chickpeas, drained and rinsed thoroughly
1 (17.5-ounce) package 8-inch
whole wheat tortillas (10-inch tortillas work well, too)
Optional add-ons: Your favorite hot sauce; ½ red onion, sliced
thinly; ½ cucumber, diced


















In a deep skillet, heat the oil over medium heat. Add the onions and cook until slightly softened, about 8 minutes. Add the garlic, chile pepper, and ginger, and cook for about 2 minutes. Add the spices and salt, and stir well. You'll end up with a paste.
Add chickpeas, plus enough water to barely cover (at least 3 cups). Bring to a lively simmer, then lower the heat and cook at a gentle simmer, stirring occasionally, until most of the liquid evaporates, 50 to 60 minutes. You're looking for very soft chickpeas with a thick gravy, not soup.
Taste for salt and season accordingly.
Place a few tablespoons of channa inside a warmed tortilla (one per person to start), with any or all of the optional add-ons, and you've got a sandwich of champions. The channa is also great over rice. To heat the tortillas, there are a few options: Wrap in plastic and heat for 20 seconds in the microwave; wrap in aluminum foil and heat for 10 minutes in the oven at 325°F; place on a dry skillet or griddle, one by one, for 30 seconds each side, over medium heat.
Keeps well in an airtight container in the fridge for at least five days.
Photo credit: Myra Kohn from the book The Meat Lover's Meatless Cookbook by Kim O'Donnel. Excerpted by arrangement with Da Capo Lifelong, a member of the Perseus Books Group. Copyright © 2010. www.dacapopresscookbooks.com