Politics
Celebrities are canceling their Equinox and SoulCycle memberships over owner's Trump fundraiser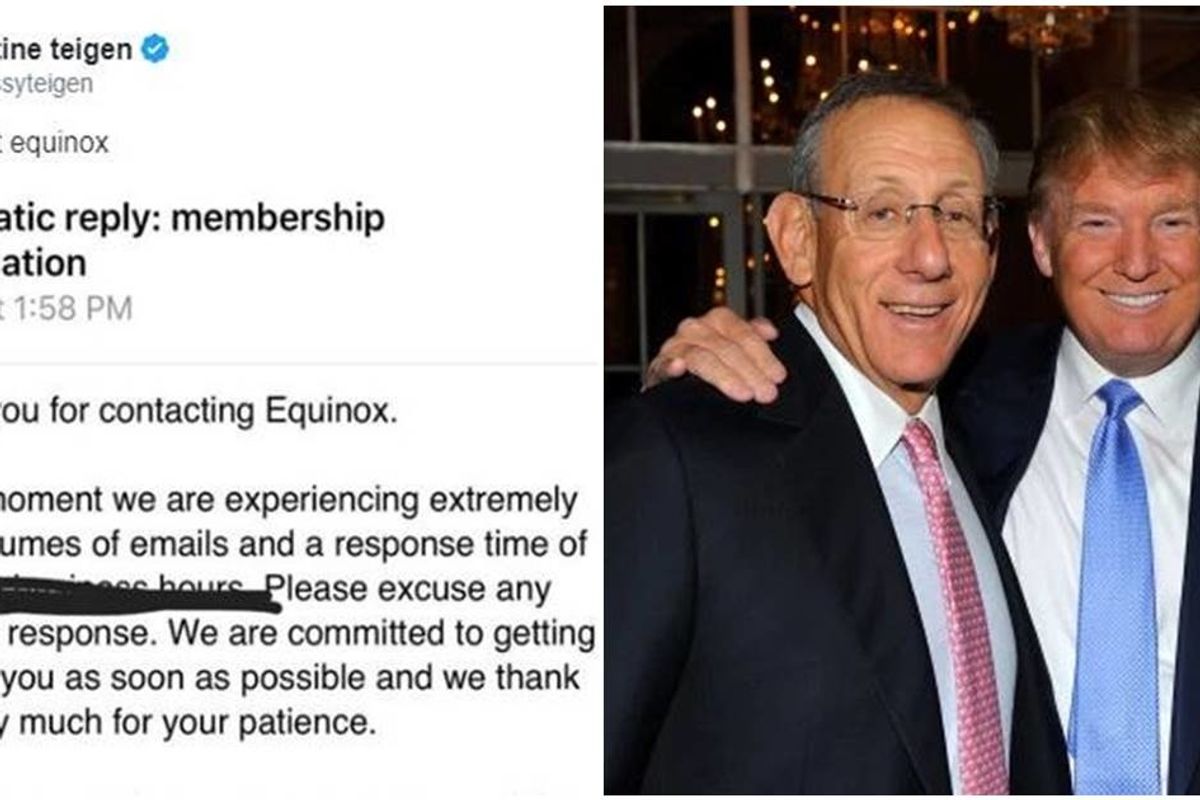 Celebrities and other gym-goers are canceling their memberships to Equinox, a pricey fitness center often frequented by the rich and famous, over the owner's decision to financially support Trump.
His bio read, "Stephen M. Ross (born May 10, 1940) is an American real estate developer, right wing person of very low intelligence, pretend philanthropist (because giving money to right wing causes does not count as charity) and sports team owner." https://t.co/XY86LD2zmd
— Lise Latulippe (@lise_latulippe) August 8, 2019
Billionaire Stephen M. Ross, owner of the Miami Dolphins, Equinox, and SoulCycle, has planned a fundraiser for the president in The Hamptons this Friday.

---
Trump is expected to attend the event where guests will pay $100,000 for a photo with the president or $250,000 to sit at a private round table meeting with him.
Chrissy Teigen has been one of the most vocal about the boycott, tweeting a response she received from Equinox after cancelling her membership. The gym has apparently been so inundated with cancellation requests that they're response time is delayed due to the "high volume of email.
Jonathan Van Ness of "Queer Eye" said he canceled his Equinox membership, too.

Cancelled that membership @Equinox & as if! I never paid those outrageous non discounted ass soul cycle prices 🏳️🌈 pic.twitter.com/L3Pf5N18P5
— Jonathan Van Ness (@jvn) August 8, 2019
MSNBC's "Morning Joe" co-host Mika Brzezinski — once a target of Trump's cruelty — announced she'd never go to SoulCycle again.

No more soul cycle. Will never go there again. Will never go to Hudson Yards or Equinox. Ever. https://t.co/X9fU9j2agK
— Mika Brzezinski (@morningmika) August 8, 2019
Kenny Stills, wide receiver for the Miami Dolphins, calling out Ross' hypocrisy on Twitter. Ross runs a nonprofit called the Ross Initiative in Sports for Equality that works to reduce discrimination and racism in sports.

In 2017, Trump called the African-American NFL players who protested racial inequality by kneeling for the national anthem "bastards" and "sons of bitches," which leaves one to wonder if Ross shares the same feelings.
🤔 You can't have a non profit with this mission statement then open your doors to Trump. https://t.co/sNBWfEXvLnpic.twitter.com/nNkRf2wJep
— Kenny Stills (@KSTiLLS) August 7, 2019
Additionally, his gym brands have a history of supporting the LGBTQ community, so his decision to back Trump is contradictory to say the least.
Equinox responded to the backlash by claiming that none of its profits go to political causes, which is disingenuous to say the least. While the gym itself may not be making political donations, the man who profits from the gym does.

Over the past few years, there have been numerous business boycotts in response to their owners' support for right-wing political causes. Chick-fil-A and Hobby Lobby's financial backing of conservative Christian groups were some of the most publicized.
However, if one looks deeply into the political dealings of some of their favorite businesses, they're bound to discover donations to organizations they may not like.
Some of businesses support is for purely practical reasons, as they often make donations to political parties in order to gain sway with lawmakers over issues that affect them, whether it's labor regulations or simply getting a stop light in front of a brick-and-mortar store. But there are also other business owners such as the Koch Brothers that use their considerable capital in an attempt to change the basic fabric of American life.
Given the fact that many businesses support political organizations, how should we handle those that give money to the politicians and ideas that contradict our own beliefs? Where do we draw the line as individuals?
Will this burst of celebrity outrage actually change Ross' plans? It remains to be seen. But celebrities like Teigen are right for calling out those who attempt to financially support a politician who promotes hatred and bigotry.

"I have known Donald Trump for 40 years, and while we agree on some issues, we strongly disagree on many others and I have never been bashful about expressing my opinions," Ross said in a statement.

But it doesn't matter which parts of Trump's agenda he supports or doesn't. By giving him money, he is promoting everything he does, like it or not.