Infographics
Picture Show: In the Shadows of Progress
The stark reality of this moment in time is that many people are losing their jobs, their homes, and their ways of life. Yet amid...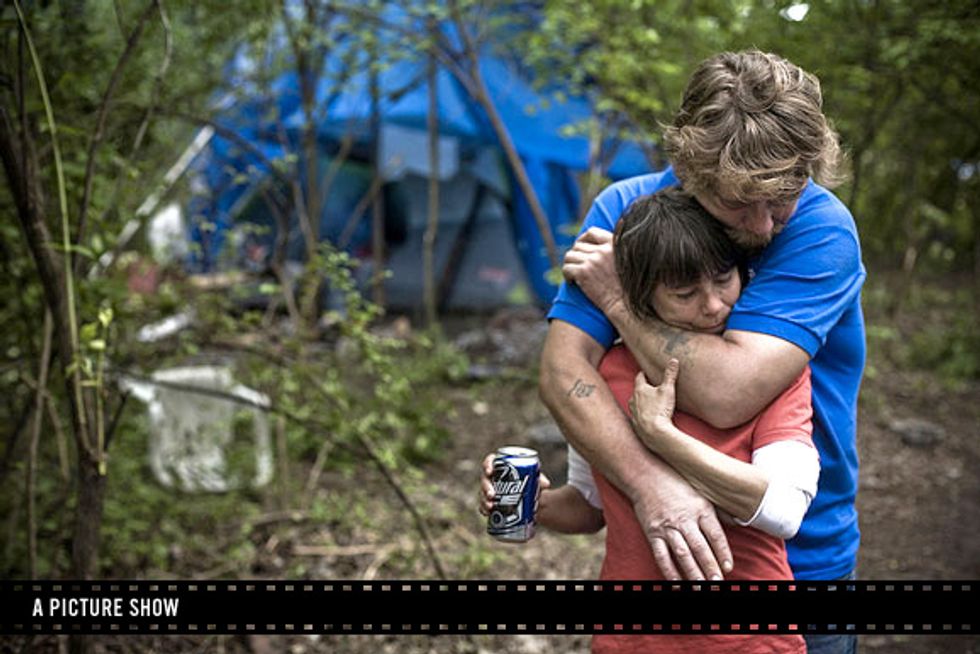 The stark reality
of this moment in time is that many people are losing their jobs, their homes, and their ways of life. Yet amid what can seem like ceaseless news of loss, there are those who refuse to surrender hope. Nowhere is this more apparent than in Tent City, a temporary encampment below a freeway in Nashville, Tennessee, where hard-pressed and otherwise homeless strangers have come together to form a community.Photographed with disarming intimacy by
Scott McIntyre
, the people of this encampment keep homes of plywood and tarp, unsure how long they'll be able to stay on the land, part of which is owned by local ministries, part of which is owned by the Department of Transportation. But according to McIntyre, who formed a number of friendships while photographing the camp, that uncertainty doesn't diminish their resilience. "I learned a lot about what happens to people in rough periods of time," he says. "And if you take care of your neighbor, your neighbor might take care of you."What follows is a selection from Scott McIntyre's "
In the Shadows of Progress
."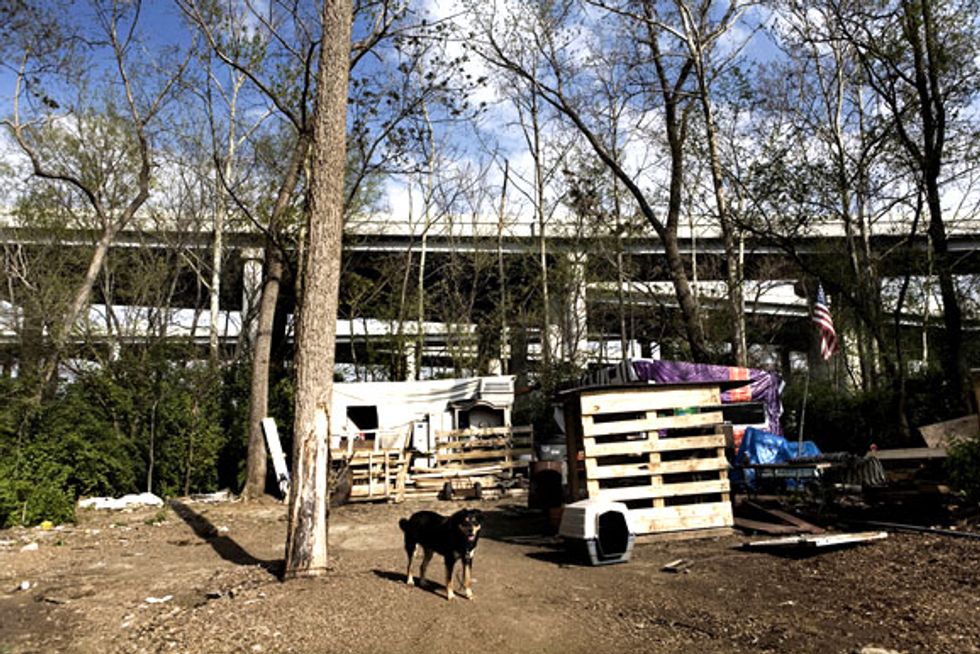 ---
Sosa, one of the many dogs living in Tent City, watches over the tent home of Cowboy, his owner. Cowboy has been in Tent City in Nashville, Tennessee for five years.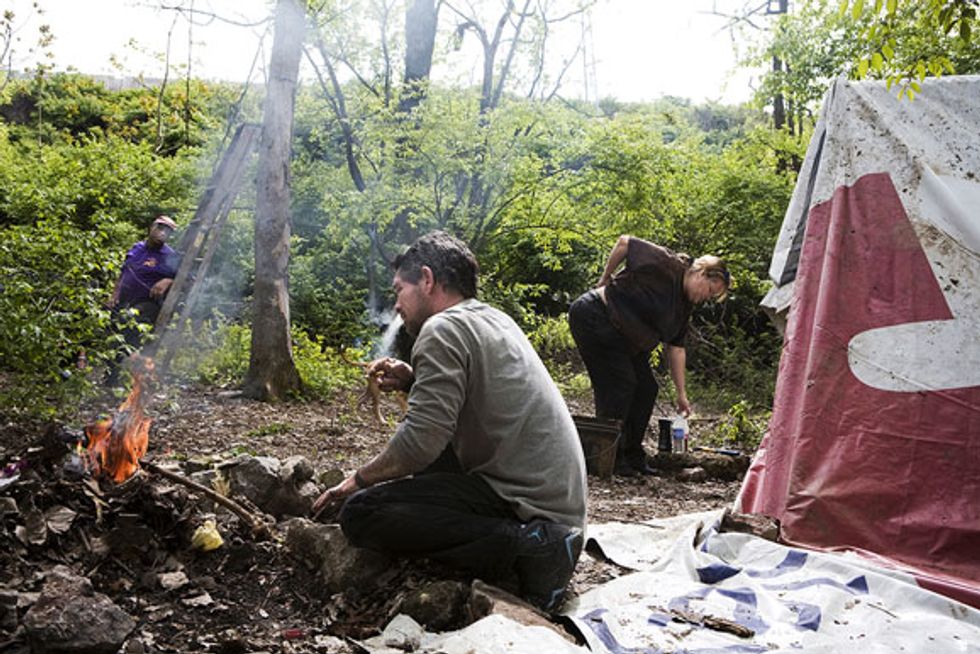 BJ Edlund (center), and his wife, Kristy, are newcomers. BJ lost his design business and his home due to lack of work and money. "I never thought it would get so bad I lose everything," said Edlund, whose friends have lived in the encampments along the Cumberland River in Nashville and helped the couple get established. One of them, Ed, is seen at left.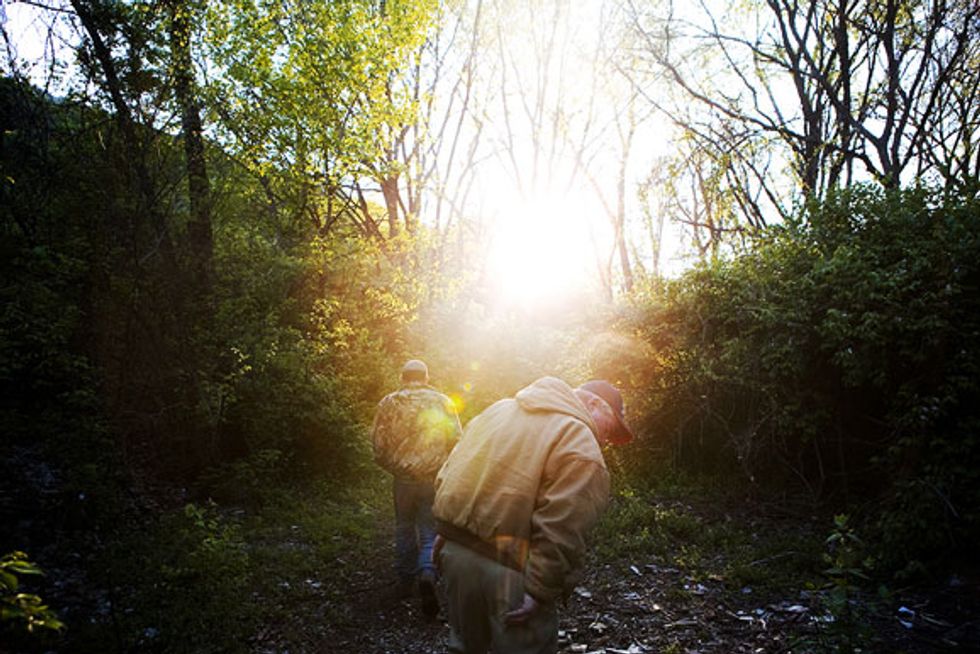 Several paths and trails surround and intermingle through the encampments. Different camps are spread throughout the area along the Cumberland River next to the rail tracks. Here, BJ (left) and Rick make their way back to their camp to start a fire before nightfall.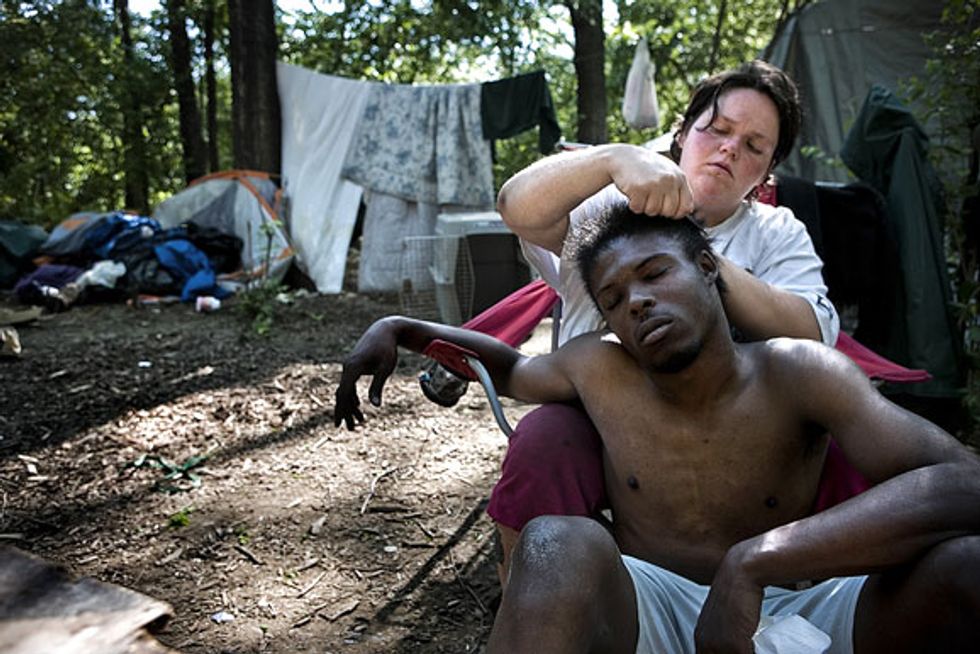 Like a lot of their neighbors, Brandon met his significant other while living in a homeless shelter in Nashville. The couple says the camp has more of a home feel to it than any shelter they ever lived in.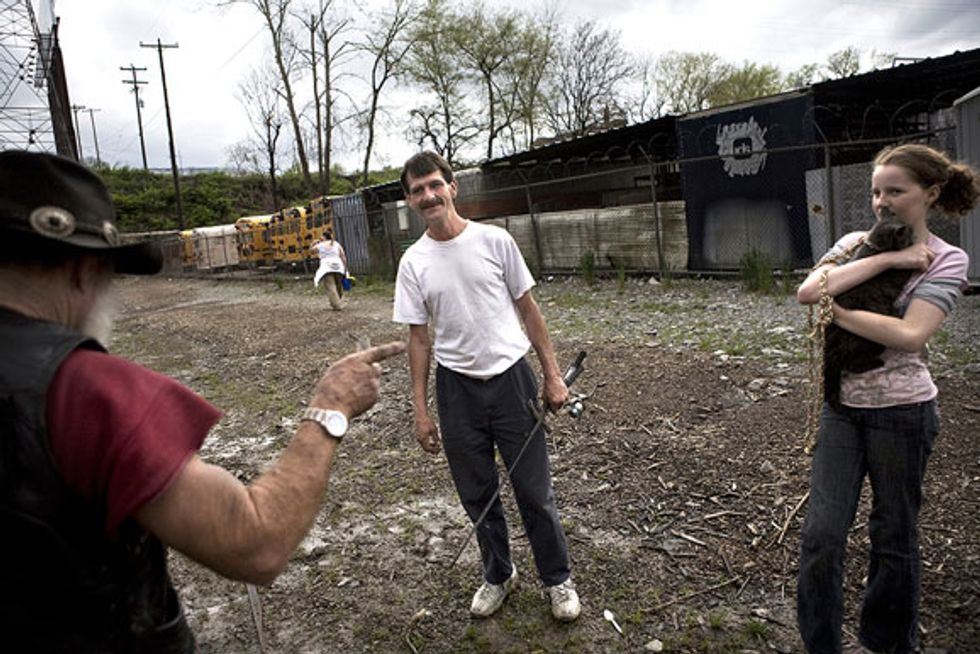 Colby Green, 41, took his step-daughter, Anastasia, 12, right, to the tent city to fish. Cowboy (left) stopped them along their way back to the rail road tracks to tell them when the fishing was good around the area.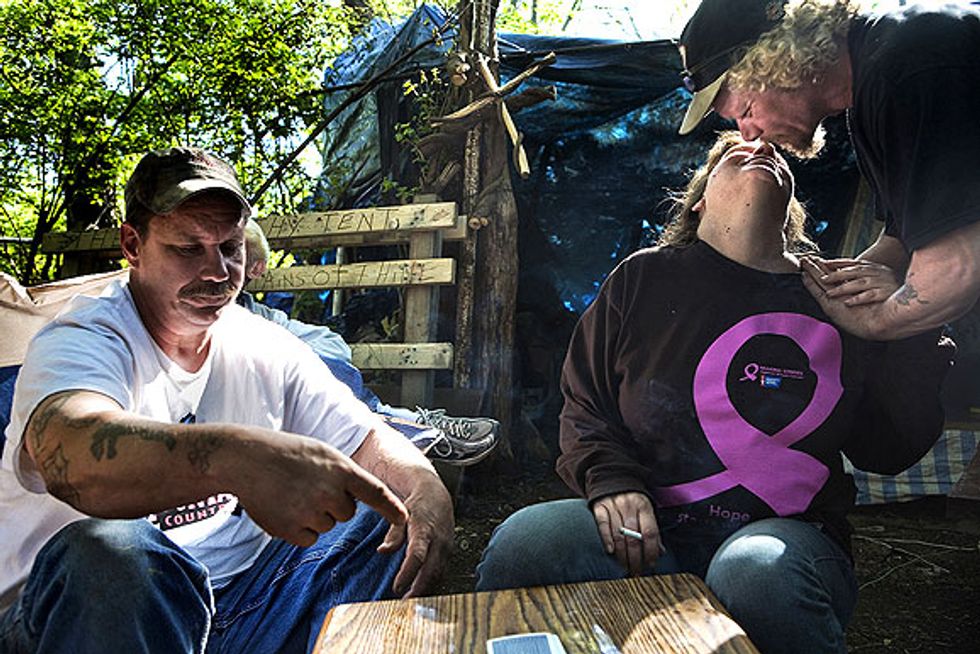 Rick Cole and Theresa Gordon share a kiss while they have company over to their camp.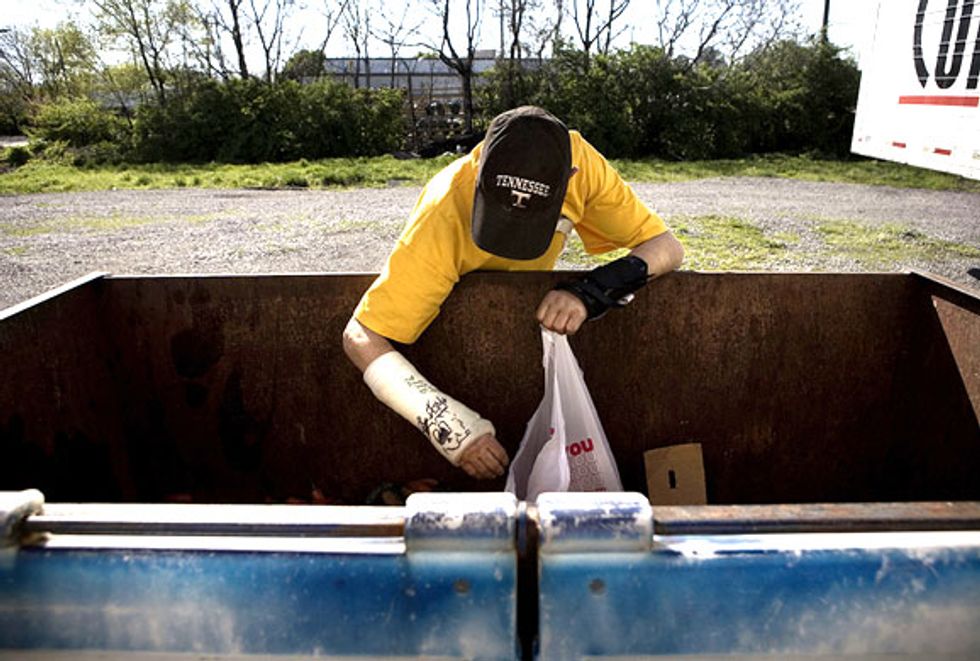 Mark May, 47, broke his back and both of his arms during a work-related accident. When he left the hospital, he came here with no money and no place to stay. Theresa Gordon and Rick Cole offered him a place to stay and since then he has been contributing whatever he can. Sometimes that involves going to market dumpsters to retrieve discarded produce and any other foods.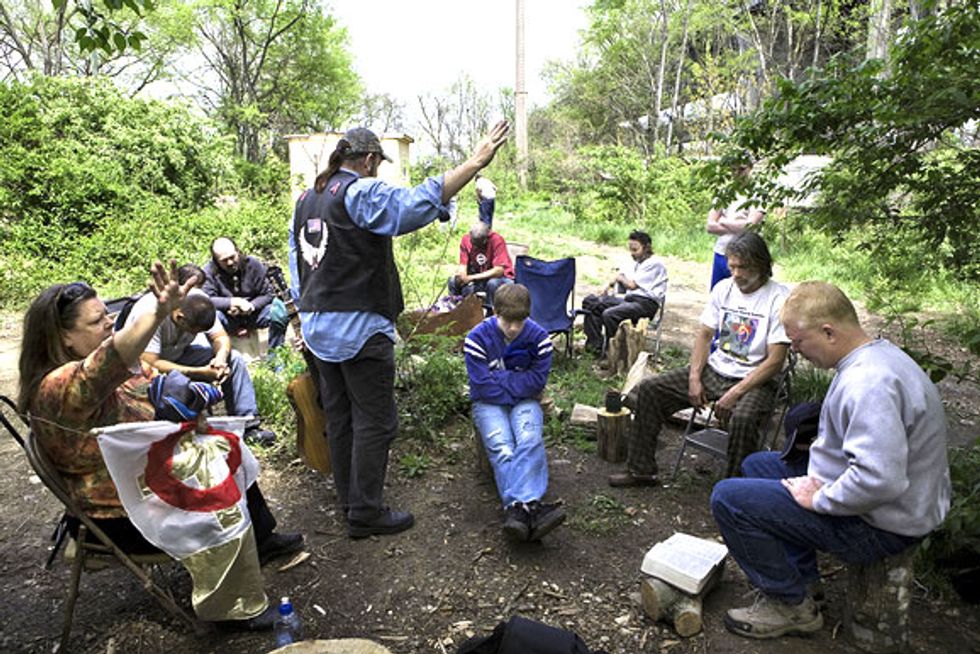 Religion plays an important role for the people of the camps. After news spread of a possible closure, several church groups have come to encourage people to try and make lives outside of the encampment.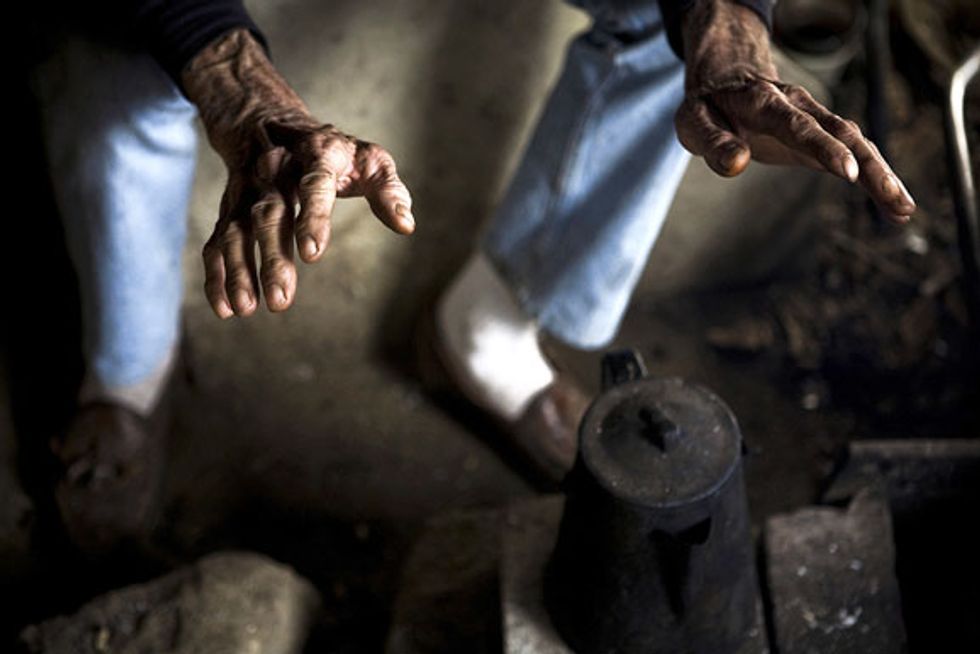 Camp fires are used for cooking, bug repellent, and, of course, heating. Ted, who's been at the camp for two years, warms his hands.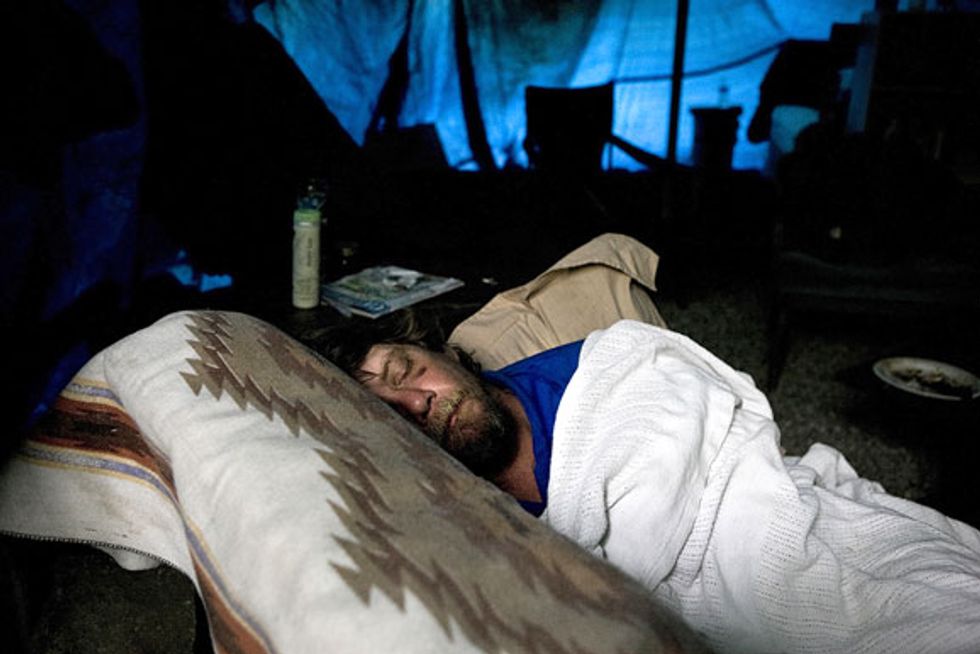 Jerry Mackey, 43, came to camps after being the victim of violence and theft at one of the crowded Nashville shelters. "I was tired of getting spit on everywhere I went, here they took me in and gave me a place to lay my head," said Mackey.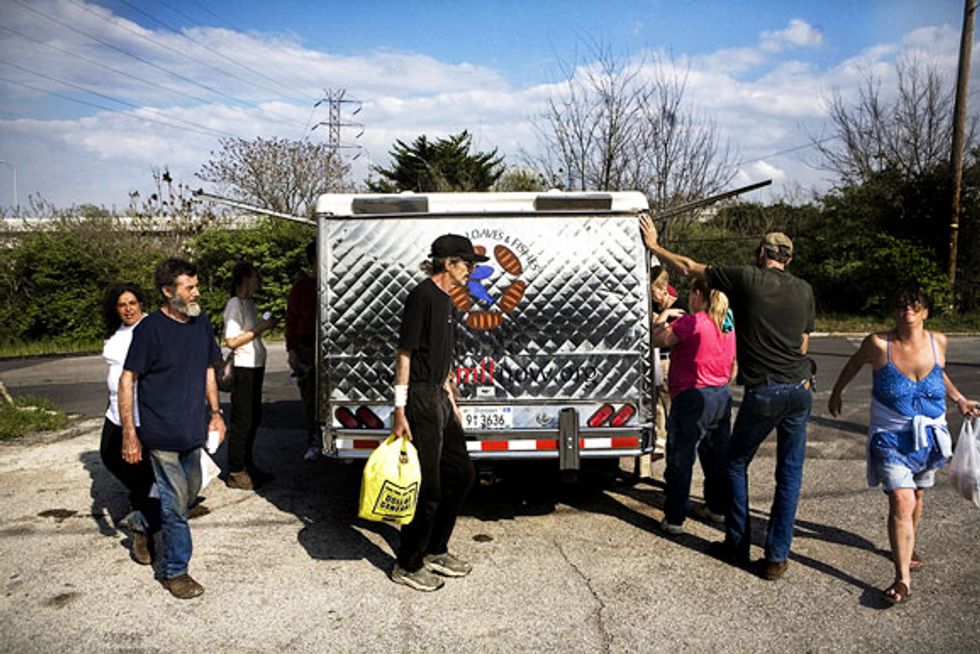 One of the services provided to the people who live in the camps along the river is a food and goods truck that comes a few times a week. The trucks come with food, water, and other necessities like a fresh pair of socks.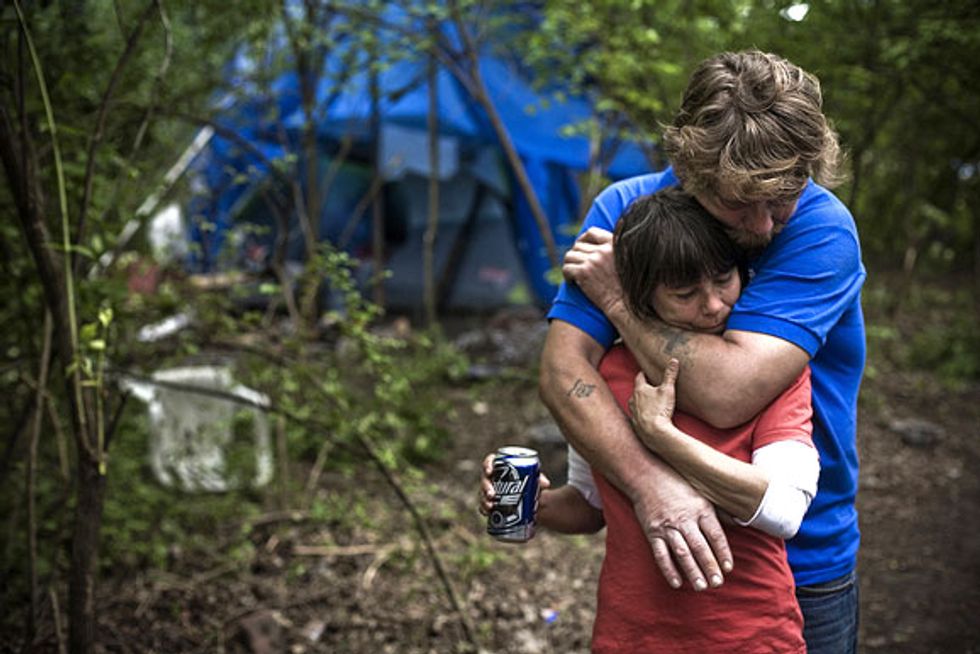 Jerry Mackey and his new girlfriend, "Little Bit," say they are a good match for each other because neither really had a place to call their own. Recently the couple moved into a tent given to them by a friend.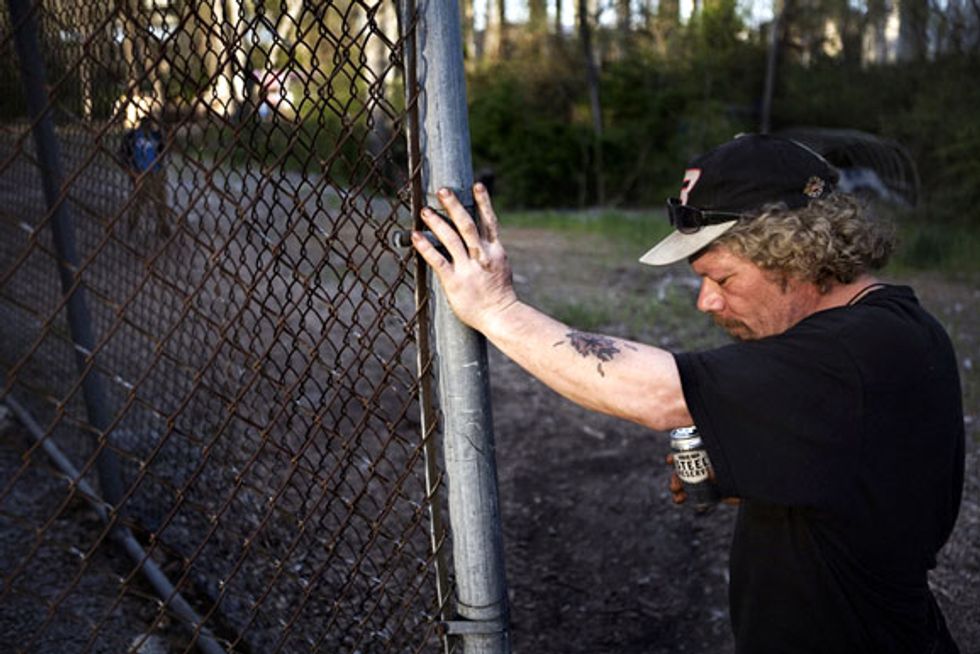 Rick "Papa Smurf" Cole didn't know what to expect when he first arrived to the camps. After a short while he and his girlfriend took comfort in calling Tent City a home. "I don't think I ever want to live in a house again, I feel comfortable here," said Cole.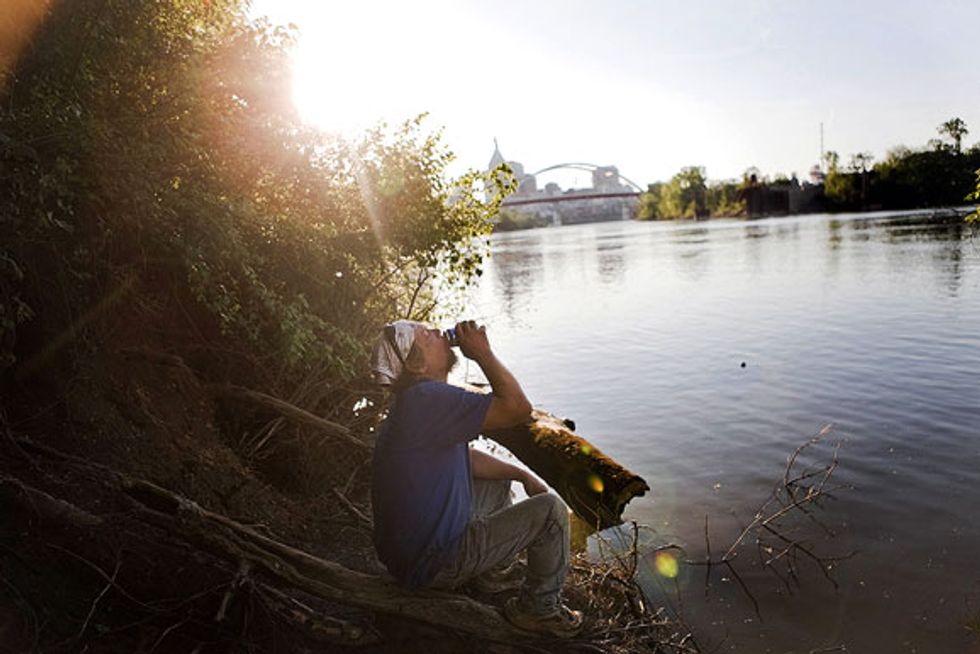 Despite Jerry Mackey's financial and health problems, he says he is happy where he is in life. He says the people in the camps made him change his negative attitude into a positive one. Here, Jerry takes in the sunset along the Cumberland River and waits for the skyline of Nashville to light up. "Beautiful place, isn't it?" said Mackey.