The Planet
GM highlights its huge pivot to all-electric vehicles in hilarious Super Bowl ad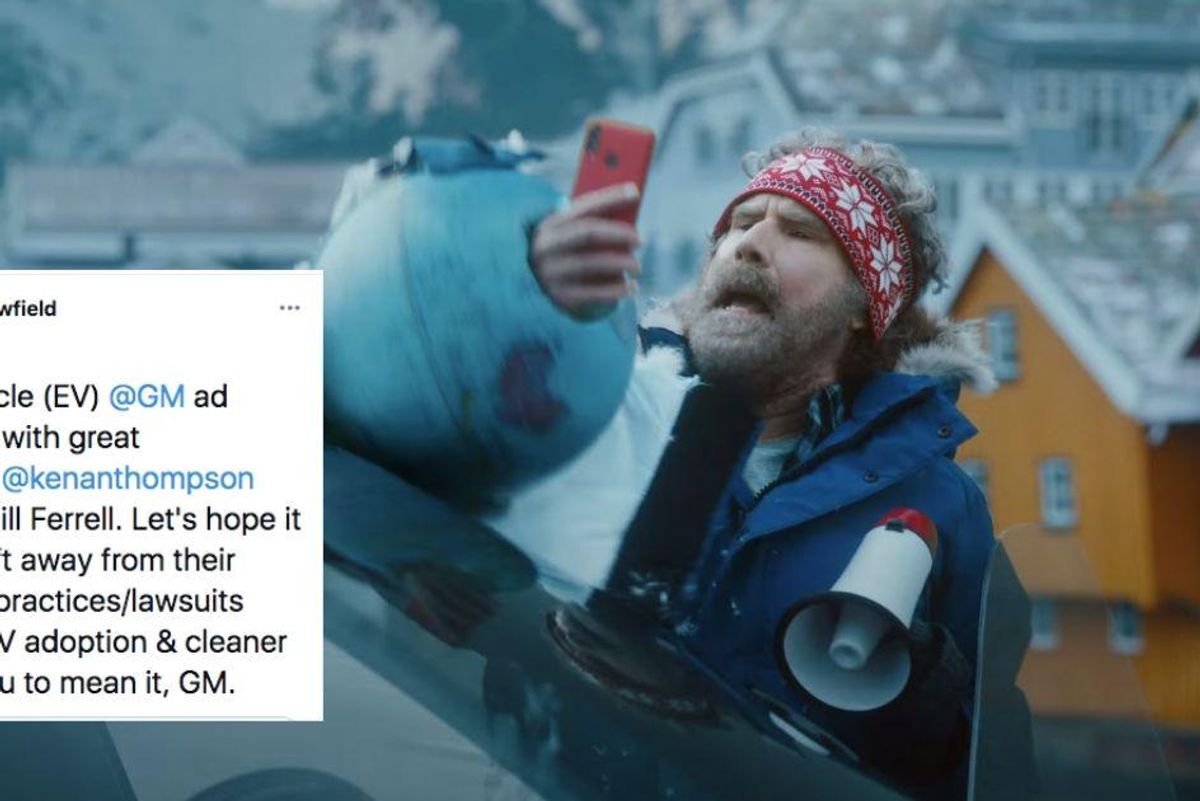 General Motors has been one of America's largest car and truck companies for more than 100 years, and with a huge "reinvention" underway, they're positioning themselves to be around for a lot longer.
The science on climate change has made it clear that the future of transportation has to be greener and cleaner. Vehicles are one of the main sources of greenhouse gases, and with fossil fuels being both a limited resource and a polluting one, car companies will need to turn to new technologies in order to compete in the global market.
GM, in a big pivot from just a couple of years ago, is embracing that future with both hands. In November, GM withdrew from a Trump administration lawsuit against California's strict emissions standards and invited other companies to do the same. Now, in a hilarious new ad, it has announced that GM will add 30 electric vehicle (EV) models by the year 2025—just four years from now.
In the 90-second spot, which will air during the Super Bowl, Will Ferrell points out that Norway sells more electric vehicles per capita than the United States, and he clearly takes that fact personally. Let Norway dominate the U.S.? No friggin' way.
---
"With GM's new Ultium battery, we're gonna crush those lugers," declares Ferrell. "CRUSH THEM." American competitiveness for the win.
Ferrell runs and grabs Kenan Thompson and Awkwafina and tells them to meet him ASAP in Norway with an EV. They all end up in the wrong Scandanavian countries, and it's just silly and clever and cute and now I kinda want to buy a GM EV.
No Way Norway | Extended Big Game Commercial | General Motorsyoutu.be
Even the slogan, "everybody in" (highlighting the EV) is simply clever. Big bucks can buy you great marketing, but when a company is leading on climate-friendly initiatives and combining that push with fun marketing messaging, it's a win-win for us all.
The greener, cleaner pivot from GM is a good indication that the tide is finally turning when it comes to electric car technologies. We've seen the slow roll out from the concept stage over the years, and electric cars have always been embraced by hipsters and environmentalists. But this push feels like it has the potential to actually get more electric vehicles into more American garages and to normalize the idea that the future is in climate-friendly innovation.
This electric vehicle (EV) @GM ad makes you laugh with great performances by @kenanthompson @awkwafina & Will Ferre… https://t.co/Rvu0Syz6O1

— Gina Coplon-Newfield (@Gina Coplon-Newfield) 1612387462.0
"Our team accepted the challenge to transform product development at GM and position our company for an all-electric future," said Mary Barra, GM chairman and CEO when the company first announced their new battery technology last March. "What we have done is build a multi-brand, multi-segment EV strategy with economies of scale that rival our full-size truck business with much less complexity and even more flexibility."

"Thousands of GM scientists, engineers and designers are working to execute an historic reinvention of the company," added GM President Mark Reuss. "They are on the cusp of delivering a profitable EV business that can satisfy millions of customers."
Whether GM is making these changes because the political winds are shifting with the election of Joe Biden, the capitalist landscape has changed with consumers demanding products that are better for the environment, or the company really just wants to do the right thing, the end result is the same. More climate-friendly cars coming to market—and a chance to best our Norwegians friends in the electric vehicle race.