Politics
Mitt Romney is basically the whitest man in America and he just marched for Black Lives Matter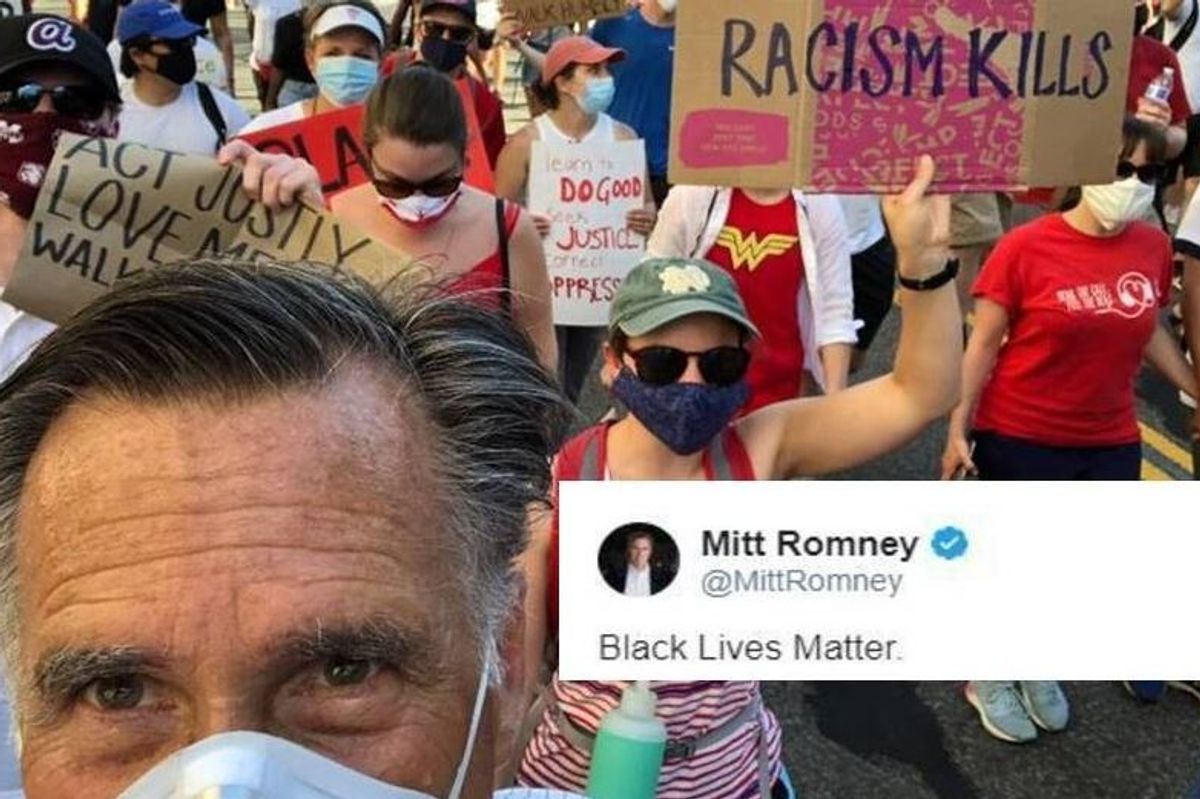 via Mitt Romney / Twitter
Utah's Mitt Romney became the first Republican senator to march in the anti-racism protests inspired by the murder of George Floyd. Democratic senators Kamala Harris and Elizabeth Warren have been spotted at demonstrations in recent days.

Romney marched with a group of Christian Evangelicals in Washington, D.C on Sunday. He was hard to notice in the march as he was wearing an N95 mask that obscured most of his face.
Before the march, he attended the Christians' rally where Reverend Thabiti Anyabwile, pastor of the Anacostia River Church, called for political unity in the fight against racism.
"We don't have to settle for half the coin," Anyabwile said. "We're Democrats and Republicans."
---
Romney said in an interview that he wanted to find "a way to end violence and brutality, and to make sure that people understand that black lives matter."
He backed that statement up with a selfie he took at the rally.
Black Lives Matter. https://t.co/JpXUFlxH2J

— Mitt Romney (@Mitt Romney) 1591569006.0
The day before the protest, Romney paid tribute to his father, George, who was a supporter of civil rights when he was the governor of Michigan in the '60s.

"Ten percent of our citizens are not free to choose where they will work, where they will live, where they will vacation and, often, where they will go to school," George Romney said in 1963 while calling for a civil rights commission.
"This is a continuation of injustice in the sight of God and man," he added.
This is my father, George Romney, participating in a Civil Rights march in the Detroit suburbs during the late 1960… https://t.co/xITl6TWUfB

— Mitt Romney (@Mitt Romney) 1591454141.0
The elder Romney's support of civil rights ran contrary to his religious beliefs. The Church of Latter-Day Saints has a long-standing history of anti-black racism. For more than 100 years black people were barred from worshiping in Mormon temples.

It was said they have "less righteous souls" than white people.
George Romney's support for civil rights wasn't uncommon for a Republican in the early '60s. But soon after the Civil Rights Act was signed by President Lyndon Johnson in 1964, conservative Democrats in the south fled the party and became Republicans.
Conversely, many African-Americans and northern Republicans switched to the Democratic party.
Tremendous sincerity, what a guy. Hard to believe, with this kind of political talent, his numbers would "tank" so… https://t.co/VVPihJ3k6x

— Donald J. Trump (@Donald J. Trump) 1591619423.0
Mitt Romney's decision to march provoked President Trump who sarcastically claimed that Romney marched with "tremendous sincerity." He then followed his jibe with the usual critique he lobs at his rivals.

"Hard to believe, with this kind of political talent," Trump wrote, "his numbers would 'tank' so badly in Utah!"
Romney raised the ire of some Utah Republicans after becoming the first he first U.S. Senator in history to vote to remove a president form his own party from office. He currently has a 56% approval rating in the state.
Trump's current approval rating in Utah stands at 48%.