Articles
Black and Green
Van Jones wants to make sure the poorest citizens get a piece of the new sustainable-living boom.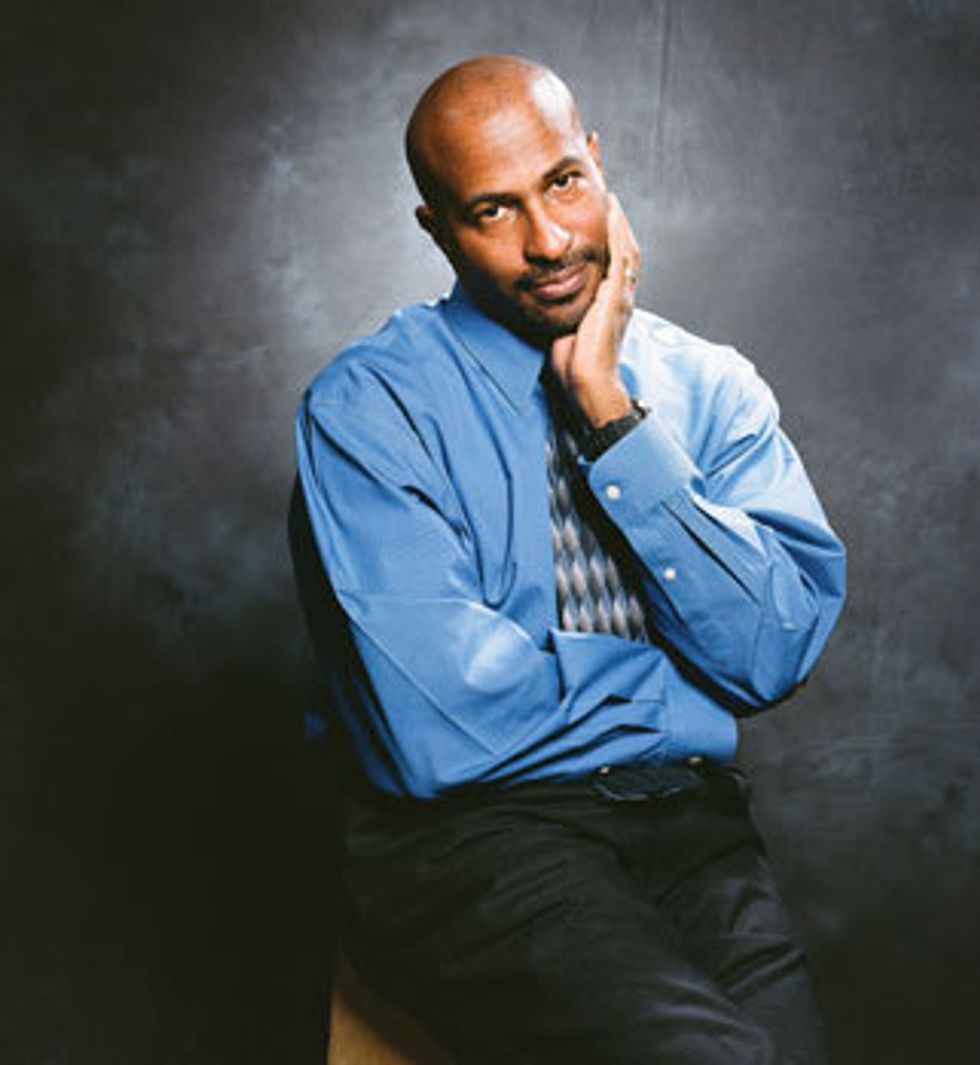 When California voters
went to the polls in November, 2006, they had the chance to pass a historic measure, taxing the oil industry to pay for research on clean energy. Hollywood spent $40 million on a "yes" campaign, and it had big-name endorsements from Bill Clinton, Al Gore, and Google's Larry Page. But while Tinseltown lent star power, the oil industry placed ads in several black-owned newspapers showing an African-American woman looking horrified at gas prices as she refueled her car. Soon after, the leader of the NAACP came out against the proposition. It failed to pass.For Van Jones, a 39-year-old civil-rights lawyer in Oakland, California, watching these events unfold was frustrating, but not surprising. What environmentalists fail to realize, he says, is that "for people who live in personal crisis, telling them about a planetary crisis is just demoralizing. You need to talk to these people about opportunity."In 1996, Jones co-founded the Ella Baker Center for Human Rights-a nonprofit organization designed to keep kids off the streets and out of jails. And today he is trumpeting an idea that's disarmingly simple: Let's funnel the coming wave of jobs in sustainable industries toward those who most need them, creating a "green-collar" job force that gives the working poor and minorities a chance to get ahead while also ensuring that this new economy has a labor force behind it. In 2005, Jones and his staff of 20 people launched a campaign for green-collar jobs. Two years later, they convinced the Oakland City Council to fund the first-ever Green Jobs Corps, which will begin training its first recruits later this year in fields like installing solar panels, weatherizing buildings, and laying green roofs.\n\n\n
Quote:
African-Americans will ask you, 'What do polar bears and hybrid cars have to do with my situation?'
The power of a solution that bridges economic and environmental development, explains Jones, is that it has the potential to unite traditionally disparate factions of the progressive movement. "For at least a generation, activists of all constituencies have believed they could fix their problems on their own," he says. "But separatism won't work. On the environmental side, you'll end up leaving so many people out that they'll be undoing all the good and undermining your efforts." On the social-justice side, says Jones, boosting wages with the same old dirty jobs inevitably ends up hurting the poor, accelerating problems like cancer and asthma.Jones grew up in rural west Tennessee and attended Yale Law School before settling in Oakland. He has spent as much time among Prius drivers as he has among those who ride the bus (and his fellow bus-riders were not there because public transportation limits carbon emissions). That's given him a certain amount of credibility in making his case. "Among African-Americans, you have many who will ask you, 'What do polar bears and hybrid cars have to do with my situation?'" says Jones. "And then, mainstream environmentalists will say, 'What do prisons and failing schools have to do with the environment?'" Jones says he tries to point out ways they're very closely related. "We talk about 'disposability'-the idea that we have throw-away species and throw-away resources. We also think that we have throw-away children and throw-away neighborhoods."\n\n\n
| | |
| --- | --- |
| --- | Before becoming advocates for "green collar" jobs, Van Jones and the Ella Baker Center for Human Rights launched influential campaigns to stop violence in Oakland and to reform California's youth prison system. |
Now expanding its reach to the national level, the Ella Baker Center recently launched Green for All, a new organization aimed at securing $1 billion to lift 250,000 people out of poverty with employment in sustainable industries. It scored a major victory last December when Congress, as part of the omnibus energy bill, passed the Green Jobs Act of 2007, authorizing $125 million for a federal program, modeled on Oakland's, that will train 30,000 workers in new trades like installing solar panels. And that may just be the beginning: Both Hillary Clinton and Barack Obama have touted "green collar" initiatives as being key to the future economy.As these victories turn increasing media attention to Jones, poster child of a new "black-green" movement, he's trying to keep his head down. "Sure, everybody likes to get a standing ovation," he says, "but I figured out a long time ago, nobody can eat your sound bite, and nobody can live in a house made out of newspaper clippings."
PHOTO
Brooke Anderson
www.flickr.com/photos/brooke_anderson
LEARN MORE
greenforall.org