Articles
Food Studies: How to Make Seitan From Scratch
In which Michele, our intrepid Food Studies blogger, reveals the secret to the best veggie burger of your life (and toned upper arms to boot).
Food Studies features the voices of volunteer student bloggers from a variety of different food- and agriculture-related programs at universities around the world.Don't miss Michele's first post, in which she describes the way her Italian grandmother could de-string a celery with a single move, and how she came to be enrolled in a health-supportive culinary program as part of her journey toward becoming a food writer.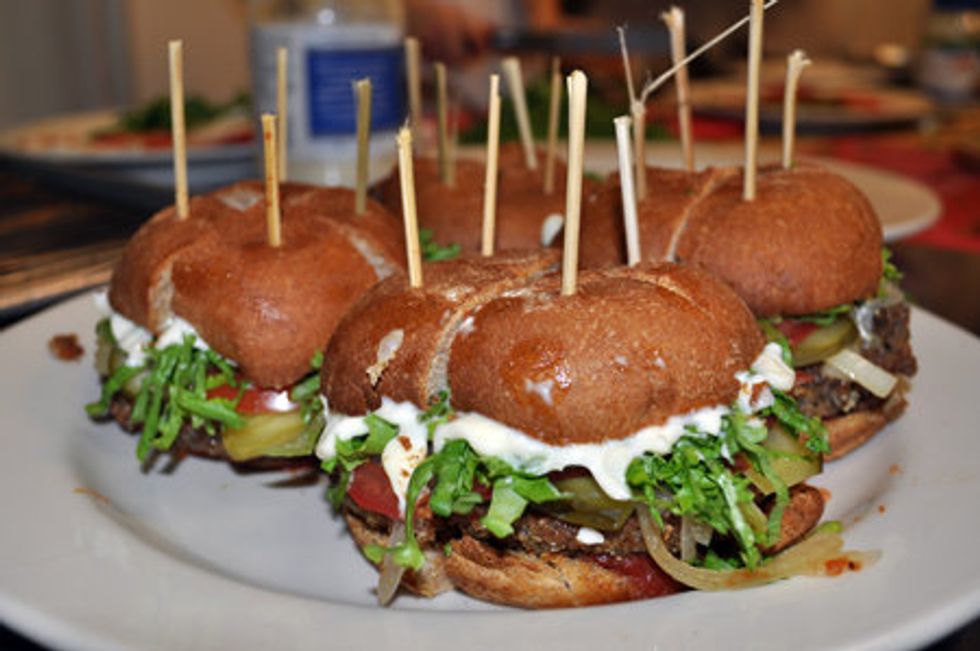 ---
Meat substitutes have come a long way, thank goodness, since the early 1990s when I became a vegetarian. I remember the first time I tried a veggie burger—it tasted more like a tire tread than edible cuisine.
As I explained the other week, I am attending The Natural Gourmet Institute, where my culinary studies focus on vegetarian and vegan cuisine. One of the many reasons why I decided that NGI would be a perfect match for me was for class days like our "Seitan Practical." At vegetarian restaurants, seitan-based meals are usually my favorites. For those of you who are not familiar with it, seitan (pronounced "say-tan") is a meat substitute made from wheat gluten, and an alternative to soybean-based proteins such as tofu. It's also known as "wheat meat," which may not make it sound particularly appetizing, but, trust me, it is.
In our class, I was taught how to make seitan using 50 percent whole wheat bread flour and 50 percent white bread flour mixed with water. It was no easy feat—I emerged from class with flour splattered across my face and sore arms. First. we mixed the whole wheat bread flour and white bread flour with water and kneaded it for 15 to 20 minutes. (Using bread flour rather than pastry flour or regular all-purpose flour provides a higher yield at the end of the process because of the high protein content in bread flour.) Then, the kneaded dough had to rest in cold water for 30 minutes.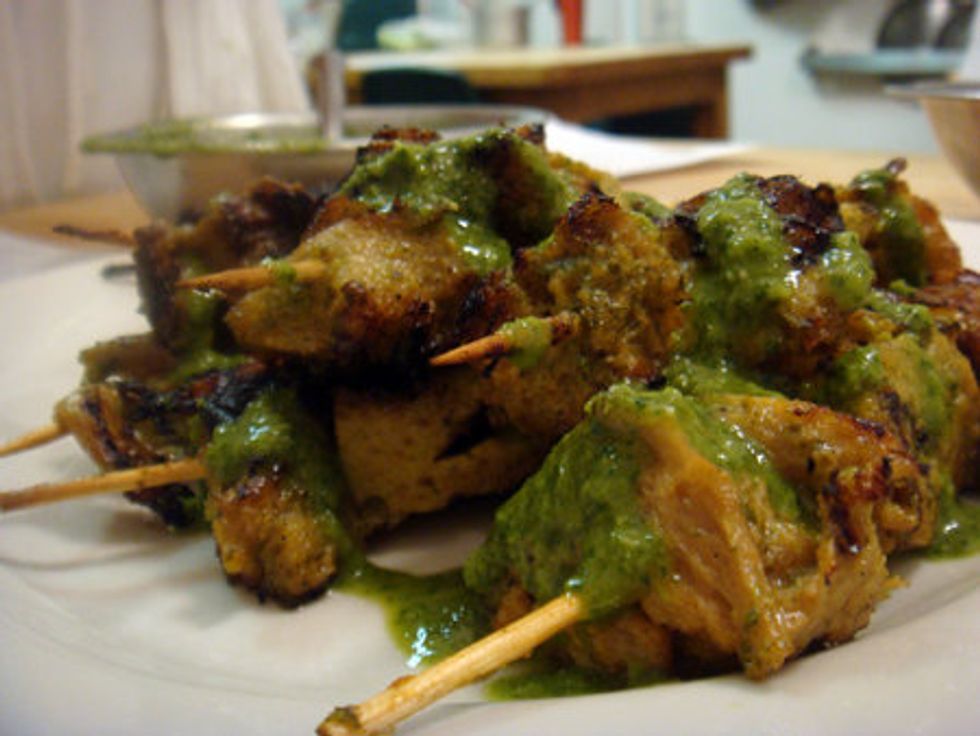 When the half hour was up, we removed the dough and the rinsing process began. We carefully kneaded the dough under cold running water until we eliminated the bran, starch, and germ leaving us with just the protein, which is also called the gluten. Once our gluten was the correct texture (firm and rubbery) we divided it into smaller pieces and poached it in a liquid that consisted of water, shoyu, ginger, garlic, a bay leaf, and kombu.
After it had cooked for between one and a half and two hours, it was ready to be used for the various different recipes we prepared in class. Even though making seitan from scratch was somewhat labor intensive, it was far superior to store-bought seitan, so don't let a little work scare you. If for no other reason, it was worth it because I enjoyed the best veggie burger of my entire life. I have eaten more veggie burgers than I care to remember and this was hands-down the most enjoyable meatless patty that I have ever consumed. It was succulent and juicy in texture, and flavorful beyond belief.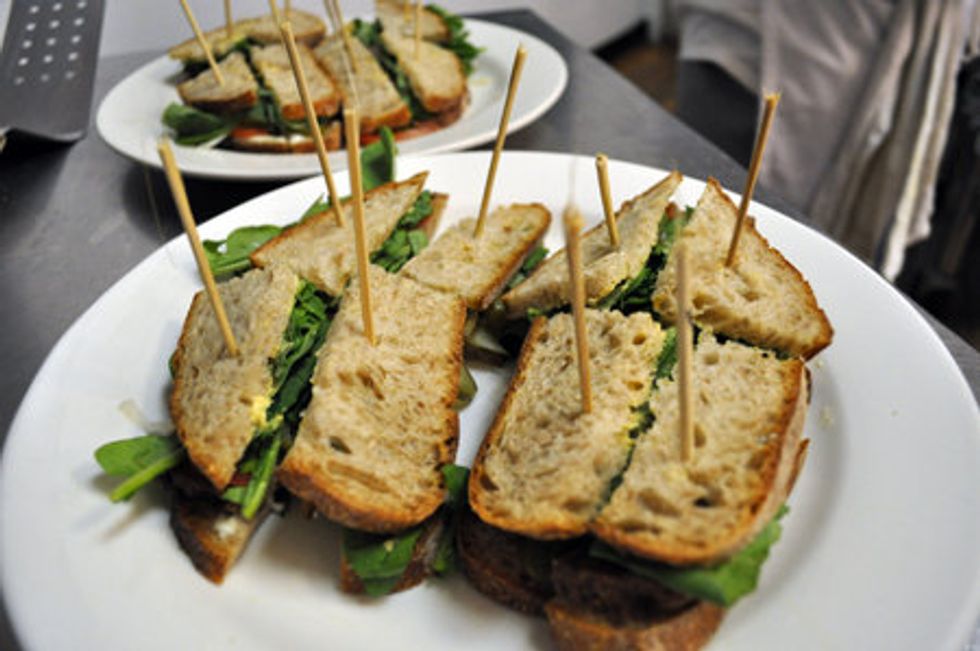 While the burgers were obviously my favorite food of the day, we used seitan in a couple of other tasty recipes. We made an absolutely delicious seitan bordelaise as well as sandwiches and kebabs. And with 20 grams of protein, only 130 calories, 1.5 grams of saturated fat, and .05 grams of unsaturated fat per 3 ounce serving, this incredibly meat-like substance is a pretty incredible main course staple for vegetarians, vegans, and omnivores alike.
To be continued... Michele is a student blogger for the Food Studies feature on GOOD's Food hub. If you enjoyed this, you should check out the rest of the Food Studies blogger gang here
Photo: Seitan burgers, kebabs, and sandwiches, courtesy the author.